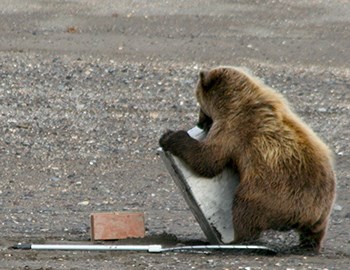 Protecting Wildlife and Visitors
Lake Clark's food storage regulations, outlined below, are intended to prevent bears and other wildlife from obtaining and habituating to food and garbage, thus protecting wildlife and park visitors alike.
We strongly recommend that dishes and cooking equipment be securely stored. Clean and odor free items are not required to be stored in secure containers. We also recommend using bear resistant containers (BRCs) in all areas of the park, but do not require it. Ice chests, coolers, tents, dry bags, stuff sacks, plastic packing boxes (totes, action packers, etc), and unmodified kayaks are not generally approved as BRCs.
The park offers BRCs for temporary use to the public. The containers are free of charge and are available at the park's visitor center in Port Alsworth. For more information on this, and other, park policies please consult the Superintendent's Compendium.