Pets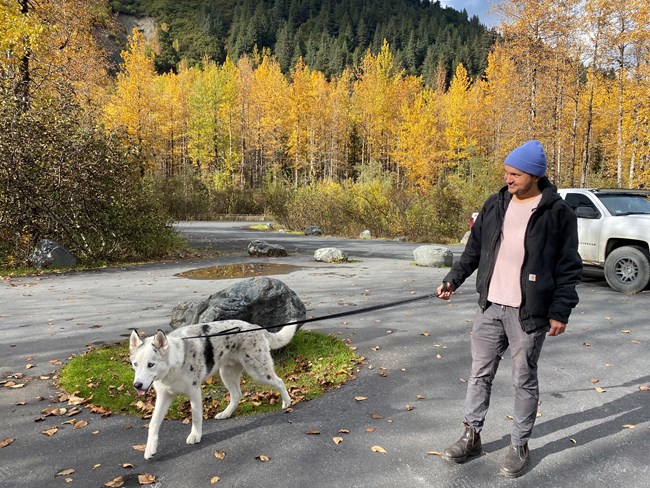 The well-being of your pets and park wildlife is of the utmost importance to us. For the safety of all, pets are allowed in only a few select areas, and may not be left unattended. Your pet must be leashed or physically restrained at all times. Please clean up after your pet and dispose of waste properly.
Pets are allowed:
on the

road to Exit Glacie

r (the Herman Leirer Road).
in the parking lot of the Exit Glacier Nature Center.
Pets are NOT allowed:
on trails, such as the trails of the Exit Glacier area or the Harding Icefield Trail.
in the coastal backcountry.

Pets are not allowed along the coast in an area extending from the mean high tide line to 1/4 mile inland from 5/30 - 11/1.

in any building, regardless of the season.
Service Animals
Service animals are allowed in all facilities and on trails unless an area has been closed by the superintendent to protect park resources.
The 2010 revision to Title II of the Americans with Disabilities Act (ADA) defines a service animal "as a dog that has been individually trained to do work or perform tasks for the benefit of an individual with a disability, including a physical, sensory, psychiatric,
intellectual, or other mental disability." Dogs which are not trained to perform tasks that mitigate the effects of a disability, including dogs that are used to purely provide comfort or emotional support (therapy animals) are considered pets.
Dog Mushing / Skijoring
Dogs used for mushing or skijoring may be used on the Harding Icefield at any time, and in the Exit Glacier area when the road is
closed due to snow
and vehicle access is not allowed.


Last updated: November 3, 2022