Air Taxi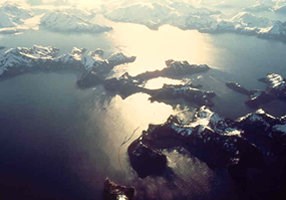 Kenai Fjords can be a challenging place to visit. Alaska is a huge place full of diverse landscapes, which certainly adds to the mystique. Over half the park is covered in ice and much of the park is only accessible by water or air. To reach those hard to reach places, hardy adventurers will often rely on aircraft to deliver them and their gear. Air taxi services will drop you off and pick you up in the park. These planes may be equipped with floats, wheels for beach landings, or even skis for landing on the Harding Icefield. Some planes are large enough to carry kayaks or small boats. Most operators will access the park from either Seward or Homer.
Because they are often landing within park boundaries, most air taxi operators are required to have a Commercial Use Authorization (CUA). Some operators may also offer scenic overflights, but those that solely offer Flightseeing Tours are not required to maintain a CUA.
Note: Helicopters are not allowed to land within the park except under terms of a special permit generally issued for research or emergency response.


Last updated: February 2, 2018