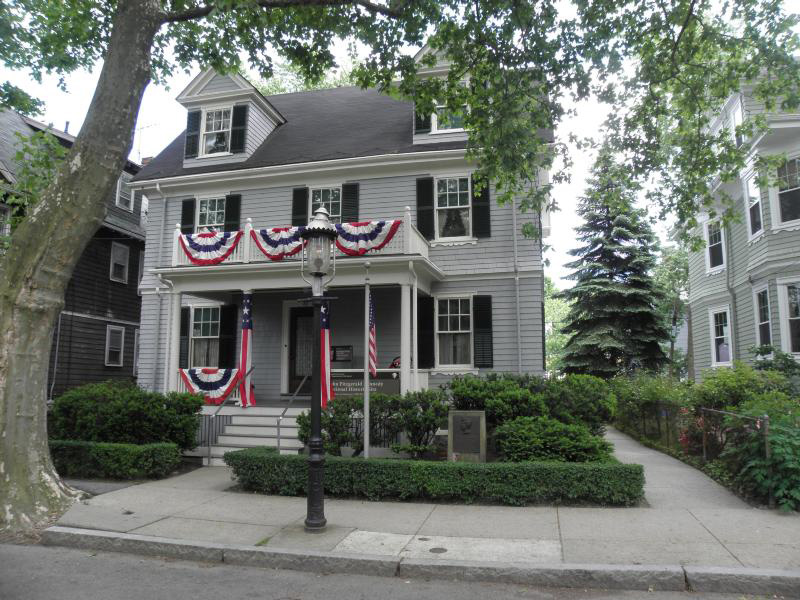 News Release Date:
May 6, 2015
Contact: Jim Roberts, 617-566-7937
John Fitzgerald Kennedy National Historic Site, located at 83 Beals Street in Brookline, Massachusetts, reopens to visitors for the summer season on Saturday, May 23, 2015. Visitor hours are Wednesday through Sunday from 9:30 am to 5:00 pm. Ranger-guided house tours are offered from 10:00 AM to 4:00 PM, with the final, ranger-led tour beginning at 3:30 PM. From 12:00-1:00 PM and 4:00 to 5:00 PM, visitors are welcome to follow a self-guided tour through the first and second floors of the house. Hand-held audio-players are available so that visitors may follow Mrs. Kennedy's tour in English, French, German, Spanish, and Japanese. Admission is free.
Friday, May 29, 2015 marks the 46th anniversary of John Fitzgerald Kennedy National Historic Site's official dedication as a National Park Service site. This year also marks the 98th anniversary of the birth of the country's 35th president. To commemorate these two anniversaries, the site will hold a special open house with refreshments on Friday, May 29, 12:00 PM to 5:00 PM, Saturday, May 30, and Sunday, May 31 from 9:30 to 5:00 PM. For more information about these events, please click here. 
In 1969, the National Park Service (NPS) took ownership of the 2½ story, wood-frame house at 83 Beals Street. This home was the gift of Mrs. Rose Kennedy to the people of the United States to memorialize the birthplace of her son, John Fitzgerald Kennedy, 35th President of the United States.
During the summer visitor season, National Park Service rangers provide tours of the nine-room house museum where Kennedy family furnishings, photographs, and significant mementos personally collected and arranged by the president's mother are on exhibit. A taped narrative, featuring Mrs. Kennedy in her own words, is a unique and evocative addition to both the ranger-led and self-guided tours. Click here for a current tour schedule. 
Visitors may also step back in time to 1917 and share Mrs. Rose Kennedy's memories of her family's early home via cell phone. A ranger-guided cell phone tour is also available. The cell phone tour is free. Normal usage rates apply. To access the tour, dial 617-992-9172. The tour can also be accessed online by clicking here.
A small visitor center in the house basement offers exhibits, a film, a bookstore, and a restroom. A self-guided tour of the neighborhood is also included in the site brochure and gives visitors the opportunity to see other nearby sites associated with the Kennedy family, including a second home in Brookline, the location of the family's Catholic church, the Edward Devotion School which John F. Kennedy attended, and the Coolidge Corner shopping district. Ranger-led neighborhood tours are also offered during the summer months. Click here for a schedule of neighborhood walks. For more information to plan your visit this summer, click here or call 617-566-7937.