Chalmette National Cemetery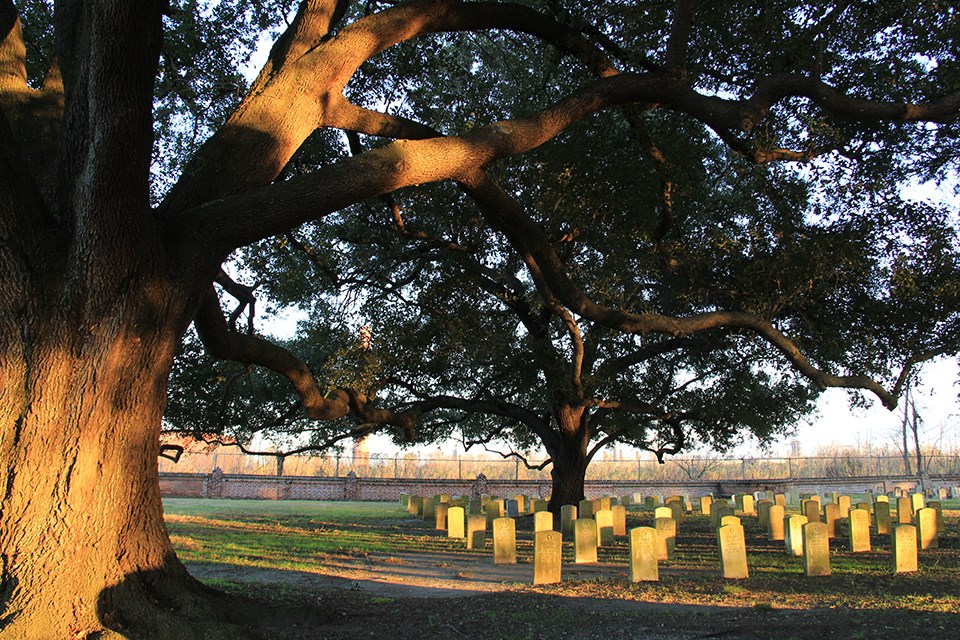 Established in May 1864 as a final resting place for Union soldiers who died in Louisiana during the Civil War, Chalmette National Cemetery's more than 14,000 headstones mark the gravesites of veterans of the War of 1812, Civil War, Spanish-American War, World Wars I and II, and the Vietnam War. Four Americans who fought in the War of 1812 are buried here, though only one of them took part in the Battle of New Orleans. The national cemetery is located on the site of the Battle of New Orleans in 1815, next to
Chalmette Battlefield
.
Soldiers from wars centuries apart are together laid to rest in the tree-lined cemetery. Now numbering over 15,000, the graves represent not only an honorable sacrifice, but a window into the past. In 1933, Chalmette National Cemetery was transferred from the War Department to the jurisdiction of the National Park Service. This transfer also marked a shift in how the cemetery was preserved, from maintaining it as a national shrine, to maintaining it as a national park. Chalmette National Cemetery represents a continuum of use over 150 years, and is administered to preserve the historic character, uniqueness, and solemn nature of both the cemetery and the historical park of which it is a part. It is for this reason that the headstones are not uniform or perfect; rather, they retain the historical narrative of the interred and the wars that they witnessed.
More about Chalmette National Cemetery:
answers to frequently asked questions.
the list of headstones in Chalmette National Cemetery is being updated. If you need information about headstones or burials, email the park.
a self-guided audio tour of Chalmette National Cemetery is available at 504-799-0803 (long distance or cell phone charges may apply). The tour tells the story of five soldiers buried at the national cemetery: the unknown soldier who fought at the Battle of New Orleans mentioned above and four Civil War soldiers, including a woman who disguised herself as a man to join the Union army. Information about the tour and a map of the tour sites is available at the visitor center at Chalmette Battlefield next to the cemetery. You can also take a virtual version of the audio tour.
Chalmette National Cemetery is located at 8606 West St. Bernard Highway in Chalmette, just downriver from Chalmette Battlefield. The cemetery's entrance gates are open 9:00 a.m.-4:00 p.m. Monday-Sunday. On federal holidays other than Memorial Day and Veterans Day, the gates are open 9:30 a.m.-3:30 p.m.; on Memorial Day and Veterans Day, the gates are open 9:00 a.m.-4:00 p.m. The cemetery gates and grounds are open 9:30 a.m.-3:30 p.m. on Mardi Gras (Tuesday, February 13, in 2018).
Days and hours of operation for the visitor center at Chalmette Battlefield next to the national cemetery can be found at the link To reach the battlefield visitor center, call 504-281-0510. Links to useful information like maps, public transportation, pets, permits for special uses, etc., are available on the basic information page.
Questions regarding interments at the national cemetery should be directed to the park superintendent's office at 504-589-3882 ext. 108.
2018 Volunteer Month at Chalmette National Cemetery in March was a success thanks to the efforts of 355 volunteers who worked for 1,577 hours. They documented 1,718 headstones, straightened and reset 244 headstones, and cleaned 4,957 headstones and markers!! The park and its partners at the National Center for Preservation Technology and Training and the National Trust for Historic Preservation truly appreciate all the scrubbing, digging, and documenting---this is an enormous restoration project and without volunteers, it just couldn't get done. Thanks to everyone who helped serve those who served all of us. To find out about ongoing volunteer projects at Chalmette National Cemetery, follow the link.
---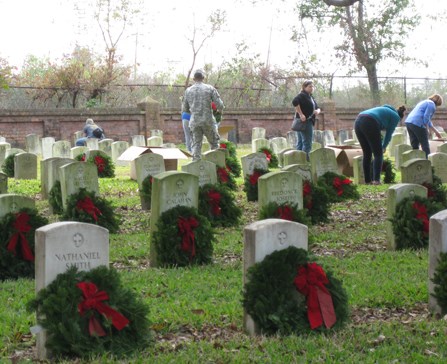 Wreaths Across America and dozens of volunteers laid evergreen wreaths at headstones in Chalmette National Cemetery in mid-December, turning the landscape into one of solemn beauty. Learn more about Wreaths Across America and their mission to honor veterans here.
---

Last updated: September 6, 2022