Acadian Cultural Center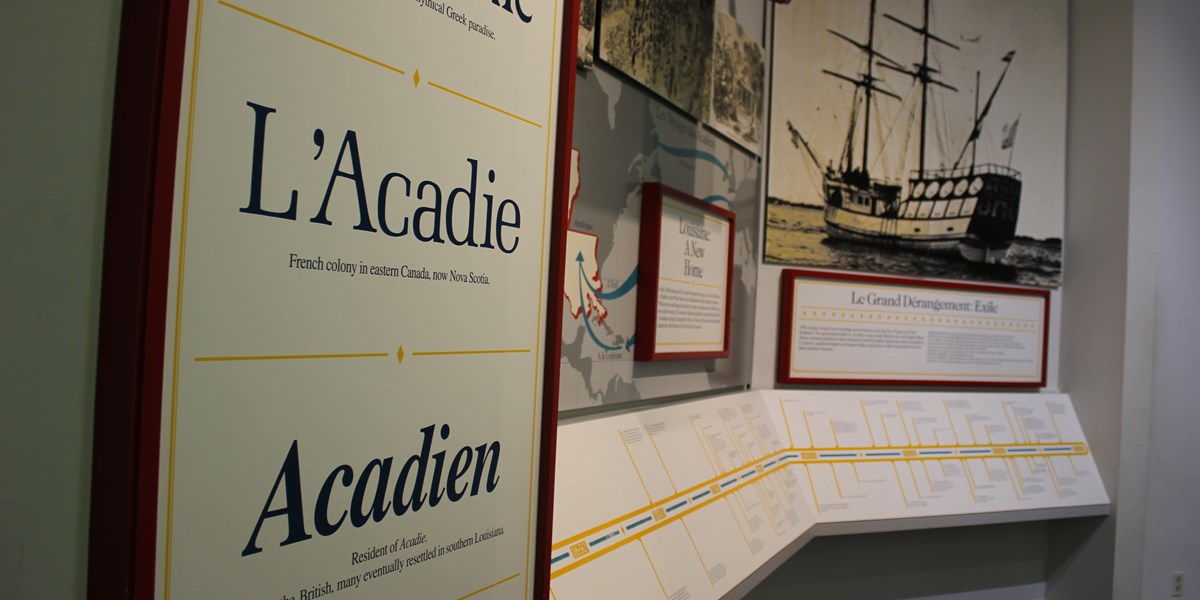 ---
What's Happening:
Be sure to check our Current Conditions page for the latest updates.
FILM (hourly) The Cajun Way: Echoes of Acadia - Who are the Acadians and how did they become Louisiana's Cajuns? Find out through a 35-minute film that shares their history from their deportation from Nova Scotia in Canada to their settlement in south Louisiana. Shown on the hour beginning at 10:00 a.m. No film on federal holidays or on Mardi Gras when the center is closed. Free.
FRONT PORCH MUSIC SERIES Join us each week at the Acadian Cultural Center for performances by local musicians. Zydeco, Cajun, Swam Pop- we do it all! See our Facebook page to see who's performing this week. Saturdays at 12 p.m. Free.
DULCIMER JAM Join the Cajun Dulcimer Society and its core group, the Lagniappe Dulcimer Society from Baton Rouge, for dulcimer music: Cajun, country, Celtic, folk, and hymns. Bring an acoustic instrument and join in or just enjoy. 10:00-11:30 a.m. First and third Saturday of every month. Free.
SUMMER CAMPS Join us for free summer camps in June this summer! Campers will explore and learn about the habitats and ecology of Louisiana through exciting programs. For more information, check out our Summer Camp page.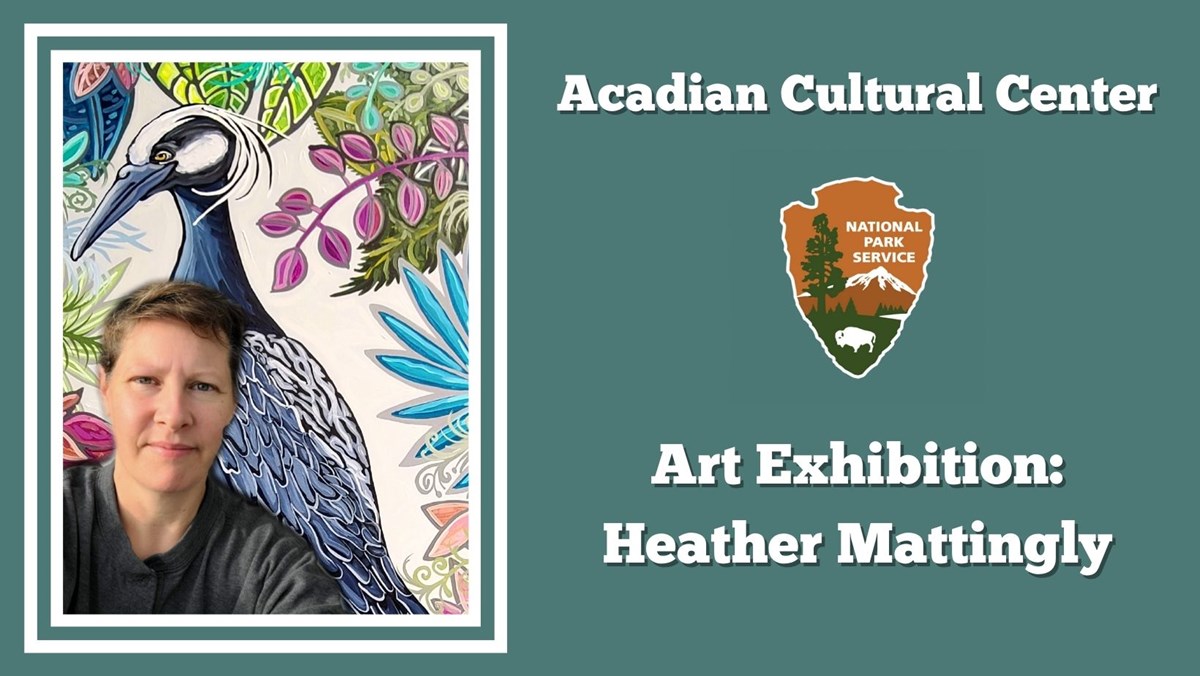 In honor of Earth Week in April, the Acadian Cultural Center is highlighting a local artist of southern Louisiana who focuses on Louisiana habitats. Join us at the Acadian Cultural Center for an art exhibition, Flora and Fauna of Louisiana, with Heather Mattingly.
Artist Biography
Heather was introduced to Louisiana's swampy wetlands as a child and began explorations by foot on walking trails and by canoe in the Barataria Preserve. She was drawn to the swamp due to its magical and mysterious nature, as it is a unique ecosystem which supports diverse wildlife and plant life.
As a young adult, Heather worked as a carpenter, a cabinet maker, and a house painter. Demand for these skills dramatically increased following Hurricane Katrina in 2005, and Heather spent the next 10 years renovating homes. Inspired by her creative drive and her desire to reduce waste, Heather began salvaging construction debris and transforming it into found object art. She created wall sculptures which embodied themes of Louisiana such as alligators, pelicans, crabs, crawfish, musical instruments, Mardi Gras Indians, and the fleur de lis symbol. Heather sold her debris art at local art markets and festivals from 2006-2019.
In 2017, Heather once again felt a powerful creative spark and began exploring the art of fine painting with acrylics. She taught herself painting methods and techniques and moved into a style she thinks of as "paint assemblage". Her previous years of assembling junk metal into sculptures helped her develop a distinct way of seeing shapes, texture, pattern, space, and perspective. She approaches painting in a similar way, applying brush strokes to canvas as if they were pieces of a puzzle. As an emerging artist, Heather's work is recognizable by her use of vibrant colors, lines, dashes, and dots.
Louisiana themed subjects such as swamp landscapes, native animals, flowers and birds continue to be an inspiration. Heather's artwork strives to serve as a reminder of the interconnectedness of life and beauty that is ever present and to invoke in the viewer feelings of appreciation, joy, and happiness.
Exhibition Background
This exhibit, Flora and Fauna of Louisiana, is a collection of contemporary impressionistic works created with acrylics and paper. The use of bold colors, shapes, dashes, and playful brush strokes captures the energy and vibrancy of Louisiana's lush bayous and wildlife.
Exhibition Details
We invite you to check out this amazing artist exhibition from April 5, 2022 until May 27, 2022 at the Acadian Cultural Center.
The center is open Tuesday - Saturday, 9:30am - 4:30 pm. Check the current conditions page for updates on park hours.
For a preview of the art exhibition, see our virtual gallery below!
---
The Acadian Cultural Center in Lafayette tells stories of the origins, migration, settlement, and contemporary culture of the Acadians (Cajuns) and other area groups. Ranger programs, films, exhibits, and events share a variety of local traditions including music, story-telling, dance, and food, and explore the mysteries of the Atchafalaya Basin, Louisiana's wildest place. Portable media players with guided tours of the museum in French, Spanish, and English can be borrowed at the visitor center information desk. Kids can explore the center and earn a badge with the Junior Ranger program. The center's park store sells local crafts, music, and books, including cookbooks and children's stories. Admission to the center is free. Follow these links for the park's calendar of events, exhibits, and programs; for directions and transportation options; and for accessibility information.
Special programs by reservation:
For more information on Cajun history and culture, visit:
Last updated: May 7, 2022