Barataria Preserve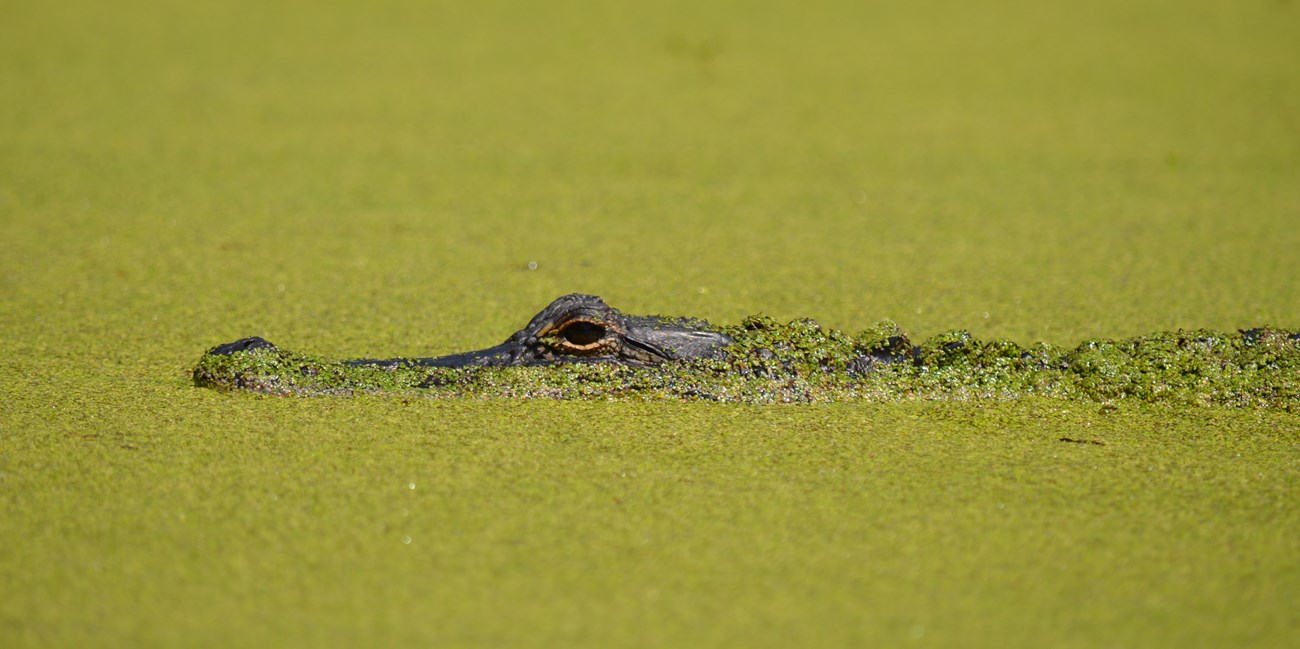 Up to date trail and Visitor Center access can be found on the Current Conditions page.
What's Happening:
General trail and waterway information is available at the Barataria Preserve trail maps web page.
Wetlands Walk - 10:00 a.m. every Wednesday through Sunday. Join a ranger for a guided walk on a boardwalk trail through wild Louisiana swamp and marsh. Meet outside the visitor center. No walk on federal holidays. Free.
Join a citizen science project as part of a group or on your own. Follow the link to find out how you can contribute to research and management at the park.
Important Information:
Never approach, harass, or feed alligators. Remember that they are wild animals and can move very quickly. You can find more information about safety and outdoor activities at the preserve at the safety page.
Canoeing and kayaking are possible in some Barataria Preserve waterways thanks to a project that cleared aquatic vegetation. Call the visitor center at 504-689-3690 ext 10 to find out which waterways are currently accessible..
Pets are only allowed in parking areas and on the deck at the visitor center; pets in these areas must be on a leash and a human must be on the other end of the leash. Do not leave pets unattended in vehicles; pets in vehicles must have a human in the vehicle with them. Please clean up after your pet. Although service animals assisting people with visual, hearing, or mobility impairments are welcome everywhere, note that the presence of wildlife may mean that service animals may not be comfortable on preserve trails.
Parking lot gates are locked at 5:00 p.m. nightly. If your vehicle is in a parking lot after 5:00 p.m., it will be locked in. If this happens, call 855-677-5352; a ranger will assist you when one is available.
---
The Barataria Preserve outside Marrero offers a taste of Louisiana's wild wetlands. The preserve's 26,000 acres include bayous, swamps, marshes, and forests. Walk along boardwalks and dirt trails to spot animals including alligators and over 200 species of birds plus an ever-changing array of wildflowers and plants . See the trail map, enjoy a self-guided tour, or explore with a cell phone tour. Exhibits at the preserve visitor center highlight how the Mississippi River built Louisiana's wetlands, the national importance of the area, and the relation between the land and its people. Kids can earn a badge with the Junior Ranger program. An environmental education center is used for field trips and special programs. The visitor center's park store has books, music, children's books, insect repellent, field guides, and more on sale. Admission to the preserve is free. Follow these links for the park's calendar of events, exhibits, and programs; for directions and transportation options (be sure to see important information about using ride share services to reach the preserve); and for accessibility information.

Links to useful information like maps, public transportation, pets, permits for special uses, etc., are available on the basic information page; there's also information about the preserve at the Barataria Preserve Frequently Asked Questions page.
Special programs:
Learn about
Visit our keyboard shortcuts docs for details
Duration:

10 minutes, 33 seconds
Jean Lafitte National Historical Park & Preserve is pleased to partner with A Studio in the Woods to recognize the power of art to address the planet's environmental concerns. This video features park ecologist Dr. Julie Whitbeck and A Studio in the Woods artist in residence Sidiki Conde. Mr. Conde is a world-renowned musician from Guinea, West Africa and in this video, he performs with New Orleans musicians Dr. Michael White, Mitchell Player, Gregory Stafford, and Detroit Brooks.


Last updated: January 20, 2023