Frequently Asked Questions - Barataria Preserve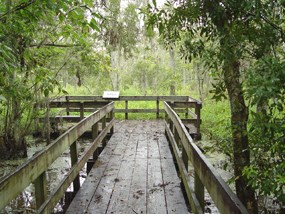 Are the trails open on Mondays and Tuesdays? While our visitor center is closed on Mondays and Tuesdays, trails are open seven days a week.
Where can I see an alligator? Alligators are usually visible from the trails at the Barataria Preserve. Check with the rangers at the visitor center; they can usually give you an idea of where alligators may be since alligators are territorial.
May I feed the alligators? No. Alligators are wild animals, very fast, and always hungry. Never feed wild animals in any national park. Feeding wild animals is dangerous to you and to the animal, who will lose its protective fear of humans.
If there are alligators and snakes in the Barataria Preserve, is it dangerous to walk the trails or go canoeing? Not if you stay alert and use common sense. When you walk the trails, watch for reptiles like snakes who might be sunning themselves on the trail. When you canoe, watch for alligators swimming or floating in the waterways. Be respectful of any wild animals and give them plenty of room. If you leave them alone, they will leave you alone. You can read more about safety in Louisiana's great outdoors at the safety page.
Where can I find out about birds, plants, and animals at the preserve? Follow the link to the nature webpage.
May I take food on the trails? No. Food and disposable drink containers (other than bottled water) are not allowed on the trails. Picnic areas are available in the park (see trail map).
May I take my pet to the Barataria Preserve? Pets are only allowed in parking areas and on the deck at the visitor center; pets in these areas must be on a leash and a human must be on the other end of the leash. Do not leave pets unattended in vehicles; pets in vehicles must have a human in the vehicle with them. Please clean up after your pet. Although service animals assisting people with visual, hearing, or mobility impairments are welcome everywhere, note that the presence of wildlife may mean that service animals may not be comfortable on preserve trails.
The parking lot gates are locked at 5:00 p.m. every night. What happens if I get locked in? If your vehicle is in a parking lot after 5:00 p.m., it will be locked in. If this happens, call 855-677-5352; a ranger will assist you when one is available.
Do I need a license to fish in the Barataria Preserve? Yes---see the fishing regulations.
Can I go hunting in the Barataria Preserve? Yes. Links to hunting regulations, season dates, and other important information are added to the park's home page every year in late summer. Hunting seasons are during the fall and winter.
Does the preserve rent canoes or kayaks? No. Please note that canoeing and kayaking are possible in some Barataria Preserve waterways thanks to a project that cleared aquatic vegetation. Call the visitor center at 504-689-3690 ext 10 to find out which waterways are currently accessible.
Are there lots of mosquitoes? Often. Mosquitoes are active most of the year. Bring bug repellent with you for your walk.
Did hurricanes Katrina and Rita affect the Barataria Preserve? Yes. Hurricanes and tropical storms often affect the preserve; follow the link to find out what happened during major storms and how storms have changed the preserve.
Last updated: February 28, 2023