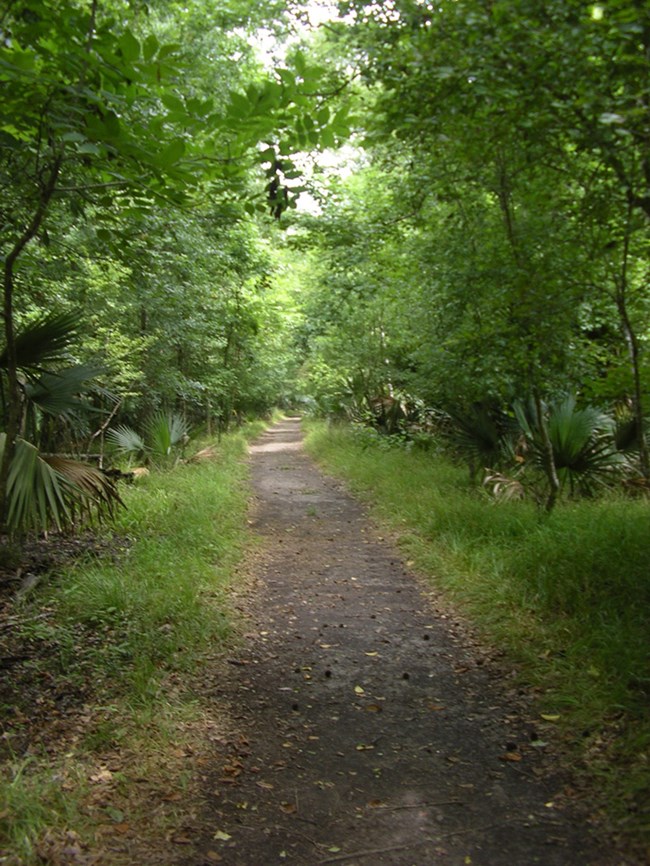 Bring your scout group to the Barataria Preserve and have fun while learning about nature. The rangers have developed the programs below that you can use to self-guide your group on a wetlands adventure. Troops visiting the preserve may not wander off trails, collect flowers or other items, or otherwise disturb the natural environment.
Girl Scout Programs
Brownie Scouts - Bugs Badge - Insects and archnids have an important job to do. Discover many kinds of insects and spiders and the work they do to keep the preserve ecosystem healthy. Program includes art projects and discovery activities. Follow the link for the Brownie Scouts - Bugs program.
Brownie Scouts - Hiker Badge - The Barataria Preserve offers nine different trails and over eight miles of hiking. Discuss trail safety and basic hiking tips, then explore some preserve trails and learn how to identify the best places to see some of the preserve's most popular critters: alligators, snakes, owls, and more. Follow the link for the Brownie Scouts - Hiker program.

Junior Girl Scouts - Animal Habitats Badge - Explore the Barataria Preserve and discover the great diversity of plants and animals in the area. Learn what a habitat is and what animals need in their homes to help them survive. Create a habitat for an animal that calls the swamp home.
Junior Girl Scouts - Flowers Badge - Learn about the structure of flowers and the different ways plants use flowers to lure pollinators. Use all five senses to explore flowers native to south Louisiana. Through exploration, hands-on science activities, and art, unlock some of the secrets of these beautiful species. Follow the link for the Junior Girl Scouts - Flowers program.
Cadets - Trees Badge - Learn to identify seven species of trees found in the Barataria Preserve and common to southeast Louisiana. Research ways that trees provide people with food and inspire works of art. Through hands-on exploration, creation, and discussion, discover ways that trees shape people's lives and find out how to protect these precious resources. Follow the link for the Cadets - Trees program.
Boy Scout Programs
Barataria Preserve rangers hope to add Boy Scout programs to this page in the near future.