For Teachers
Teaching Hard History: New Perspectives and Untold Stories that will Enhance the Way You Teach

Gateway Arch National Park presents a pair of FREE educator workshops. These workshops will focus on new and interesting ways to integrate underrepresented populations and perspectives into your history and social studies curriculum. The workshop is designed to complement K-12 curriculum. Educators will come away with new content knowledge, primary source documents, classroom activities and best practices for teaching difficult or controversial history topics to their students.
September 12th and 13th 8:30 a.m. – 3:00 p.m. Education Classroom at Gateway Arch National Park

Hear about new research and understand new perspectives as we explore African American history and women's history in nineteenth century St. Louis and beyond. Presenters include:

Lynne Jackson, Founder and Director of the Dred and Harriet Scott Foundation, and the great-great granddaughter of the Scotts.

LaGarrett King, Associate Professor of Social Studies Education at the University of Missouri, St. Louis and the Founder of the Center for Black History Education K-12.

Dr. Robert Moore, National Park Service Historian at Gateway Arch National Park.
October 23rd and 24th 8:30 a. m. - 3:00 p.m. Education Classroom at Gateway Arch National Park

What did Manifest Destiny mean to the indigenous people of North America? Was it progress or was it oppression? Join us as our presenters lead us through a difficult period in our national story.

Dr. Craig Howe, Director of the Center for American Indian Research and Native Studies and a member of the Oglala Sioux Tribe.

Sarah O'Donnell and Kilan Jacobs of the Osage Nation Historic Preservation Office. Ms. O'Donnell is an archaeologist and NAGPRA Coordinator. Mr. Jacobs is a member of the Osage Nation and a Tribal Research Assistant.

Joseph P. Sánchez, PhD, Director of the Spanish Colonial Research Center, University of New Mexico

Flannery Burke, PH.D. St. Louis University, Dept. of History. Areas: History of the American West, Environmental, Gender, Historical Thinking.

Parking is Free
A box lunch is available for purchase You may register for one or both workshops. Spaces are limited. To register or for more details, please call the Education Office at Gateway Arch National Park at 314-655-1635
We invite you to participate in the Museum Education Program at Gateway Arch National Park. Programs take place at the Old Courthouse and in the new Museum at the Gateway Arch. All programs are aligned with national, state and local standards and are designed for groups of all ages. National park service rangers facilitate audience-centered programs which may include role-playing, decision making, multiple perspectives, analytical thinking, and hands-on activities using replica items and period clothing. The programs are presented year-round, free of charge.
Scheduling Your Visit
Reservations must be made at least 30 days in advance. Maximum group size is 30 students (one adult for every ten students). Please allow 50 minutes for each program. Programs at the Old Courthouse begin at the top of the hour. Programs at the Gateway Arch begin at half past the hour.
To make reservation call: 1-877-982-1410
Programs at the NEW Museum at the Gateway Arch
The new Museum at the Gateway Arch features over 200 years of American history from 1764 to 1965. It details the St Louis's beginnings as a multicultural outpost for French colonial fur traders that would become a bustling river port and the starting point for wagon trains heading west. The final gallery pays tribute to the construction of the Gateway Arch and the people that brought it to life.



Lewis and Clark
Explore the cultures, landscapes and animals encountered by the Corps of Discovery as they traveled and mapped the newly purchased Louisiana Territory.



Trappers and Traders
Bold and audacious, join these adventurers as they learn about the resources of unknown territories, barter and live among American Indians and contribute to the economy of the American frontier.



American Indians of the Great Plains
Compare and contrast your life with that of traditional Plains Indian Tribes during the 1800s. Learn how the land shaped their traditional tribal customs and how westward expansion changed their way of life.



Heading West?
Supply yourself in St. Louis before heading west. Confront some of the same choices early pioneers did while traveling west across prairies, rivers and mountains to Oregon and California.



St. Louis From the Beginning
In 1764 French fur traders founded St. Louis at what is now the base of Gateway Arch. Explore its beginnings and how this small yet diverse settlement grew in to a thriving river town.
General Museum Tour
Meet the people and hear the stories of those who lived, settled, and worked in the early eighteenth and nineteenth century "west." The program will include information and activities related to early St. Louis, Lewis and Clark, the fur trade, Plains Indians and pioneers on the trail.
Programs at the Old Courthouse
The Old Courthouse is the noted site of the first Dred Scott trial. Throughout the nineteenth century the building was the civic center of St. Louis, housing the courts and business of a growing city. Life in
St. Louis centered around this building. Come visit and learn why.
Old Courthouse Building Tour
Echoing the architecture of the ancient Greeks, the Old Courthouse served as the civic hub of St. Louis during the 1800s. Learn more about the significance of the building and how it was used by local and national citizens.
Trial Reenactments
Step into a restored courtroom at the Old Courthouse and bring history to life by reenacting a historic trial. Park rangers facilitate the reenactment while students read scripts, argue facts and decide a verdict.
Bubble Gum Trial
Freedom Suit: Dred Scott v Irene Emerson
Trial for the Right to Vote: Virginia Minor v Happersett
Segregation Laws in the 1800s: Williams v Bellefontaine
Tort Liability: Franke v City of St. Louis

If you are taking your class to the top of the Gateway Arch or to the movie theater, please visit gatewayarch.com for ticket information.
Education programs and resources at Gateway Arch are made possible by funding from Jefferson National Parks Association. The Association is a not-for-profit organization and operates stores offering a wide selection of books, audio and video materials and replicated living history items. For more information, please visit theironline bookstore. Education discounts for schools are available by calling (voice) 314-231-5474 or (voice) 1-800-537-7962.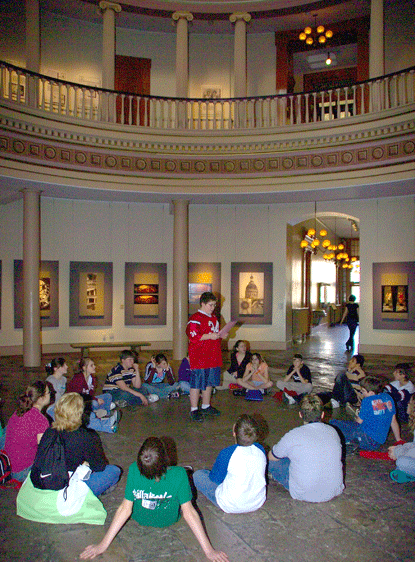 Last updated: September 6, 2019