For Teachers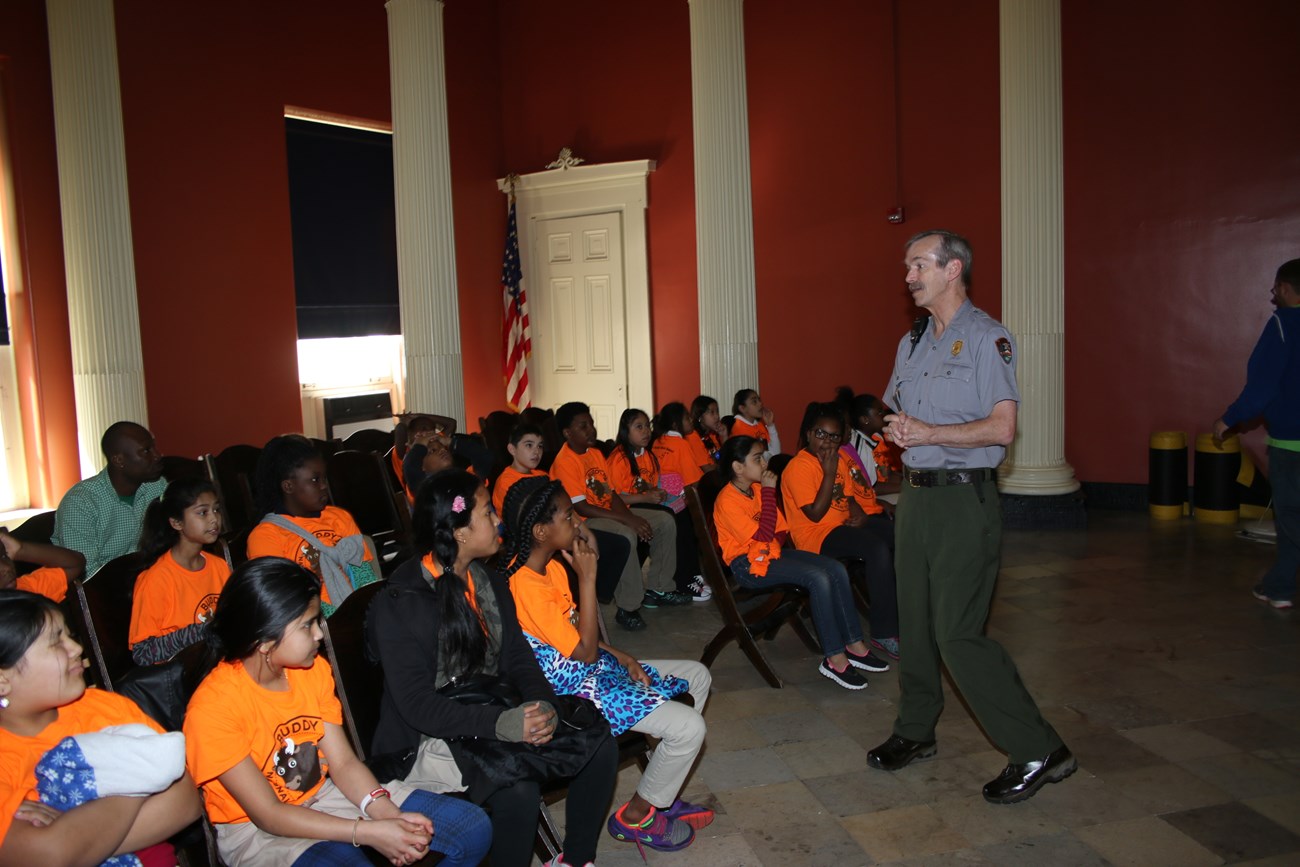 Education Programs at the Gateway Arch
The Education and Interpretation staff invite you to participate in a wide range of educational programming at Gateway Arch National Park. Programs take place at the new Museum at the Gateway Arch and virtually. All programs are aligned with national, state and local standards and are designed for groups of all ages. National Park Service rangers facilitate audience-centered programs which may include role-playing, decision making, multiple perspectives, analytical thinking, and hands-on activities using replica items and period clothing. The programs are presented year-round, free of charge.

NOTE: The Old Courthouse is currently closed to the public until further notice due to construction renovations. All programs related to the Old Courthouse are being hosted inside the Education Room inside the Visitor Center at Gateway Arch National Park until further notice.
Interested in Having Your Class Visit the Arch for Free? Check Out the Journey Fund!
Teachers who work at Title 1 public schools are eligible to apply for funding from the Journey Fund to subsidize the entire cost of visiting the Gateway Arch, including transportation, meals, tram rides, and the movie "Monument to the Dream." Offered by Gateway Arch Park Foundation in partnership with the St. Louis Regional Business Council, interested teachers can apply for the Journey Fund by visiting the Foundation's website.
Scheduling Your Visit
Reservations must be made 30 days in advance. Maximum group size is 30 students (one adult for every ten students). Please allow 50 minutes for each program. Programs at the Old Courthouse begin at the top of the hour. Programs at the Gateway Arch begin half past the hour. To learn more about programming, call the Education Department at 314-655-1635. To make resevations, call 1-877-982-1410.

If you are taking your class to the top of the Gateway Arch and/or the Movie Theater, please visit gatewayarch.com for ticket information.

Education programs and resources at Gateway Arch National Park are made possible by funding from Jefferson National Parks Association. The Association is a not-for-profit organiation operates stores offering a wide selection of books, audio, and video materials and replicated living history items. For more information, please visit the JNPA online bookstore. Education discounts for schools are available by calling 314-231-5474 or 1-800-537-7962.
Fun and Learning at the Arch!
Last updated: November 11, 2022