Upcoming Events and Programs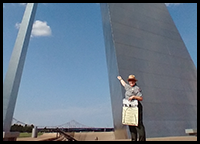 OUTDOOR PROGRAMS
Daily formal interpretative walking tours
10:15am, 2:15pm, and 4:15pm
Meet one of our Park Rangers for a walking tour on a variety of subjects, including the Eads Bridge, Paw Paw trees, Lewis & Clark's preparations for their trip West, the Santa Fe Trail, the founding of St. Louis, the Riverfront, the Mississippi River, Civil War, St. Louis architecture, to name a few. Tours begin at the West Entrance plaza daily.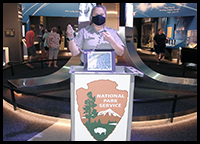 MUSEUM TOUCH STATIONS
Daily Informal interpretation programs
10:30am, 11:30am, 2:30pm, 3:30pm, and 4:30pm
Join one of our Park Rangers for a talk on topics such as St. Louis' colonial homes, the fur trade, buffalo parts, wagons, Old St. Louis, wagons, the Arch trams, Junior Ranger hiking safety, construction of the Arch, and many more. Talks last approximately 10 minutes and meet at a variety of locations in the Museum daily.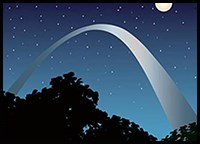 GHOSTS OF THE ARCH GROUNDS (in person)
Saturday, October 16:
The traditional favorite returns as a Park Ranger discusses the various "incarnations" of the Arch Grounds and the adventures as well as the misadventures of historical figures like Thomas Targee, James Eads, Kenneth Swyers, Percy Green and others. The program will be held on the West Entrance Plaza from 6:30-7:15 pm, unless there is rain.

If skies are reasonably clear, the "Ghosts" talk will be followed by free telescope viewing, also on the Gateway Arch West Entrance Plaza, led by volunteers from the St. Louis Astronomical Society. The moon, Jupiter, and Saturn will be seen. Not sure about the weather? Check the Park Facebook page: GatewayArchNPS.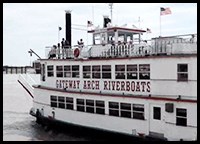 RANGER-LED RIVERBOAT CRUISES:
Saturdays & Sundays through May 28, 1:30 p.m.
At the Riverboats at the Gateway Arch, located below the Arch on the St. Louis Riverfront, an NPS ranger leads the one-hour St. Louis Riverfront Cruise that highlights the history of St. Louis and the role the Mississippi River plays today. $21/adults; $11/kids ages 3-15; $19/seniors (ages 60 and older); free for kids under 3.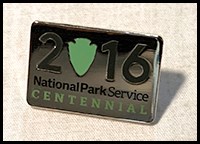 EXHIBIT OPENING
March 11, 2021- TBA
The "Find Your Park" and Centennial" pin displays celebrate the 248 National Park Service locations represented in the two lapel pin sets. David Kroese of Loves Park, IL collected the pins during visits to these locations in 2016-16, the National Park Service's 100th anniversary year. Come down to the Arch and check out this one of-a-kind display and see if you have any of the pins from your previous visits to National Parks. The exhibit is located in the lobby next to the Museum Store.
---
Keep checking this page for more information about future events
---
Last updated: September 20, 2021