Upcoming Events and Programs
Regularly Scheduled Events
Due to staffing constraints, ranger programs are not regularly scheduled during the winter months. Museum Programs and interactive touch tables will be available as staffing allows: see signs in the museum or talk to a ranger upon your arrival.

With advance notice, we can plan guided outdoor or museum tours to accomodate groups. Find out more here.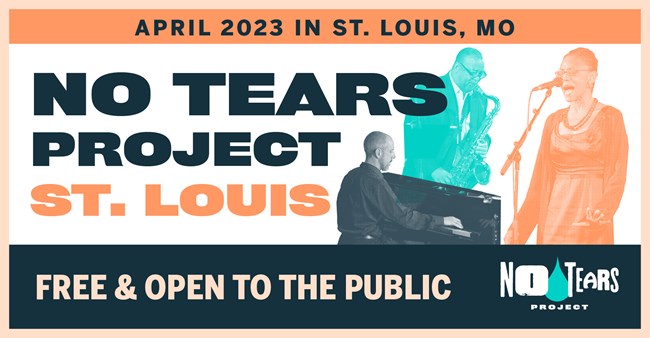 No Tears Project: Meet Us in St. Louis! April 2023
Join the Oxford American, Gateway Arch National Park, and Jazz St. Louis for the No Tears Project–St. Louis: a multi-day residency of free events that will use music and conversation to engage communities in civil rights education and storytelling.
The residency includes panels and programs at the Gateway Arch National Park, culminating with two nights of performance at the Ferring Jazz Bistro.
The events are free, but you must register for a seat!

Included in the No Tears Project:
Social Change Through the Arts. Sunday April 2nd. 2pm - 3pm. A panel discussion featuring artists from the forthcoming No Tears Project St. Louis concerts, including composer/pianist Christopher Parker, vocalist Kelley Hurt, saxophonist/clarinetist and President & CEO of Jazz St. Louis, Victor Goines; choreographer/dancer Ashley Tate, and singer/songwriter Brian Owens. Poet, educator, and community arts organizer Treasure Shields Redmond will moderate the panel. The conversation will explore both the contemporary and historic role of music and the arts as vehicles for addressing civil rights and inciting social change, while highlighting the additional No Tears Project programs set to take place April 26-29 in St. Louis.
Recognition Before Reconciliation: A Civil Rights Panel Discussion. Wednesday, April 26. 6:30pm - 8pm. A panel discussion featuring civil rights heroes and activists including Percy Green, founding member of ACTION; Little Rock Nine member Elizabeth Eckford; Lynne Jackson, great-great granddaughter of Dred and Harriet Scott and president/founder of Dred Scott Heritage Foundation; and others. Superintendent Robin White of Little Rock Central High School National Historic Site, whose career with the National Park Service has focused on the preservation of American civil rights sites and stories, will provide opening remarks and context for the discussion. Carol Daniel, current President of the Association of Black Journalists will moderate the discussion. As the inaugural event to the four-day No Tears Project residency, the conversation will reiterate St. Louis's role, alongside Little Rock's, as part of the legacy of the American Civil Rights story, highlighting the Gateway Arch National Park, Old Courthouse, and Little Rock Central High School National Historic Site. The 60 minute program will be followed by a reception in the lobby with food and drinks, where books will be available for purchase.
B.A.R.K. Ranger Dog Walk. Sunday, April 30, 2023. 12:30 p.m.
Join our newly crowned B.A.R.K. Superintendents for a walk around Gateway Arch National Park. Bring your furry friends to enjoy your local National Park and get some exercise. All participating canines will become B.A.R.K. Rangers, and their owners will get a free souvenir! The dog walk will begin outside the entrance to the Visitor Center at Gateway Arch National Park at 12:30 p.m. sharp.
B.A.R.K. Ranger Picnic with your Pet. Sunday, May 21, 2023. Noon.
Pack your picnic basket and leash up your pooch! Bring your favorite lunch from home or pick up carryout from one of the many places downtown has to offer. Picnic goers will meet outside the entrance to the Visitor Center at the Gateway Arch and walk with a Ranger to the picnic location. After arriving at the location, roll out your blanket and enjoy. Activities during the picnic include games and photo opportunities, swag, treats, and lots of head scratches for your pet. Your favorite companion can be sworn in as an official B.A.R.K Ranger.
The Battle of St. Louis 1780. Saturday, May 27, 2023. 10am to 4pm.
National Park Service staff and Living History volunteers in 18th century clothing will share the history of the British/Indian attack on St. Louis on 26 May 1780. This battle took place on the present-day Gateway Arch grounds. The event will include cannon and rifle detonation, as well as periodic ranger talks explaining the significance of the battle. All visitors are invited to attend. No reservations or registrations are required to stop by, watch, and participate in the fun; however, if you own 1780 period clothing and are interested in officially volunteering for the event, you may email our NPS volunteer coordinator at barbara_michel@nps.gov to register.
B.A.R.K. Ranger Puppachino Crawl. Sunday, June 18, 2023. 10 a.m.
Gateway Arch National Park and the Arch Café have teamed up to host the B.A.R.K Ranger Puppachino Crawl! Guests and their furry friends will meet outside the Visitor Center at the Gateway Arch to begin a walk through the Gateway Arch National Park Grounds. At the end of the walk, each dog will be sworn in as an official B.A.R.K. Ranger. New and seasoned B.A.R.K. Rangers will be treated with an Arch Café Puppachino and owners will get a special treat too.
B.A.R.K. Ranger Paw Art. Sunday, July 16, 2023. 10 a.m.
Leash up your pet and meet a National Park Service Ranger on the lawn under the Gateway Arch to create pawsitively amazing art! Owners will place their choice of paint colors on a canvas, place inside a plastic bag, seal, and cover the plastic bag with peanut butter. Then they'll let the pets lick away to create their own unique piece of art. At the end of the event, you will have a new pawsome piece of art to take home. All materials provided.
B.A.R.K. Ranger CPR and First Aid. Sunday, August 20, 10:00 a.m.
Kat from Midwest Pet CPR will conduct an educational session on outdoor safety and emergency preparedness in the shade near the park's entrance. She will then lead a walk around the park to reenact incidents that may occur and teach how best to respond to them. Attend with or without your dog!
B.A.R.K. Ranger Exercise with your Pet. Sunday, September 17, 10:00 a.m.
Meet with your leashed dogs at the main entrance, and then we'll go to various locations within the grounds for a good workout! We may run up and down the grand staircase, do a few laps around the arch, or do strength or yoga exercises on the large, open area under the arch. Wear workout gear and bring plenty of water for you and your pooch.
B.A.R.K. Ranger Pet Halloween Costume Parade. Sunday, October 15, 1:00 p.m.
Dress your furry friends in their finest for a stroll around the arch grounds. Prizes will be awarded for best costumes. Bring your cameras!
---
Keep checking this page for more information about future events
Last updated: March 20, 2023