Old Courthouse Programs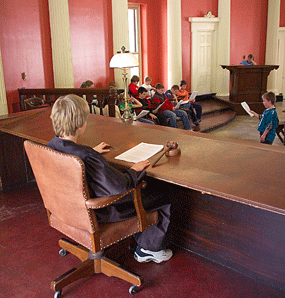 Mock Trials
Mock trials at the Old Courthouse are an opportunity for students to reenact historic cases from the past. Students practice reading and critical thinking in one of our restored historic courtrooms.
Make your reservation now! Call 877.982.1410, ext. 0 now!
Program Options:
(please contact us for transcripts of the mock trials)
The Bubble Gum Trial (Reading level: grades 3-4)
What happens when a teacher accuses a student of chewing gum in the classroom, but the student denies doing it? They go to court to settle the issue.
The Dred Scott Trial (Reading level: grades 4-12)
The Dred Scott case is the most famous trial in the history of the Old Courthouse. This program considers the second trial of Dred and Harriet Scott held in the building.
Franke v. City of St. Louis Trial (Reading level: grades 4-12)
In 1888 a young boy was walking along a St. Louis sideway when a large stone fell from a building, fracturing his skull and causing his death. His mother sued for damages at the Old Courthouse.
Trial Activity Guide (Grades 3-12)
This companion guide features background information on the processes of the judicial branch. Pre-site activities include the roles in the courtroom, selecting a jury, and filing a subpoena. Post-site activities consist of appealing the case, real world connections, and classroom extensions. All of the activities are excellent for classes preparing for a visit to the Old Courthouse.
A Trial for the Right to Vote (Reading level: grades 4-12)
In 1872 Virginia Louise Minor, one of the leaders in the Women's Suffrage Movement, was not allowed to register to vote. She and her husband Francis spoke for her cause in the Old Courthouse.
Williams v. Bellefontaine Railway (Reading level: grades 6-12)
In 1867, Mrs. Caroline Williams, a young, pregnant, African American woman, and her two year old child were pushed out of a St. Louis streetcar by the conductor because the company had a policy which did not allow African Americans to ride inside the cars. Mrs. Williams sued for damages at the Old Courthouse.
The House That St. Louis Built (Preschool, 4- and 5-year-olds)
Explore the Old Courthouse to learn a variety of shapes and build a courthouse out of foam blocks.
Last updated: January 16, 2018