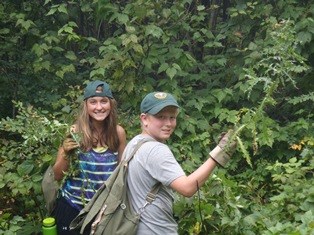 Invasive species are considered to be one of the top threats to the ecological integrity of our national parks. While the Upper Midwest has numerous troublesome invasive species, many of these are not present on Isle Royale. Three quadrillion gallons of cold Lake Superior water create a formidable barrier, making it difficult for new species to reach the archipelago.
But invaders do arrive. They are most often found around developed areas, docks, along trails, and in campgrounds; where exposure from the mainland is high. And though a lone seed or zebra mussel may seem insignificant, if unnoticed it can lead to the establishment of a sizable population. Depending on the species and size of the population, such an event
could lead to a decrease in island biodiversity
and compromise ecosystem integrity.
Please take the time before and during your trip to do your part to repel the invasion.