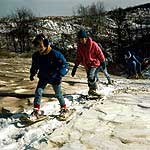 Hiking, cross-country skiing and snowshoeing are popular in the wintertime. Visitors must bring their own snowshoes and cross-country skis, as there are no rentals available. A 4-6 inch snow base is recommended. Trails are not groomed. Please call the Indiana Dunes Visitor Center at 219-395-1882 for trail conditions.
The best areas for cross-country skiing include:
Glenwood Dunes Trail System
This extensive trail system features interconnected loops through gently rolling wooded dunes ranging from less than a mile to nearly 15 miles.
The trail system can be accessed from either the Glenwood Dunes parking lot or the
Calumet Dunes
parking lot.
Tolleston Dunes Trail System
This 2.9 mile trail winds amid varied habitats ranging from oak savanna to wetlands and
is a good choice for advanced skiers. There are some difficult hills that can be tricky to navigate.

Hikers and visitors using snowshoes are asked to walk to the right of the cross-country ski tracks whenever possible.
Sledding and snowmobiling are not permitted.