Winter Activities at Indiana Dunes National Park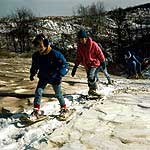 Hiking, cross-country skiing and snowshoeing are popular in the wintertime. If you need snowshoes or cross-country skis, free rentals are avaiable at the
Paul H. Douglas Center for Environmental Education
for use on the
Paul H. Douglas Trail
, weather permitting.
Visitors must bring their own snowshoes and cross-country skis for these activities at other places in the park. A 4-6 inch snow base is recommended. Trails are not groomed. Please call the Indiana Dunes Visitor Center at 219-395-1882 for trail conditions.
The best areas to bring your own cross-country skiing or snowshoe equipement include:
Glenwood Dunes Trails
This extensive trail system features interconnected loops through gently rolling wooded dunes ranging from less than a mile to nearly 15 miles.
The trail system can be accessed from either the Glenwood Dunes Trails parking lot or the
Calumet Dunes Trail
parking lot.
Tolleston Dunes Trail
This 2.9 mile trail winds amid varied habitats ranging from oak savanna to wetlands and
is a good choice for advanced skiers. There are some difficult hills that can be tricky to navigate.

Hikers and visitors using snowshoes are asked to walk to the right of the cross-country ski tracks whenever possible.
Sledding is permitted at one location in the park: just southwest of the West Beach picnic shelters on the west-facing slope of the West Beach Trails. Please call the Indiana Dunes Visitor Center at 219-395-1882 with any questions.

Snowmobiling is not permitted anywhere in the park.
Shelf
Ice
Shelf ice often forms along the edge of Lake Michigan during periods of cold weather. Don't be fooled. Despite its appearance, the shelf ice is not solid. In fact, due to the way it is formed, the shelf ice has numerous air pockets. It can be difficult to tell where the ice ends and the beach begins.

Do NOT walk on the shelf ice. A person applying even a small amount of weight on the ice can easily fall through and into frigid water that can quickly kill. Enjoy the beautiful and unique ice formations from the safety of solid ground.
Last updated: February 22, 2022