Winter Activities at Indiana Dunes National Park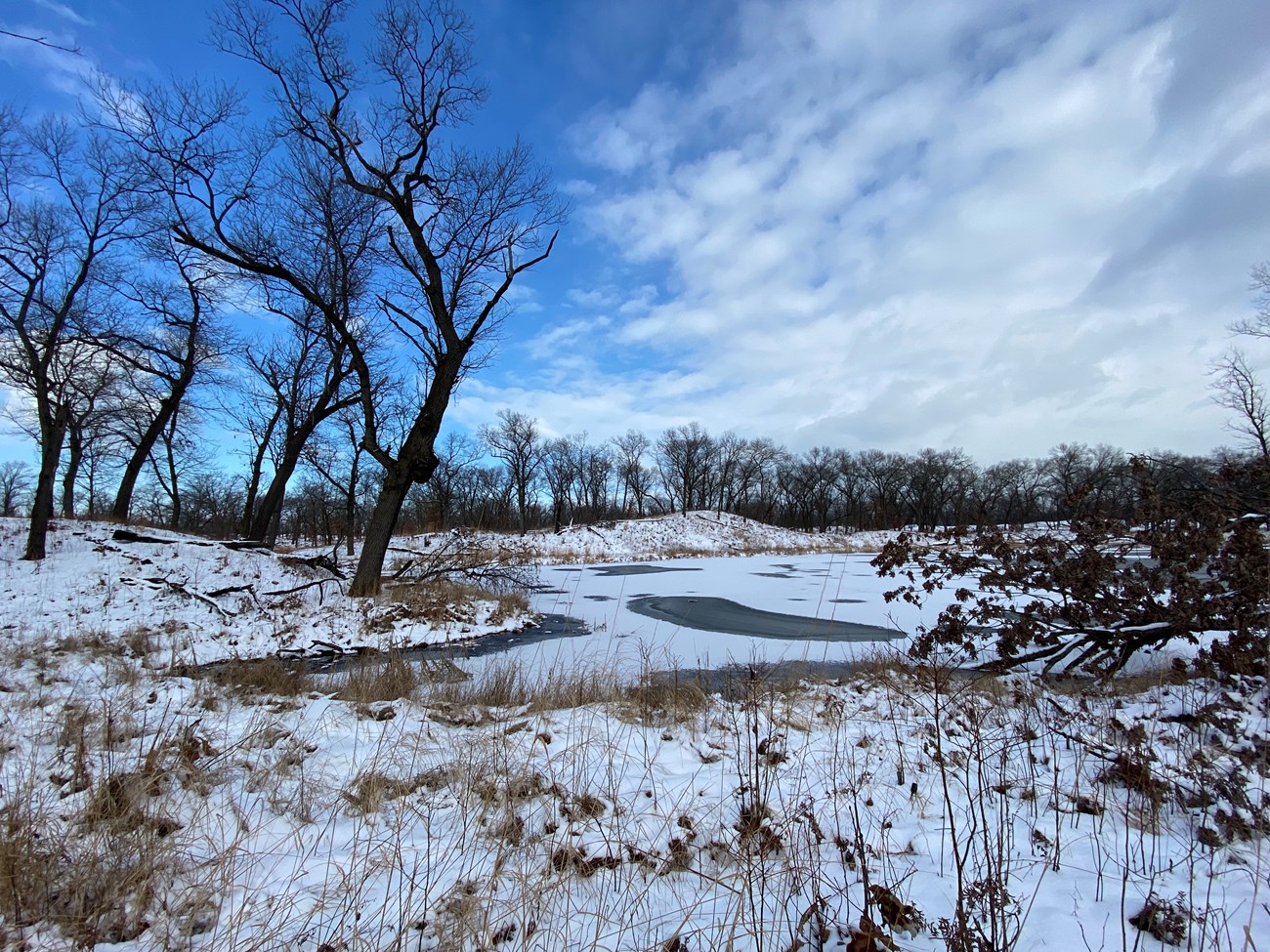 Each season, nature's artistry transforms the Indiana Dunes. Winter provides the opportunity to experience the park in unique ways. Snow may blanket the landscape, and ice formations may line the beach. The days are shorter, the pace is slower, and the crowds are never an issue during winter months.

Start your visit at the Dorothy Buell Memorial Visitor Center, open 9 am to 4 pm, seven days a week. Here you can purchase your Park Entrance Pass, pick up maps and brochures, catch the 29-minute park film, and ask a ranger any questions you may have to ensure a safe and enjoyable visit.

To best prepare for safe and enjoyable winter hiking, visit the Winter Hiking Tips page.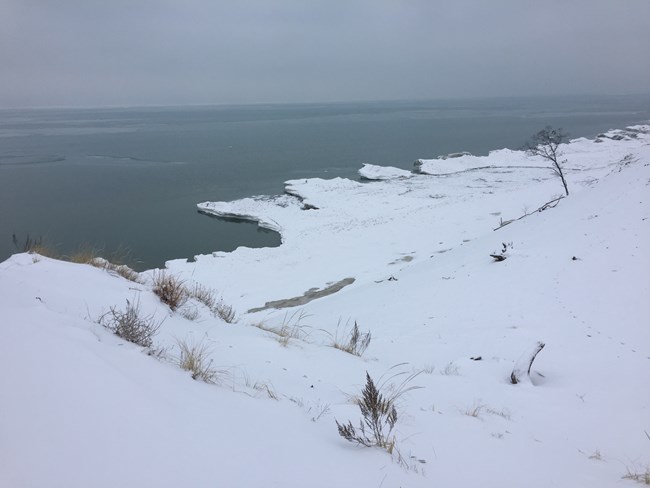 Winter Exploration
Frigid temperatures bring dramatic changes to Indiana Dunes National Park. Take advanatge of winter's stillness and enjoy frozen scenes around Lake Michigan's southern shore.
Winter Scenery
Observe changes in the landscape as winter's grabs hold of the region. Blankets of snow, evergreen trees, and a frozen shore offer scenes that look more like the far north than the midwest. With most of the park's plant life gone dormant, the topography is clearer in this nearly leafless landscape. West Beach, Kemil Beach, Dunbar Beach and Lake View are great places to check out winter scenery.
Hiking
Hitting the trail is a great way to experience winter scenes at the Dunes. All trails are open for winter hiking except the Pinhook Bog Trail (the Upland Trail is open). The Paul H. Douglas Trail, Cowles Bog Trail, and West Beach Trails offer a variety of difficulty levels to experience winter hiking in the park. Choose a trail that best matches you and your experience level.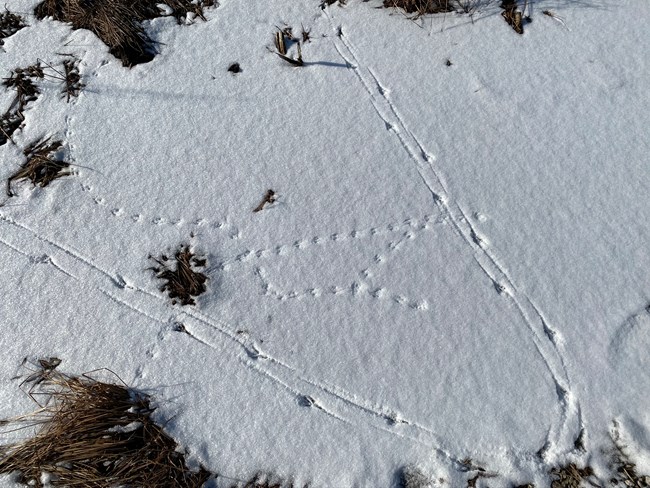 Wildlife
Winter provides great opportunity to see how wildlife adapts to colder temperatures. Wood frogs survive thanks to an anti-freeze in their bodies that allow them to nearly freeze solid. Fresh snow provides the opportunity to find animal tracks. Birding in winter allows ample opportunity to get to know our year-round resident avians, but also gives you a chance to see some species who migrate here from the north in order to have a milder winter. Some of these species include the dark-eyed junco and snowy owl.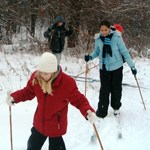 Cross-Country Skiing and Snowshoeing
Cross-country skiing and snowshoeing are popular in the wintertime when enough snow is present (4-6 inches is recommended). If you need snowshoes, free rentals are avaiable at the Paul H. Douglas Center for Environmental Education for use on the Paul H. Douglas Trail, weather permitting.

Visitors must bring their own snowshoes or cross-country skis for these activities at other places in the park. Trails are not groomed. Please call the Indiana Dunes Visitor Center at 219-395-1882 for trail conditions. The best areas to bring your own cross-country skiis or snowshoe equipement include:
This extensive trail system features interconnected loops through gently rolling wooded dunes ranging from less than a mile to nearly 15 miles. The trail system can be accessed from either the Glenwood Dunes Trails parking lot or the Calumet Dunes Trail parking lot.
This 2.9 mile trail winds amid varied habitats ranging from oak savanna to wetlands and
is a good choice for advanced skiers. There are some difficult hills that can be tricky to navigate.
Hikers and visitors using snowshoes are asked to walk to the right of the cross-country ski tracks whenever possible.
Sledding
Sledding is permitted at one location in the park: just southwest of the West Beach picnic shelters on the east-facing slope of the West Beach Trails. Sledding is prohibited on marram grass and is only permitted when adequate snow cover is present. Please call the Indiana Dunes Visitor Center at 219-395-1882 with any questions.
Snowmobiling
Snowmobiling is not permitted anywhere in the park.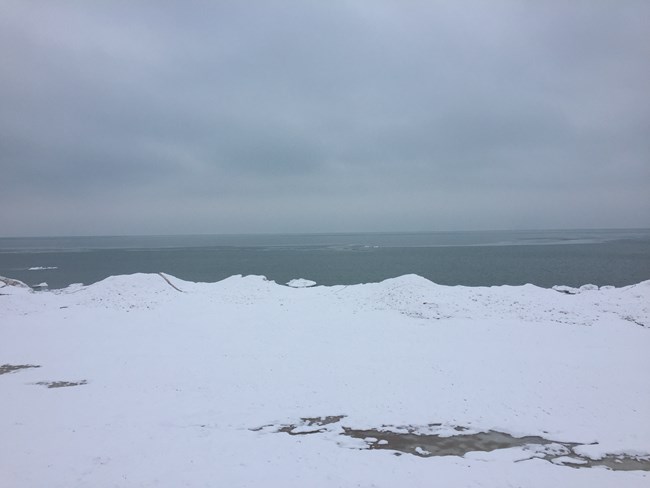 Shelf ice often forms along the edge of Lake Michigan during periods of cold weather. Don't be fooled. Despite its appearance, the shelf ice is not solid. In fact, due to the way it is formed, the shelf ice has numerous air pockets. It can be difficult to tell where the ice ends and the beach begins.

Do NOT walk on the shelf ice. A person applying even a small amount of weight on the ice can easily fall through and into frigid water that can quickly kill. Enjoy the beautiful and unique ice formations from the safety of solid ground.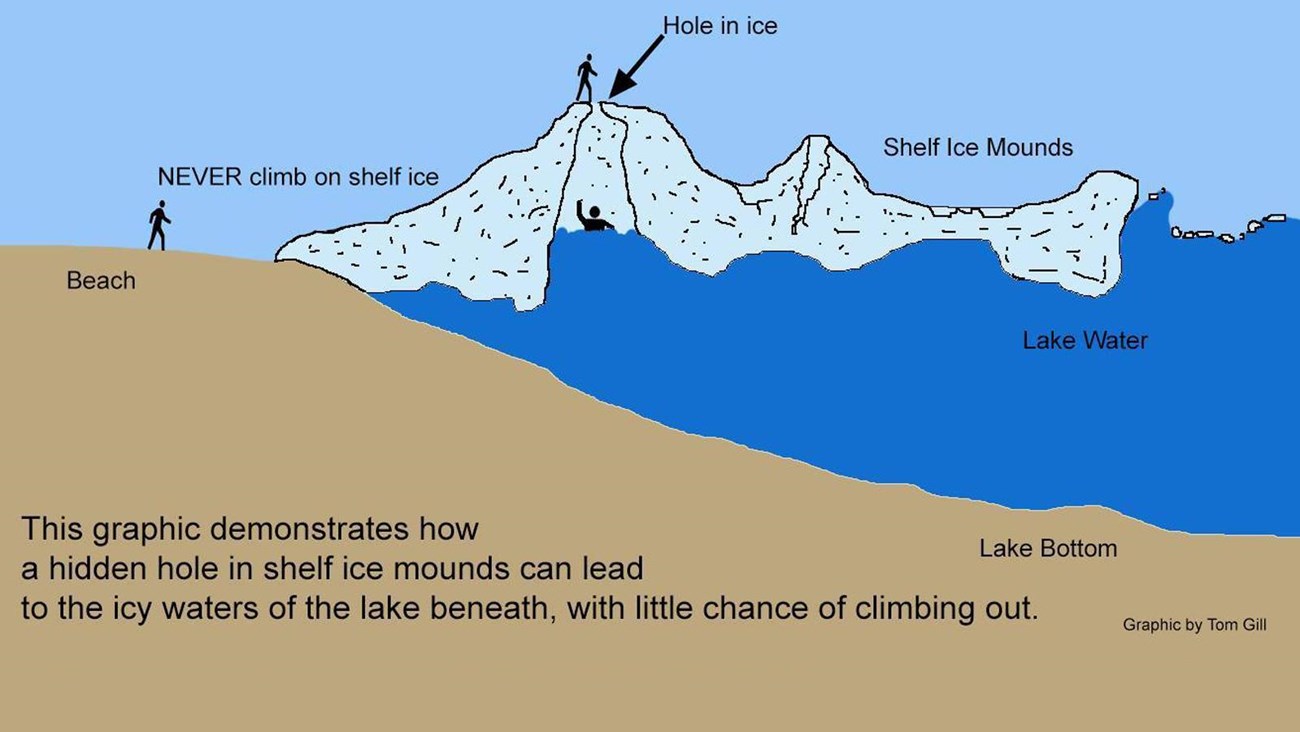 The Dangers of Shelf Ice
Stay off the shelf ice! Despite its unusual beauty, don't risk your life. Enjoy the view of the shelf ice—from a distance!
Current Weather Conditions
For a current weather forecast, choose an Internet weather provider and use the following zip codes for the appropriate section of the park. Links to the National Weather Service are provided.
Michigan City 46360 - Mount Baldy trails, Central Avenue Beach, Heron Rookery trails, Pinhook Bog trails.

Beverly Shores 46301 - Dunewood Campground, Lake View Beach, Kemil Beach, Dunbar Beach, Glenwood Dunes trails , Dune Ridge trails, Great Marsh trails.
Chesterton 46304 - Visitor Center, Chellberg Farm, Bailly Homestead, Porter Beach, Cowles Bog trails.
Portage 46368 - West Beach trails, Tolleston Dunes trails, Portage Lakefront and Riverwalk.
Gary 46403 - Paul H. Douglas Center, Paul H. Douglas trails (Miller Woods), Tolleston Dunes trails.
Hobart 46342 - Hobart Prairie Grove trails.
Last updated: December 16, 2022