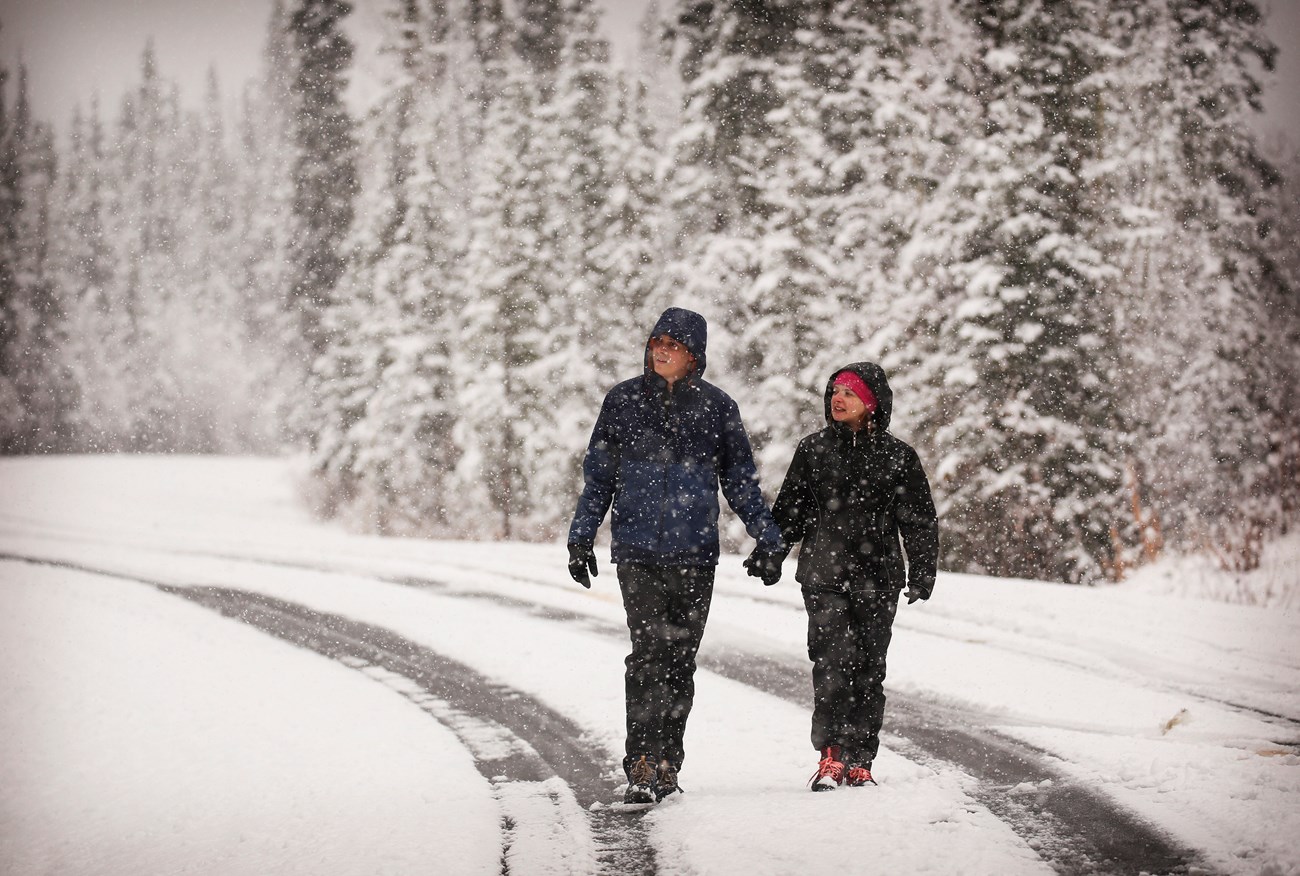 Hiking in winter can be a beautiful thing. There's nothing like the hush that falls while snow blankets a forest. But remember- when you head outdoors you leave behind the established comforts of home: food and water; shelter from the sun, wind, and weather; and easy access to emergency services. Before heading to your favorite national park in snowy weather, keep these winter hiking tips in mind.
Before heading to the park
Be prepared. Bring the right gear: layers of clothing, warm outer layers, sunglasses and sunscreen, and lots of water and snacks. Traction devices are always recommended when walking on ice and snow. See a list of winter hiking essentials below.
Know where you are going. Don't rely on cell phones. Many areas have no service. Carry a map and compass (or GPS) and know how to use them.
Check the weather forecast. Weather can change quickly, especially if you are visiting higher elevation.
Know trail conditions in your park before your start.
Consider leaving pets at home. Pets are prohibited on many park trails. Check with your park for specifics before you make your plans.
Discuss your plans with family, friends, and park staff at visitor centers. Make sure someone knows where you are and when to expect your return.
Hiking Tips
Snowshoes and traction devices are recommended on ice and snow.
In winter, some trails are not marked or maintained. Route-finding skills are important. Don't rely on others' tracks which can lead you astray. Be aware that it is common courtesy not to trample on existing cross-country ski tracks as it can trip up skiers.
Know your route. Snow-covered landscapes look very different than in summer. Snow can be deep once you are off trail.
Keep off ice. Streams and lakes can have thin ice and be very dangerous.
Be avalanche aware. Check with your park for the latest safety information and avalanche forecast.
Always be willing to turn around. Weather and trail conditions can change quickly as snow falls and melts.
Watch for wildlife. Always keep your distance and practice safe wildlife viewing practices.
Winter Hiking Essentials
Food – especially salty foods. Eat a good meal before your trip.
First Aid Kit – bandaids, ace wrap, antiseptic, moleskin, etc.
Map – not all tails are well-marked in winter, maps are helpful tools.
Water – plain and some with electrolyte replacement.
Appropriate Footwear – waterproof boots, gaiters to keep snow and mud out of your boots.
Over-the-shoe traction devices – it will only take a short and unexpected stretch of ice to make you glad you have extra traction.
Hiking Poles – to help with footing on icy trails.
Whistle and/or Signal Mirror – for emergency use, know how to use your equipment.
Waterproof/Warm Clothing – parka, hat, gloves for the snow and rain, plus an extra set of dry clothing – in case you get wet.