West Beach Trail System


Getting There
Need to Know
Trail Map
Featured Hikes
Nearby Hikes
Photos

West Beach offers a great combination of hiking and relaxing at the beach. The trails are varied and encompass many habitats. There are great views from the top of the Dune Succession Trail stairs, a beautiful pinery of jack pines, birding opportunities along Long Lake and secluded sections of forest. After hiking, relax and swim at the beach.

Trail Features: Birding, Lake Michigan, Swimming, Views, Wildflowers, Wildlife
Must See Gems: View from the top of the Dunes Succession Trail stairs
---
Getting There
Trailhead Parking Lots 376 North County Line Road, Gary, IN 46403

Trailhead GPS Coordinates


41.622934, -87.207747 (Decimal Degrees)
---
Need to Know
Hours & Information
Trails and parking lot are open daily from 8:00 am - 10:00 pm Memorial Day through Labor Day and 8:00 am to 30 minutes after sunset the remainder of the year.

There is an expanded amenity fee to park at West Beach collected from Friday of Memorial Day weekend through Monday of Labor Day weekend. $6 per car, $30 per bus, 50% discount for Senior and Access Passes.

Cash, U.S. checks or credit, debit and gift cards (MasterCard, Visa and Discover) accepted.

Bicycles and motorized vehicles are not allowed.

Pets are permitted on a leash (6' or shorter) and outside of the lifeguard area.

The main parking lot has spots for 596 cars and 20 buses and is open year round.

Trail surface is a combination of loose sand, packed dirt, and sections of stair and boardwalk.

Respect closed area signs; help us restore the dunes.

The removal of rocks, shells, and fossils is strictly prohibited.

There are covered picnic shelters near the West Beach parking lot. First come, first served. No advance reservations. Wheelchair accessible.

Alcohol is not permitted anywhere at West Beach.

Cooking fires at the picnic shelters are permitted in the provided grills or an approved carry-in grill.

An approved grill is a noncombustible container with an enclosed bottom and enclosed sides with a minimum depth of 2 inches.Charcoal must be cooled and safely disposed of in a noncombustible container or removed from the area.

There are restroom facilities and potable water available year round in the contact station.

Seasonal showers, lockers and a beach with lifeguards are available from Memorial Day weekend through Labor Day weekend. For more information, visit the West Beach webpage.

No littering, hunting, disturbing wildlife or picking plants.
Safety
Stay on the trail to protect the wildlife and yourself.

Use insect repellent to help prevent tick bites and related diseases. Conduct a thorough inspection for ticks after your hike.

Avoid the abundant poison ivy along trail edges.
Accessibility
Walkway from parking lot to bathhouse and to beach is accessible; walkway to picnic shelter is also accessible. A beach wheelchair is available for use during lifeguarded beach season in summer. Request use from the lifeguard or front kiosk staff. Hiking trails are not accessible to wheelchairs.
In case of an emergency or to report a crime, call 1-800-PARK-TIP.
---
Trail Map
Click here for a list of all hiking trail maps of the Indiana Dunes National Lakeshore.
Download a national parks interactive trail guide phone app. Apple or Android.
Paper trail maps are available at the trailhead kiosk and the Visitor Center.
---
Featured Hikes
West Beach 3-Loop Trail
Length – 3.4 miles total
• Dune Succession – Loop 1: 0.92 miles
• West Beach – Loop 2: 1.21 miles
• Long Lake – Loop 3: 1.68 miles
Average Hiking Time – 45 minutes to 2.5 hours
223 feet of elevation gain, 2% average grade, 20% maximum grade

This loop hike combines sections of the three trails at West Beach. The hike starts with the Dune Succession Trail (Loop 1), which highlights the four stages of dune development. From the parking lot, head north to the bathing house to pick up the trail. This part of the trail is only ~0.6 miles long, but includes a strenuous climb up 250 stairs for a spectacular view of Lake Michigan and Chicago. Along the way you will pass through a beautiful pinery of jack pine trees. These are some of most southern jack pines in the world and are a result of Lake Michigan and the work of glaciers transporting seeds. Support the restoration effort in the fragile dunes and ponds by remaining on designated trails.

The hike then picks up the West Beach Trail (Loop 2) for an easy hike through an area that was sand mined in the 1920s. The footing is mainly loose sand. This area is being restored as an oak savanna and is a great place to see prickly pear cactus. Birders will enjoy looking for water birds on Long Lake from the viewing platform.

The final section of the hike is the Long Lake Loop Trail (Loop 3). This section is moderate in difficulty. The trail follows along Long Lake and then heads into the dunes. There is a great view of Long Lake after the initial climb. After crossing the entrance road, the trail winds through the undulating dunes and then has a steep descent into the picnic area and back to the parking lot.

The trail surface varies from loose sand to packed dirt and sections of stairs and boardwalks. The hike will take longer than you think due the loose footing of walking in the sand. The trail starts in relative shade but ends in the full sun. Please bring plenty of water, sun protection and dress in layers. The weather on the beach can be dramatically colder or hotter than in the woods.

Dunes Succession Trail
0.92 mile, 81 feet of elevation gain, 3% average grade, 15% maximum grade
Average hike time: 45 minutes

The Dune Succession Trail (Loop 1) highlights the four stages of dune development within its one-mile length. From the parking lot, follow the road north, toward the lake and look for the trail to pick up to the west of the bathhouse. This scenic, but strenuous, trail includes a climb up 250 stairs for a spectacular view of Lake Michigan and Chicago. Support the restoration effort in the fragile dunes and ponds by remaining on designated trails.

History & Background
The flat areas at West Beach are the result of sand mining that took place in the 1920's. Imagine what West beach would look like with uninterrupted dunes.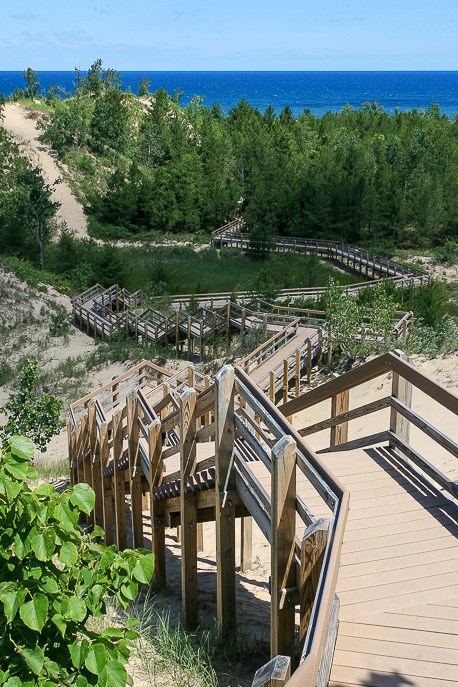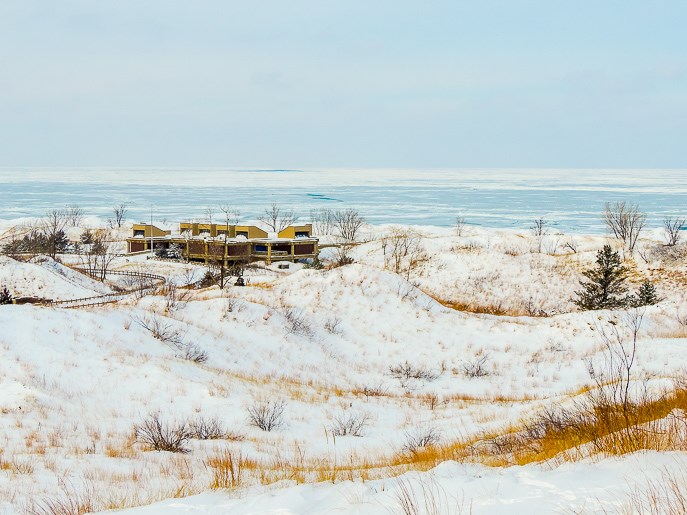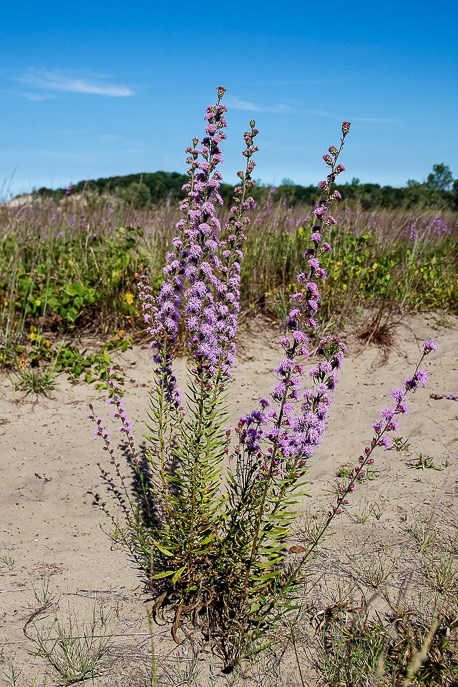 Last updated: June 25, 2018