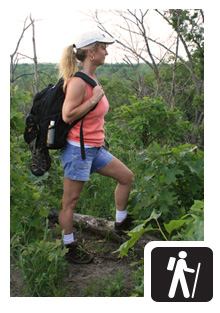 Discover much more than just sand dunes as you hike through 14 distinct trail systems covering more than 50 miles of trails.
A wide variety of hiking trails traverse the various habitats and cultural history of Indiana Dunes National Lakeshore. The varying lengths and difficulty levels make it easy to choose the trail that's right for you. From a short easy stroll to a challenging all-day trek, most of the trails are open all year and the hiking experience will change with each season.
Paper trail maps are available at the Indiana Dunes National Lakeshore Visitor Center and at each trailhead kiosk. PDF trail maps are available to download on each trail's webpage.

*** Indiana Dunes Outdoor Adventure Festival, October 6-8, 2017 ***
The National Lakeshore will be hosting a three day Outdoor Adventure Festival with a schedule full of hiking, backpacking, paddling, biking, and other outdoor activities. Please check our website and Facebook page for details. The festival is free, but advance registration is requested as many events have limited spots. For more information and to register, please use the following link: Outdoor Adventure Festival Information.