Heron Rookery Trail


Getting There
Need to Know
Trail Map
Featured Hike
Nearby Hikes
Photo

The Heron Rookery Trail follows along a portion of the Little Calumet River that once featured over 100 Great Blue Heron nests. After 60 years of nesting here, the herons have moved on to new nesting grounds. These woods remain alive with dozens of birds including kingfishers, woodpeckers and a wide variety of migrating and nesting warblers.

In spring, before the trees leaf out, the woodlands along this trail are blanketed with the most extensive display of spring wildflowers in the national park. Trillium, spring beauties, and Dutchman's breeches are just a few of the flowers you'll see along this trail. Most years, the wildflowers peak from late April through mid-May.

Trail Features: Spring Wildflowers, Birding, Wildlife, Little Calumet River
Must See Gems: Spring Wildflowers
---
Getting There

Trailhead Parking Lots

Main (east) Lot: 1336 600 East, Michigan City, IN 46360

Alternate (west) Lot: 1301 North 450 East, Chesterton, IN 46304

Trailhead GPS Coordinates

East Lot: 41.627043, -86.952446 (Decimal Degrees)

West Lot: 41.622502, -86.980227 (Decimal Degrees)
---
Need to Know
Hours & Information
Hours – Open daily from 6:00 am to 11:00 pm.

Hike Length – 3.3 miles.
Hike Time – 1.5 to 2 hours.
Difficulty – Easy with no change in elevation.
Trail Surface – Packed dirt and clay. Trail can be very slippery and muddy.
Facilities – No restrooms or potable water.
Pets – Permitted on a leash (6' or shorter).
Prohibited – Littering, hunting, and removing plants.
Prohibited – Bicycles and motorized vehicles.

The main (east) parking lot is gravel and is large enough for buses & RV's to park.

The alternate (west) parking lot is gravel and has room for only 4 cars.
Safety
Please stay on the trail and respect closed area signs. Going off trail damages fragile habitat.
Wear adequate footwear as the trail can be muddy and slippery in sections.
Ticks are present year-round. Take precautionary measures to prevent bites.
Poison ivy can be present on the edges of the trail.
Mosquitos and flies can be bad in the summer months.
Be prepared for changing weather conditions.
In case of an emergency or to report a crime, call 1-800-PARK-TIP.
Accessibility
The trail is not wheelchair accessible.
---
Trail Map
Click here
for a list of all hiking trail maps of the Indiana Dunes National Park.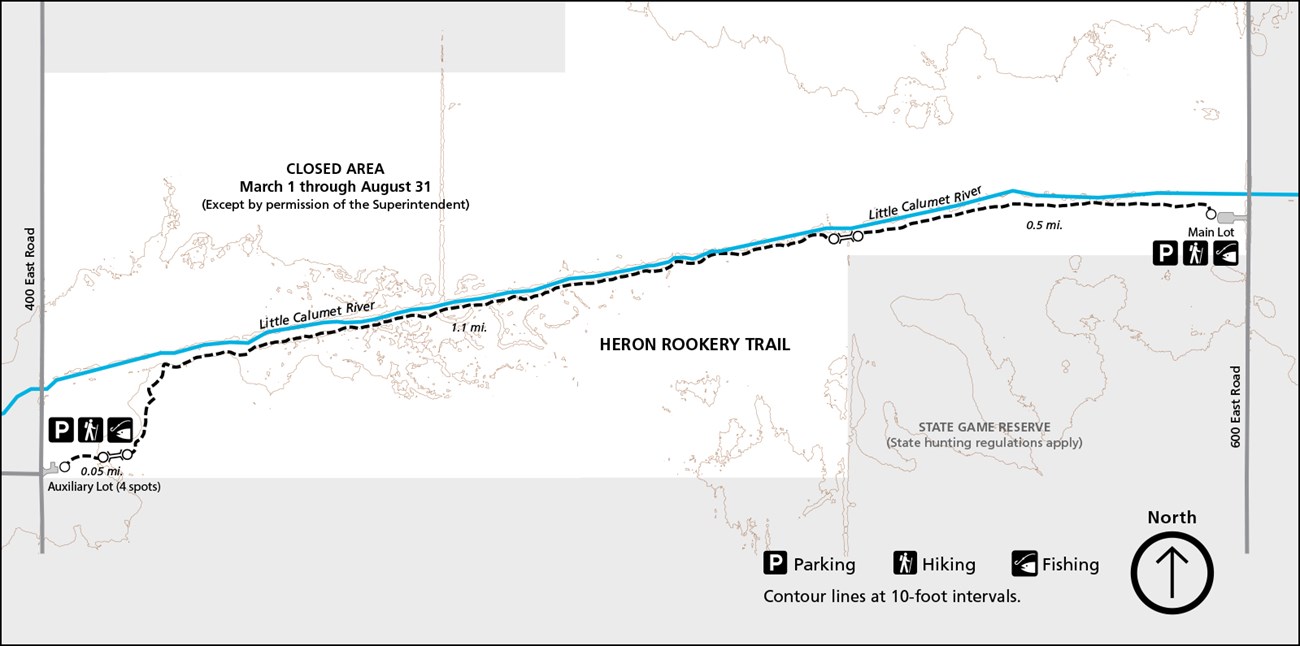 ---
Featured Hikes
Heron Rookery Trail
3.3 miles, 12 feet of elevation gain, 0% average grade, 1% maximum grade
Hike time: 2 hours

The featured hike starts from the east parking lot. The hike is a simple out and back. Follow the trail from the east parking lot to the west parking lot and back. The trail surface is packed dirt and clay, which can make this trail very slippery when wet. Wear adequate footwear.

In late April to mid-May, before the trees leaf out, the woodlands along this trail are blanketed with the most extensive display of spring wildflowers in the national park. Fishing is also popular during the spring and fall when salmon and trout are making their spawning runs from Lake Michigan into the Little Calumet River. Indiana state fishing regulations apply.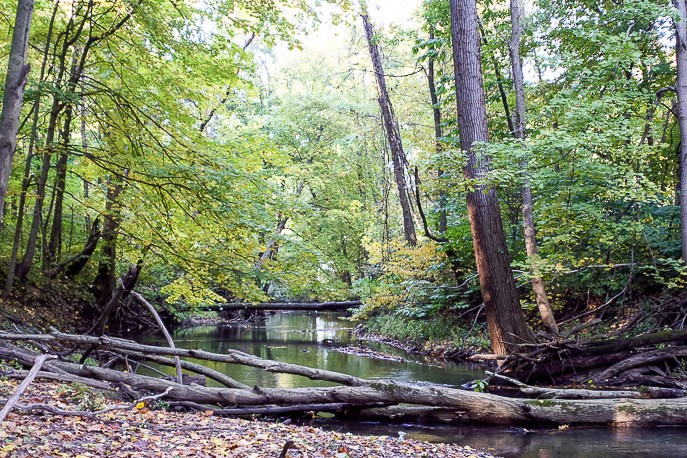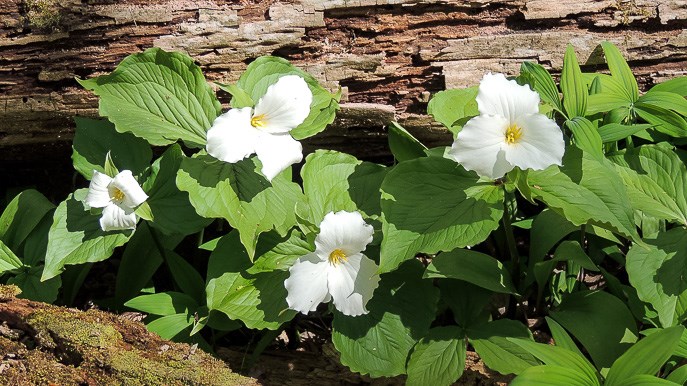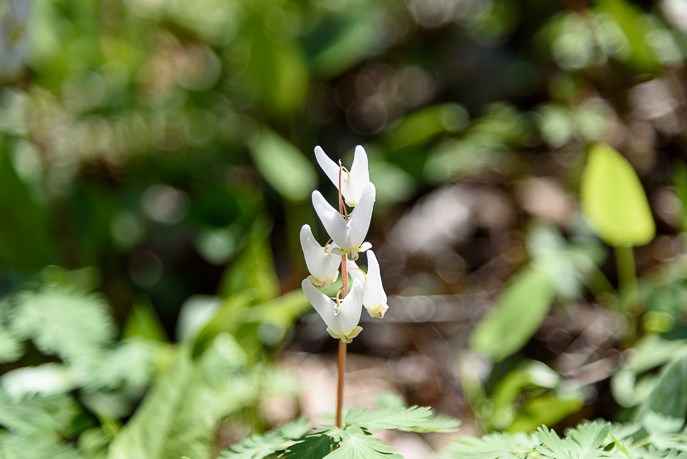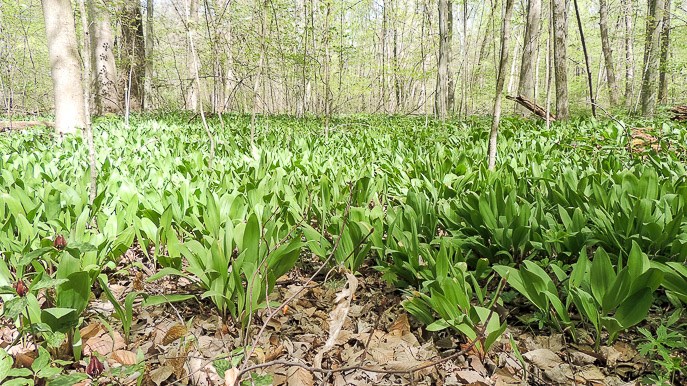 Last updated: May 11, 2023