Geocaching at Indiana Dunes National Park
Join the Fun!
Geocaching is the outdoor adventure where players (called geocachers) use a Geocaching app or a GPS to find hidden containers around the world. Visit Geocaching.com or download the free Official Geocaching app to begin geocaching.
Here are our available Geocaches and EarthCaches... more to come!
Two Dunes Walk Into A Sandbar (NEW)
Location:
Mount Baldy Beach Trail
Rising about 126 feet above the lake's surface, Mt. Baldy might be one of the most recognizable features of the Indiana Dunes National Park. Mt. Baldy has stood fast along the southern shoreline of Lake Michigan for the last 3,500 years. However, within the last 200 years the dune itself has taken on a strikingly new appearance and behavior. Not only is Mt. Baldy the tallest dune in the park, it is also one of the fastest. Why is Mt. Baldy on the move? To understand why Mt. Baldy looks and behaves the way it does, we must first understand the factors that contributed to its development. This EarthCache will explore the various biotic (living) and abiotic (non-living) processes that contributed to form this dune, and we'll see what consequences they have had on Mt. Baldy as they have changed over time. So, let's see how the sands of time have affected this gem on the southern shoreline.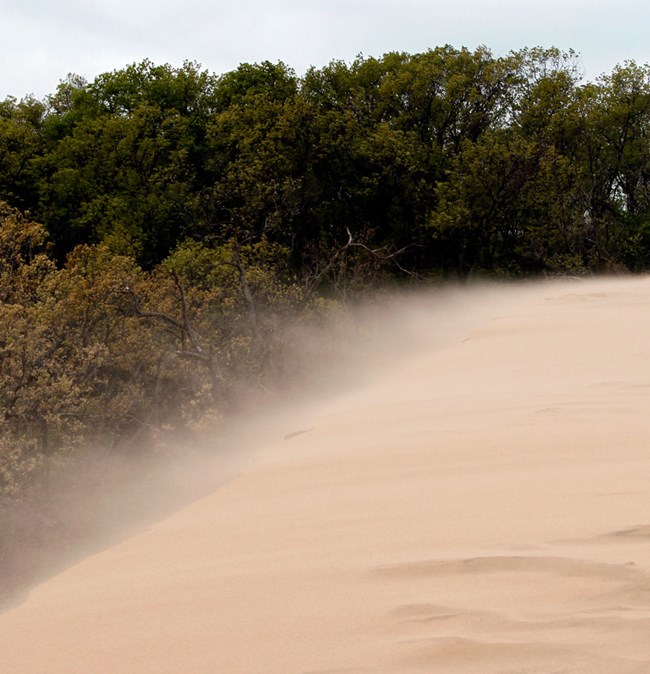 Singing Sands
Locations: Kemil Beach, Dune Ridge Trail, Calumet Dunes Trail, and Glenwood Dunes Trail
Have you ever heard that sand can sing? Some sand can belt out one single musical note, while others a range of musical notes. Singing sand is a phenomenon that happens on certain shorelines and desert dunes around the world. For this marvel to occur, sand must have the perfect conditions to resonate a sound. This EarthCache is going to explore some of the properties of sand at the Indiana Dunes National Park to see if we can uncover how sand within the landscape has changed over the past 14,000 years. So, let's put on our musical hats and science kits and try to make the dunes sing!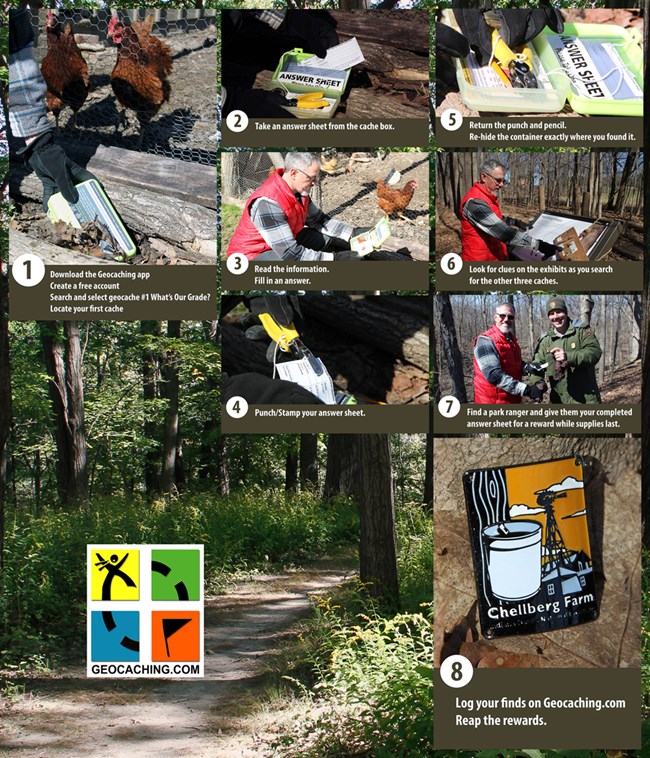 Chellberg Farm / Bailly Homestead Trail Geocache Challenge
Geocache Sites...
Starting GPS Coordinates: (41.624679, -87.089502)
#1 What's Our Grade?
#2 Identify a Sugar Maple Tree.
#3 What's Wrong with the Collection Site?
#4 Can Trees Really Move?
Last updated: April 28, 2020