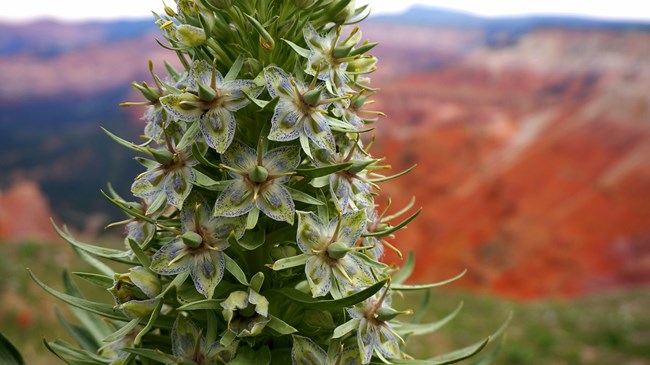 The Northern Colorado Plateau Network monitors air quality, climate, land surface phenology, landscape dynamics, and uplands at Cedar Breaks National Monument. The results of that monitoring provide park managers with scientific information for decisionmaking.
Cedar Breaks National Monument was established by Presidential Proclamation on August 22, 1933, to preserve "spectacular cliffs, canyons, and features of scenic, scientific, and educational interest contained therein." The park is best known for the geologic spectacle of its multi-colored geologic amphitheater, eroded from the Claron Formation, and located on the western edge of the Markagunt Plateau.
Elevation varies from 3,250 meters (10,662 feet) in the northeastern section above the amphitheater rim, to 2,469 meters (8,100 feet) on Ashdown Creek on the western boundary. Mean monthly minimum temperatures are above 32°F only in June, July, August, and September. The result is long, cold winters, and short, cool summers. Annual cumulative snowfalls can exceed 9 meters (30 feet).
The rim features a mixture of spruce/fir forest and subalpine meadows. Throughout summer, meadows abound in a dazzling profusion of wildflowers, peaking in midsummer. The park is dominated by subalpine fir/Engelmann spruce woodlands at middle and upper elevations. Ponderosa pines occupy nearly every available habitat below the breaks. Shrublands are patchy, and upland dry herbaceous communities are common on the upper plateaus. Wetland and riparian communities are associated with springs, wetlands, and wet meadows.
Increasing recreational use, hazard tree management, and adjacent land-use and vista impacts are the park's main natural resource management concerns.