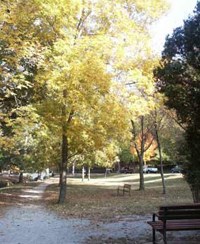 Walking paths have long been a part of Hot Springs National Park and the preceding Hot Springs Reservation. Many informal paths criss-crossed the mountains when Hot Springs Reservation was reclaimed by the federal government in 1878; however, formal trails were not laid out for several years. In the early to mid 1890's, Captain Robert Stevens laid out many of the trails on Hot Springs Mountain. Most trails were built during the 1920's with some improvements completed by the CCC in 1933.
Earn incentives while you walk in the park. Let's Move Outside and improve health.
As in all communities and parks, crimes against property and visitors may occur and you must use good judgment to protect your property and yourself. Hot Springs National Park encourages you to lock your vehicle and ensure property is locked in the trunk of your vehicle or hidden from view; hold or carry personal possessions securely; avoid dark and isolated areas; and, walk, run and hike in pairs or groups. In the event of criminal activity, you should go to the nearest telephone and call 911 to report the incident.
Trail information was generated and compiled by students from Hot Springs area EAST Labs during a 2006 summer grant program.
If you have an emergency while visiting the park, please call our Law Enforcement Dispatch at 501-620-6739.