Sunset Trail
Sunset Trail is the longest trail in Hot Springs National Park, covering approximately 10 miles one-way. Crossing all types of terrain, the trail makes its way through the most remote areas of the park. This trail is divided into three sections: West Mountain (2.8 miles), Sugarloaf Mountain (2.6 miles), and Stonebridge Road (3.8 miles). Sunset Trail can be combined with Hot Springs and North Mountain trails and West Mountain trails to complete a strenuous 15-17 mile loop hike.

There are many false trails, or trail spurs, that diverge from Sunset Trail and lead outside of the park boundary, onto private property. Stay on the maintained Sunset Trail at all times. Pay attention to signage and follow the orange blazes. Please be respectful of our neighbors and avoid trespassing on private property.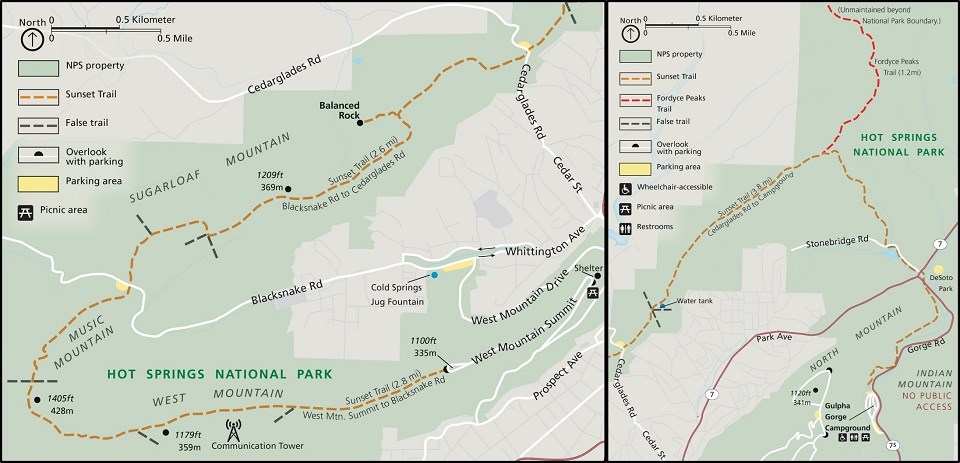 ---
West Mountain Section
The West Mountain section of Sunset Trail runs 2.8 miles between the West Mountain Summit and Black Snake Road. Parking is available at both ends of the trail. Views of the southern portion of Hot Springs National Park and Lake Hamilton are available along this section of the trail. The highest point in the park, Music Mountain (1405 feet), is located within the West Mountain section at the westernmost point of Sunset Trail.

*Remain north of the communication towers on West Mountain at all times (keep right if hiking from West Mountain Summit to Black Snake Road, and keep left if hiking from Black Snake Road to West Mountain Summit).
---
Sugarloaf Mountain Section
The Sugarloaf Mountain section of Sunset Trail runs 2.6 miles between Black Snake Road and Cedar Glades Road, traversing the ridge of Sugarloaf Mountain. Parking is available at both ends of the trail. Balanced Rock, an outcrop of Arkansas Novaculite, offers one of the most scenic vistas within the park. The 0.2 mile Balanced Rock Trail spur branches off of Sunset Trail within a curve roughly one mile from Cedar Glades Road. The trail is very steep and rocky for a short distance near Cedar Glades Road.
---
Stonebridge Road Section
The Stonebridge Road section of Sunset Trail runs 3.8 miles between Cedar Glades Road and Gulpha Gorge Campground. Parking is available at both ends of the trail. This section of Sunset Trail passes through land on Stonebridge Road that was once part of the Fordyce family estate. Ricks Pond, an ideal area for aquatic wildlife viewing, is found here. Please be careful around Ricks Pond, and do not climb on or around stone structures. Although bridges lead across Ricks Pond, the land and trails on the other side of Ricks Pond are private property. Please be respectful of our neighbors and do not trespass on their land. The trail crosses Hwy 7 between Stonebridge Road and the Gulpha Gorge Campground. Near the Hwy 7 crossing, the trail runs parallel to Stonebridge Road and to Gorge Road. The 1.2 mile Fordyce Peaks Trail spur branches off of the northeastern corner of Sunset Trail, providing views of Fordyce Peaks. The trail is unmaintained beyond the national park boundary.

*An old roadbed and power line near Cedar Glades Road can confuse hikers. Remain north of the water tank here (keep left if hiking from Cedar Glades Road to Gulpha Gorge Campground, and keep right if hiking from Gulpha Gorge Campground to Cedar Glades Road).
---
Hiking Etiquette and Safety
Take plenty of drinking water and wear appropriate clothing and shoes. Stay on the established trails. Leaving the trail can be hazardous.

Respect wildlife; observe only from a distance. Horses are allowed only on non-paved trails. Keep pets on a six foot leash at all times. Properly dispose of waste, including pet waste. Pack it in, pack it out.

Remember everything is protected in a national park. Please leave objects as you find them. Leave rocks, plants, and flowers for others to enjoy. Historic structures and artifacts help tell the story of the past.

Please report vandalism or graffiti to a law enforcement ranger. For National Park Service law enforcement dispatch call 888-692-1162. For emergency assistance, call 911.
Last updated: June 14, 2019