Hot Springs and North Mountain Trails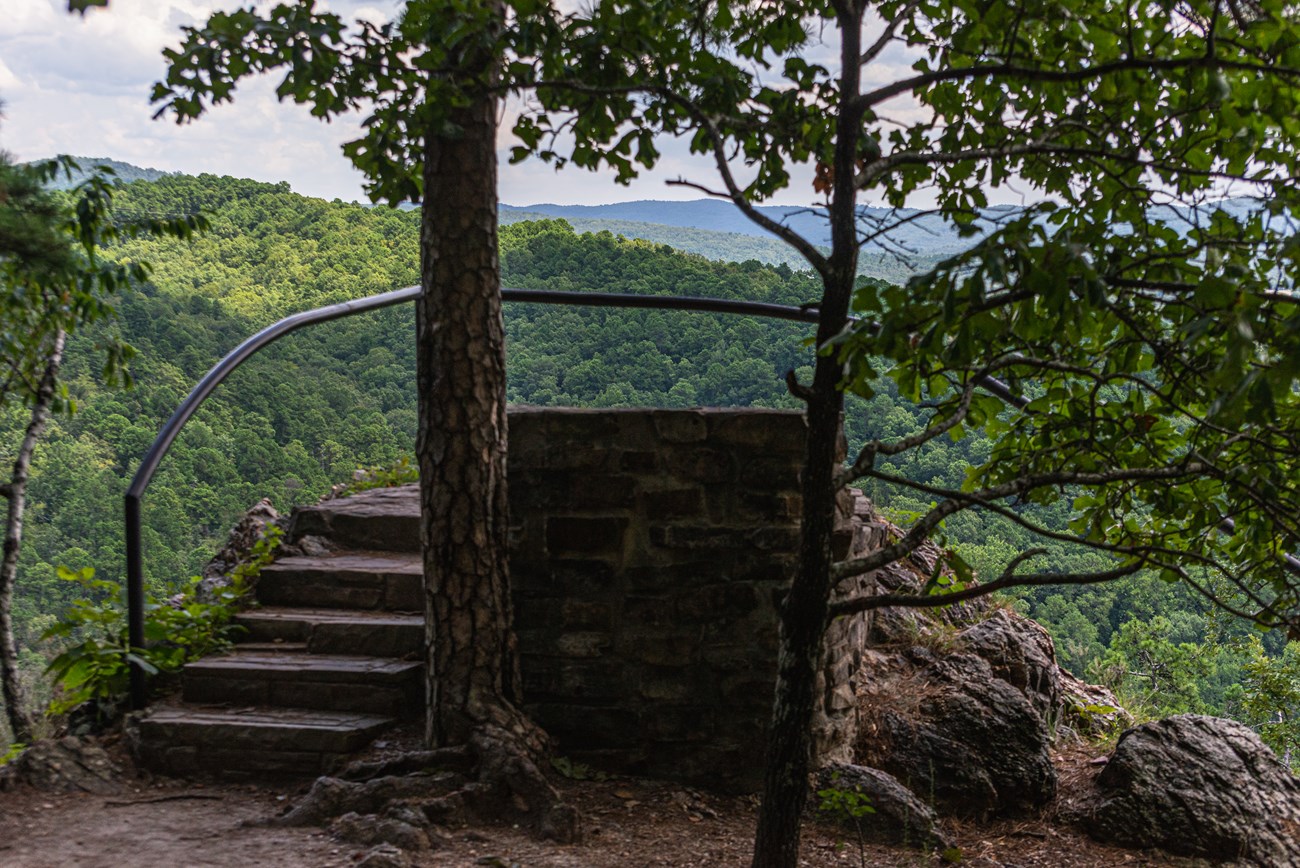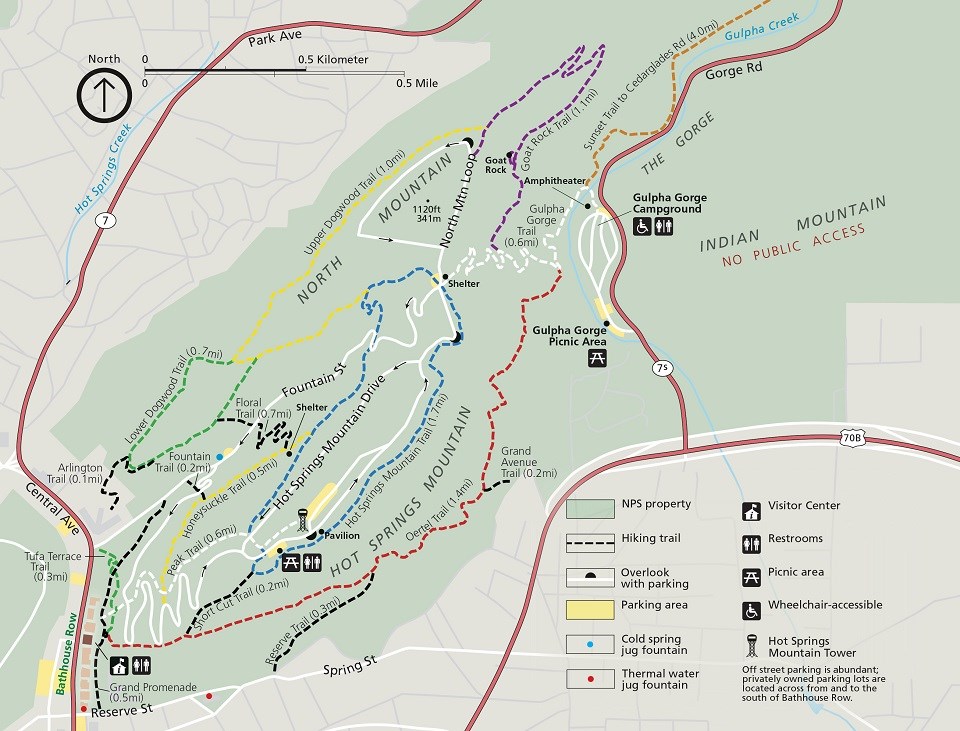 | Trail | Description | Distance (one way) | Elevation | Typical Grade |
| --- | --- | --- | --- | --- |
| Grand Promenade | This National Recreation Trail is the entry point for many of the Hot Springs and North Mountain trails from downtown. Oertel, Peak, and Tufa Terrace trails all branch off from the Grand Promenade and lead to other trails. The Grand Promenade has four entry points: Reserve Street (stairs), Fountain Street (ramp), Stephen's Balustrade (grand staircase), and an access ramp behind the Fordyce Bathhouse. | 0.5mi (0.8km) | 619-717ft (188-218m) | 3.7% |
| Oertel Trail (formerly Dead Chief Trail) | From downtown, ascend the Stephen's Balustrade (grand staircase) behind the Fordyce Visitor Center to the Grand Promenade and climb the next two sets of steps until you reach the gravel road. Take the road right until you reach an iron gate; the trailhead begins here. Oertel Trail ranges from moderate to very steep grade. | 1.4mi (2.3km) | 670-863ft (204-263m) | 2.6% |
| Tufa Terrace Trail | This paved trail can be reached from the Grand Promenade or Arlington Lawn. The lower portion of the Tufa Terrace Trail is near the Hot Water Cascade. | 0.3mi (0.5km) | 650-745ft (198-227m) | 6% |
| Peak Trail | The beginning of Peak Trail is paved then turns to gravel. Peak Trail leads to the Hot Springs Mountain Tower. | 0.6mi (1.0km) | 644-1044ft (196-318m) | 12.6% |
| Short Cut Trail | Short Cut Trail connects Oertel Trail with Hot Springs Mountain Trail near a picnic area. | 0.2mi (0.3km) | 813-1036ft (247-316m) | 21.1% |
| Reserve Trail | Reserve Trail connects Oertel Trail with Spring Street and Reserve Street at a "Y" intersection. | 0.3mi (0.5km) | 622-713ft (190-217m) | 5.7% |
| Hot Springs Mountain Trail | Hot Springs Mountain Trail is an easy stroll around the top of the mountain with several scenic overlooks. | 1.7mi (2.7km) | 952-994ft (290-303m) | 0.5% |
| Honeysuckle Trail | Honeysuckle Trail connects Peak Trail with Hot Springs Mountain Trail. | 0.5mi (0.8km) | 727-870ft (222-265m) | 5.4% |
| Fountain Trail | This short trail begins on Fountain Street below the entrance to Hot Springs Mountain Drive. Use it to reach Honeysuckle Trail by crossing the road. | 0.2mi (0.3km) | 657-760ft (200-232m) | 9.8% |
| Grand Avenue Trail | Grand Avenue Trail connects Oertel Trail with Grand Avenue. A local motel lies just south of the trailhead. | 0.2mi (0.3km) | 581-631ft (177-192m) | 4.7% |
| Goat Rock Trail | Limited parking is available at the overlook on North Mountain. The trailhead starts south of the parking area. | 1.1mi (1.8km) | 886-1067ft (270-325m) | 3.2% |
| Gulpha Gorge Trail | Gulpha Gorge Trail connects the Gulpha Gorge Campground to many of the park's trails. The trail going west from the campground is steep. | 0.6mi (1.0km) | 530-968ft (162-295m) | 13.8% |
| Floral Trail | Floral Trail connects Lower Dogwood Trail and Honeysuckle Trail. From either trailhead you will descend into a valley and climb the other side. | 0.7mi (1.1km) | 690-840ft (210-256m) | 4.1% |
| Arlington Trail | Ask for directions to the trailhead from staff at the Arlington Hotel lobby. Arlington Trail will connect with Lower Dogwood Trail. | 0.1mi (0.2km) | 718-731ft (219-223m) | 2.5% |
| Lower Dogwood Trail | Lower Dogwood Trail climbs North Mountain. Near the top, boulders mark the westernmost tip of the trail. From there, the trail drops downhill. | 0.7mi (1.1km) | 784-953ft (239-290m) | 4.6% |
| Upper Dogwood Trail | Upper Dogwood trail has short rises and long stretches of flat trail. | 1.0mi (1.6km) | 880-1131ft (268-345m) | 4.8% |
Hiking Etiquette and Safety
Take plenty of drinking water and wear appropriate clothing and shoes. Stay on the established trails. Leaving the trail can be hazardous.

Respect wildlife; observe only from a distance. Horses are allowed only on non-paved trails. Keep pets on a six foot leash at all times. Properly dispose of waste, including pet waste. Pack it in, pack it out.

Remember everything is protected in a national park. Please leave objects as you find them. Leave rocks, plants, and flowers for others to enjoy. Historic structures and artifacts help tell the story of the past.

Please report vandalism or graffiti to a law enforcement ranger. For National Park Service law enforcement dispatch call 888-692-1162. For emergency assistance, call 911.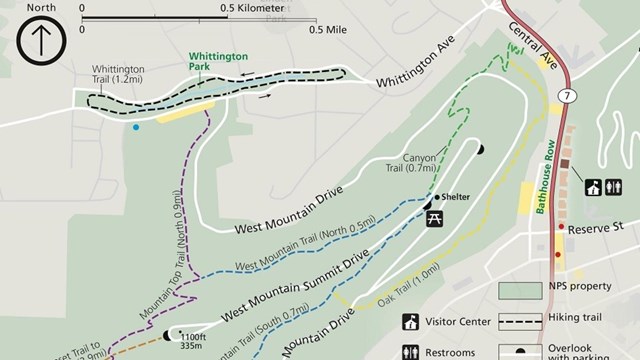 West Mountain Trails
Explore the Western half of the Park via the Canyon Trail, Mountain Top Trail, Oak Trail, Whittington Trail, or West Mountain Trail.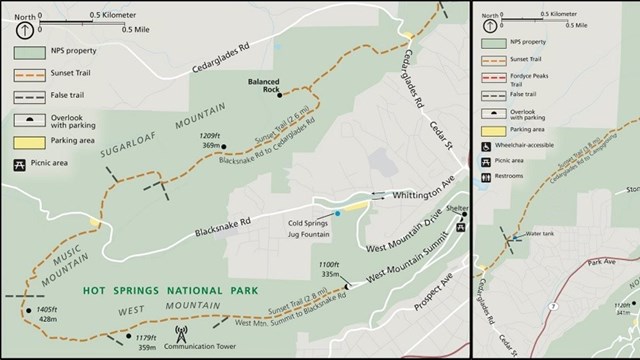 Sunset Trail
Get off the beaten path and take on the longest trail in the Park, the Sunset Trail!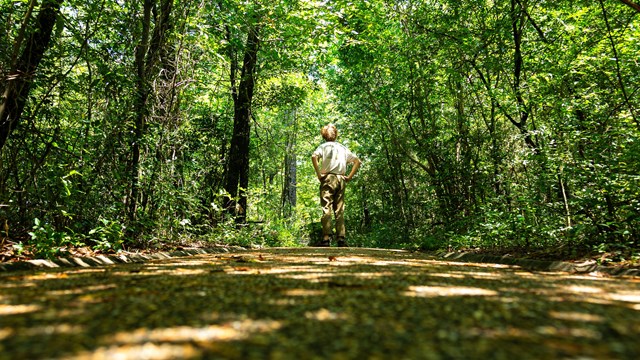 Directions & Transportation
Get travel directions and view a park map.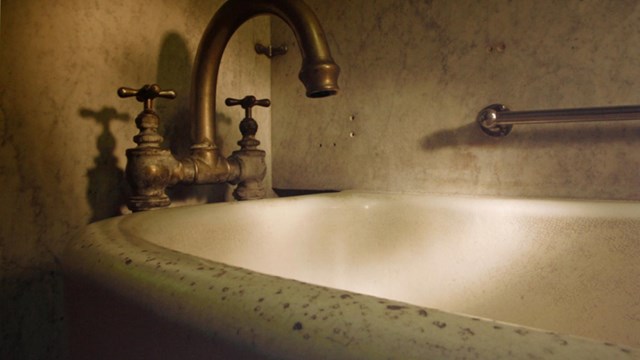 Soak in the Springs
Fully submerge yourself in the thermal water and let your worries melt away.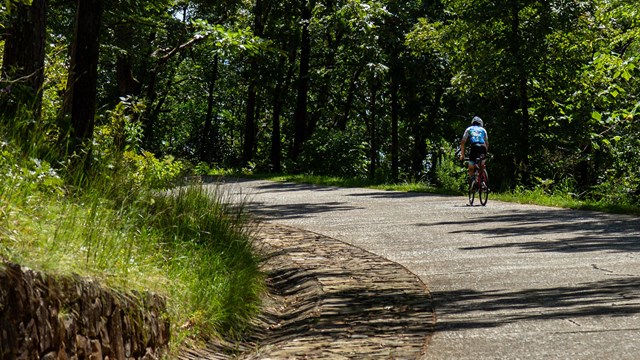 Biking in the Park
Learn about the opportunities and rules for biking in the Park!
Last updated: October 2, 2020