News Release
Hot Springs National Park Announces 100th Anniversary Celebrations in 2021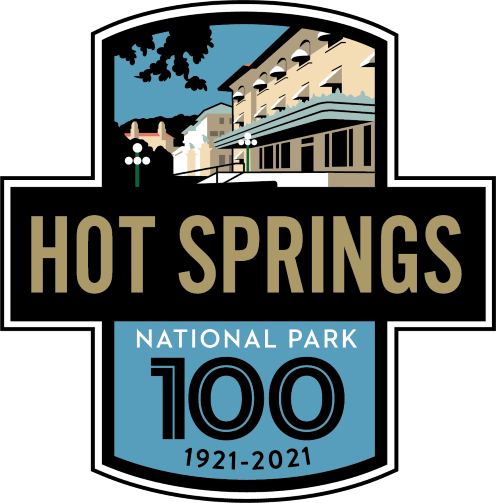 News Release Date:
December 8, 2020
Contact: Ashley Waymouth
Hot Springs, AR - Hot Springs National Park invites the public and park partners to join in celebrating the 100th anniversary of Hot Springs' designation as a national park. To celebrate this historic milestone, the park is planning a series of monthly and year-long events in conjunction with the City of Hot Springs, Visit Hot Springs, Friends of Hot Springs National Park, and other partners.  

Hot Springs National Park was originally designated for the public in 1832 by Congress as Hot Springs Reservation. The name was changed to Hot Springs National Park in 1921, and it joined the 17 other national parks at the time across the nation in preserving and protecting special places in the United States. In the last 100 years, Hot Springs National Park has been a place of health, healing, and refuge. Planned events for 2021 highlight and celebrate these aspects of the park.  

Starting on January 1, 2021, the community and visitors can remain engaged throughout the year by participating in the Iron Ranger Challenge and monthly photo contests. In addition to these on-going events, the park also will host several monthly events throughout the year. We encourage everyone to join in on the online fun by visiting the park's centennial webpage, www.nps.gov/hosp/getinvolved/centennial.htm and by following the park on social media, @HotSpringsNPS. 

From Junior Ranger Celebrations to a Thermal Springs Festival, and everything in-between, there's something for everybody to celebrate in 2021. Whether you visit from near, far or virtually, Hot Springs National Park hopes you will experience and connect with a park that has inspired more than 100 years of health, community and wellness. For a current list of events, please visit www.nps.gov/hosp/getinvolved/centennial.htm  

Please note that events are subject to change due to COVID-related requirements. Hot Springs National Park encourages everyone to visit the park's website (www.nps.gov/hosp) and official calendar of events for the most up-to-date information. 

For media inquiries related to the centennial celebrations, please contact Ashley Waymouth at e-mail us. For high resolution images, please visit the park's NPGallery page.  

####

About Hot Springs National Park: Established as a federal reservation in 1832 to protect the unique geothermal spring water and associated lands for public health, wellness, and enjoyment. In 1921, the area became a national park with the same mission; preservation of the 47 hot springs that come out of the Hot Springs Mountain and the historic resources built for visitor enjoyment of the hot springs. Visit us at www.nps.gov/HotSprings, on Facebook at www.Facebook.com/HotSpringsNPS, and  on Instagram www.Instagram.com/HotSpringsNPS.

About the National Park Service: More than 20,000 National Park Service employees care forAmerica's 41922 national parks and work with communities across the nation to help preserve local history and create close-to-home recreational opportunities. Visit us at www.nps.gov, on Facebook www.facebook.com/nationalparkservice and Twitter www.twitter.com/natlparkservice.
Last updated: December 17, 2020