Plan Your Visit
A new summit eruption of Kīlauea began on September 29, 2021. Visit the September 2021 eruption page to learn more and to find out the best options for safe eruption viewing.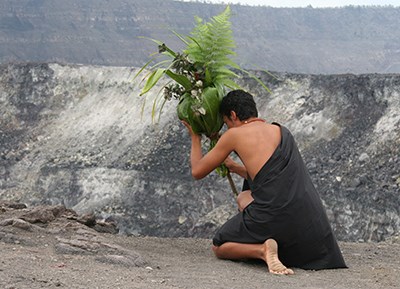 Be Respectful
Park landscapes are cherished places for many people. Is it quiet? Help keep it that way and allow visitors to connect with their surroundings in peace. Think before you take pictures of other visitors and whether they want to hear your music or phones. Take the Pono Pledge to be safe, responsible and respectful to each other and the ʻāina (land) during your visit to Hawaiʻi.
Know Before You Go
A spectacular new eruption at the summit of Kīlauea volcano is drawing hundreds of visitors to Hawaiʻi Volcanoes National Park eager to see the billowing plume of gas and steam by day and the reflection of glowing lava deep within the crater after dark. Vantage points for viewing the new eruption include Wahinekapu (Steaming Bluff), Kīlauea Overlook, Uēkahuna, Keanakākoʻi, Kūpinaʻi Pali (Waldron Ledge), and other overlooks along Crater Rim Trail.

Have a question?
Park staff are available to answer questions at 808-985-6011.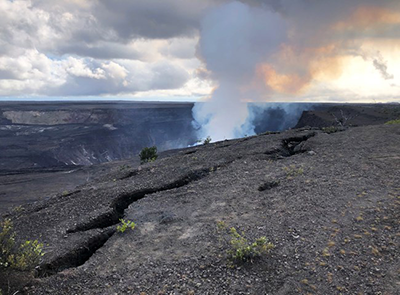 Stay Safe
This photo shows just a few of the reasons why it is critical to stay on trails and in designated overlooks if visiting the park to see the current eruption. Sinkholes, earth cracks, and unstable cliff edges are not always visible, even in daylight.
Do not enter closed areas
.
Learn more about how you can have a safe visit on our
safety webpage
.
Millions of people visit Hawaiʻi Volcanoes National Park annually to make lifelong memories. These are some important considerations to make this a successful visit.


Last updated: October 1, 2021