Plan Your Visit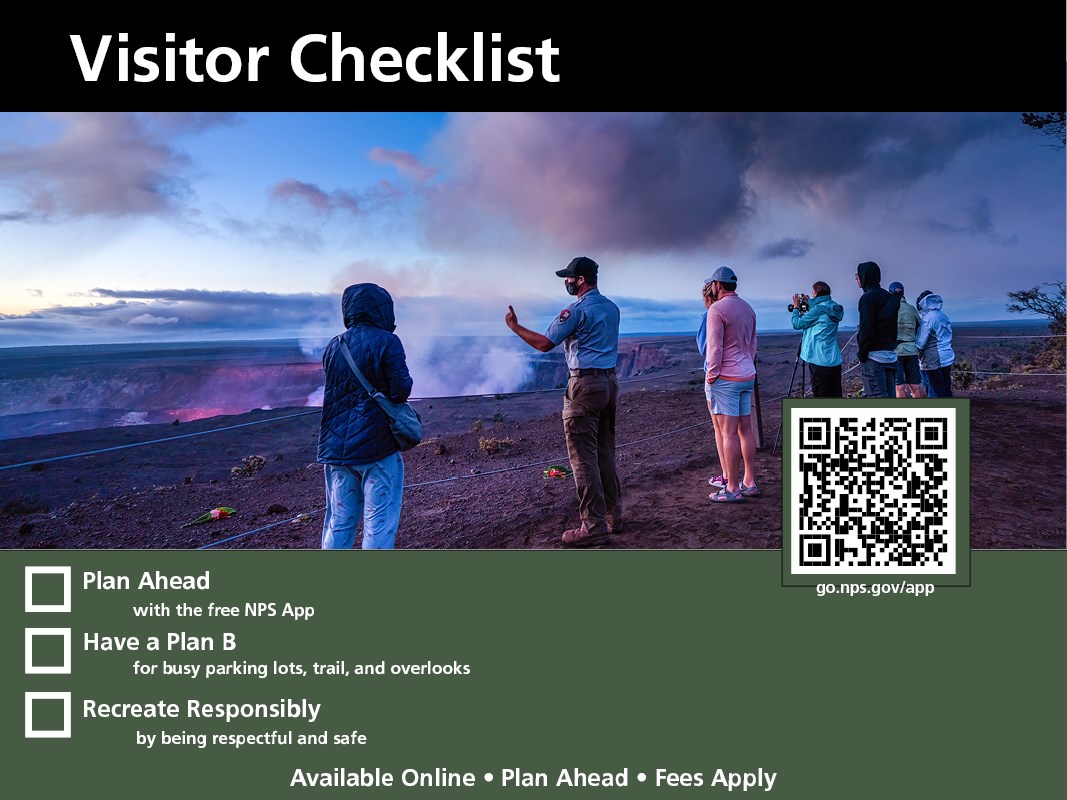 Hawaiʻi Volcanoes National Park wants to help you plan like a park ranger with five insightful tips to help you navigate the busy season.
Top Things To Know
1. Plan Ahead
Make sure you know about
2. Tap the App
Download the free National Park Service app (and offline content) before you arrive.
Self-guided tours, alerts and other valuable information is like a ranger in your pocket. You can even send a postcard without a stamp.
3. Know Before You Go
Visitors should expect long waits at the entrance station, congestion on roads and popular trails, and little or no parking at Devastation Trail, Nāhuku and the summit of Kīlauea between 10 a.m. and 5 p.m., now through early January.
Have a Plan B during the busy season, and visit the Kahuku Unit. Kahuku is never crowded, and open Thursday through Sunday, 8 a.m. to 4 p.m. Kahuku is located on Highway 11 near mile marker 70.5 in Ka'ū, approximately 1 hr from Hawaiʻi Volcanoes National Park.
4. Contemplate Culture
Park landscapes are cherished places for many people. Is it quiet? Help keep it that way and allow visitors to connect with their surroundings in peace. Think before you take pictures of other visitors and whether they want to hear your music or phones.
Take the Pono Pledge to be safe, responsible and respectful to each other and the ʻāina (land) during your visit to Hawaiʻi.
5. Stay Safe
Learn more about how you can have a safe visit.
Do not enter closed areas. It is critical to stay on trails and in designated overlooks. Concealed sinkholes, unstable cliff edges and earth cracks, volcanic gasses present hazards.
Feeling sick? Visit another day. Maintain social distance of 6 feet from others to reduce the spread of COVID-19.
---
Have a question?
Park staff are avilable to answer questions at 808-985-6011.
Millions of people visit Hawaiʻi Volcanoes National Park annually to make lifelong memories. These are some important considerations to make this a successful visit.


Last updated: June 21, 2022