Plan Your Visit
A spectacular new eruption at the summit of Kīlauea volcano is drawing hundreds of visitors to Hawaiʻi Volcanoes National Park eager to see the billowing plume of gas and steam by day and the reflection of glowing lava deep within the crater after dark. Vantage points for viewing the new eruption include Wahinekapu (Steaming Bluff), Kīlauea Overlook, Keanakākoʻi, Waldron Ledge and other overlooks along Crater Rim Trail. Have a question? Park staff are available to answer questions at 808-985-6011.
The park remains open 24 hours a day, and the public is reminded to stay safe by following these precautions:
Volcanic eruptions can be hazardous and change at any time.
Stay on marked trails and overlooks, and avoid earth cracks and cliff edges. Do not enter closed areas.
Slow down and drive safely. Expect long waits for parking spaces at popular vantage points like Kīlauea Overlook.
Maintain social distance of six feet from others and wear a mask to reduce the spread of COVID-19. Even during the excitement of an eruption, the danger of COVID-19 remains the same.
Visiting at night? Bring a flashlight or headlamp to avoid injury.
At 4,000 feet (1,200 m) in elevation, the summit of Kīlauea can be chilly at any time. Bring a rain jacket, wear long pants and closed-toe shoes.
Hazardous volcanic gases are billowing out the crater and present a danger to everyone, especially people with heart or respiratory problems, infants, young children and pregnant women. For more information on air quality visit: https://www.hawaiiso2network.com/
Can I see actual molten lava?
No. Given the depth of Halemaʻumaʻu crater, no molten lava is currently visible from publicly accessible areas. However, the plume and nighttime glow are visible from many areas of the park.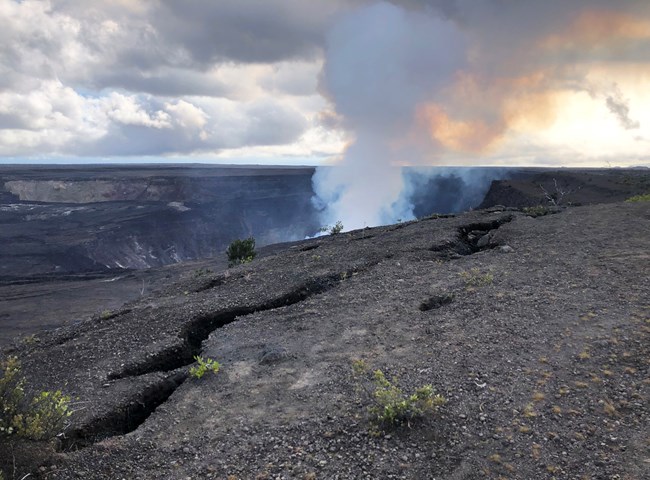 Stay on trail!
This photo shows just a few of the reasons why it is critical to stay on trails and in designated overlooks if visiting the park to see the current eruption.
Sinkholes, earth cracks, and unstable cliff edges are not always visible, even in daylight. Stay out of closed areas. Some areas still remain unstable after the eruption of 2018, and seismic activity is always a possibility on an active volcano.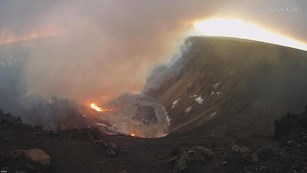 Webcams
Get a live look inside the park, courtesy of USGS Hawaiian Volcano Observatory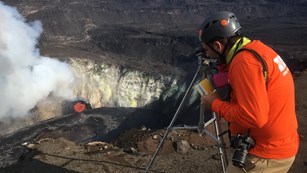 What's Going On With the Volcanoes?
Get the latest update on volcanic activity.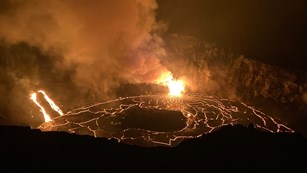 2020 Summit Eruption
Photos and media from the eruption that began on December 20, 2020


Last updated: January 4, 2021