Fees & Passes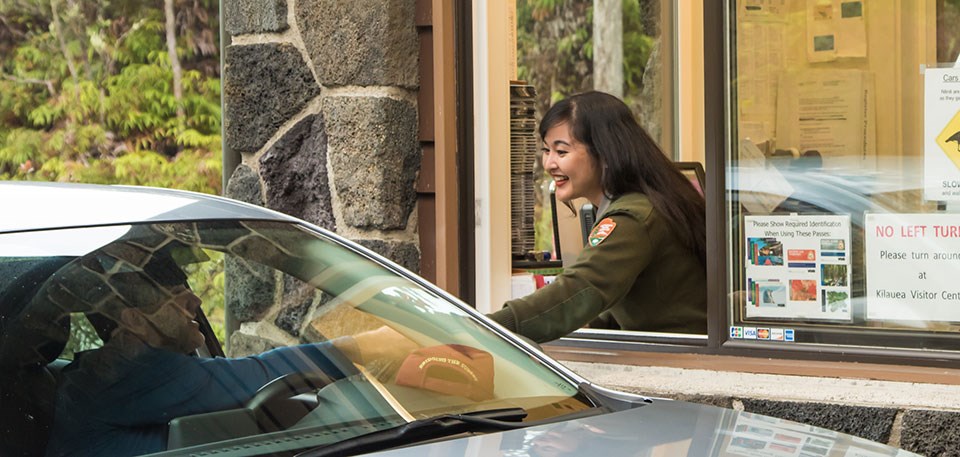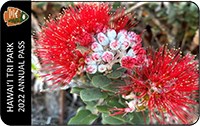 Hawaiʻi Tri-Park Annual Pass
$55.00- 12 months from the date of purchase

The annual pass is valid for entrance fees for pass holder and occupants of a single, private, non-commercial vehicle at Hawai'i Volcanoes National Park, Haleakalā National Park, and Puʻuhonua o Hōnaunau National Historical Park. The park is not responsible for misplaced, lost, or stolen cards. This pass does not cover camping fees and is non-transferable and non-refundable.

Hawaiʻi Tri-Park Annual Pass can be purchased at the entrance station.
Regulations and Exceptions
All passes are non-transferable.
Passes may be used for entry as defined on the back of the pass.
Large vehicles, defined as more than 26 feet in length and/or more than eight feet wide, are only allowed to operate on Crater Rim Drive to Kilauea Visitor Center, Wahinekapu, Uēkahuna, and on Mauna Loa Road to the Kīpukapuaulu turnabout.
Non-commercial groups entering the park in a bus or vehicle with a capacity of 16 persons or more will be charged $15.00 for each person on board. For more information contact the park at (808) 985-6000.
Anyone who is 15 or younger is exempt from paying an entrance fee.
Entrance fees are waived on the following days:

Digital Passes Available Through Recreation.gov
Purchase park entrance passes from Recreation.gov at no additional cost. Once purchased, passes for Hawaiʻi Volcanoes National Park must be printed or saved as a screenshot prior to use. Connectivity is limited or non-existent in the park, therefore printing or saving the permit in advance is required.

The following Hawaiʻi Volcanoes National Park passes are available on Recreation.gov:

America the Beautiful – The National Parks and Federal Recreational Lands Passes
The America the Beautiful – The National Parks and Federal Recreational Lands Pass Series includes different options of interagency passes that provide access to more than 2,000 federal recreation areas across the United States.
Passes cover:
entrance fees at National Park Service and US Fish and Wildlife sites
standard amenity fees (day-use fees) at Bureau of Land Management, Bureau of Reclamation, US Forest Service, and US Army Corps of Engineers sites
In general, passes cover the above types of fees for everyone in a personal vehicle at per-vehicle fee areas or up to four adults at sites that charge per person. Children ages 15 or under are admitted free. Two lifetime passes (Senior and Access) provide additional benefits, such as a 50-percent discount on camping at some sites. Always check with individual sites for details.
Interagency passes include:
Annual Pass: $80
Annual Military Pass: Free*
Annual Fourth Grade Pass for US students in fourth grade: Free
Annual Senior Pass: $20
Lifetime Senior Pass: $80
Lifetime Access Pass: Free
Annual Volunteer Pass: Free (250 hours of volunteer service at any of the six participating federal agencies is required)
*A new program that provides free access for US military veterans and Gold Star Family members took effect in fall 2020 as a way to thank them for their support of our country and to encourage them to explore recreational opportunities on their public lands and waters. Find detailed information about who qualifies, acceptable forms of identification, and how to download a Gold Star Family voucher.
Note regarding Military Pass: Available for current US military members and their dependents in the Army, Navy, Air Force, Marines, and Coast Guard, as well as most members of the US Reserves and National Guard. Proper military ID required (CAC Card or DoD Form 1173).
Commercial Tour Fees
These fees are charged only to commercial organizations, such as tour companies. A
Commercial Use Authorization
is required. Fees vary based passenger capacity of the vehicle and type of tour being given.
Education Fee Waiver
Groups from qualified education institutions are eligible for a
education fee waiver
if they are coming to study park resources.Fee waivers must be applied for at least one month prior to your planned visit.
Other Fees & Permits
Campgrounds
- Learn more about
camping
reservations, regulations, and fees.
Last updated: January 12, 2023