The Kahuku Unit
A rolling, pastoral landscape on the slopes of the largest volcano on the planet

Located on the volatile shoulders of
Mauna Loa
, the Kahuku Ranch was once one of the biggest cattle ranches in Hawaiʻi, producing beef and hides for more than 150 years. The apparent tranquility of ranch-life, however, was punctuated by volcanic violence that continues to transform the land to this day.
Share in the wonders of this 116,000 acre landscape shaped by both man and nature.
Attend a Ranger Program or Guided Hike
Ranger-guided hikes and talks occur several times a week. Check the
Kahuku Calendar
for a full listing.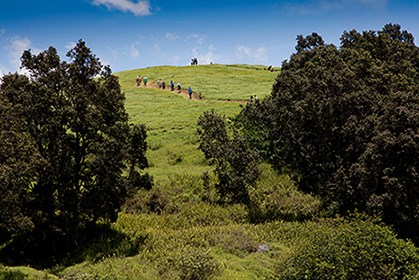 Take a Hike
The Kahuku Unit has a variety of options for day hikes:
Pu'u o Lokuana Cinder Cone Hike this short, but strenuous climb to the top of Pu'u o Lokuana cinder cone. 0.4 mile (0.35 km) loop, 130 feet (40 m) elevation change
Pu'u o Lokuana Trail Take the trail along historic ranch roads to a hidden pasture. See lava tree molds and the flows from 1868. 2 miles (3.2 km) loop, 130 feet (40 m) elevation change
Kamakapa'a Trail Follow this easy trail through grassy meadows to the top of a small cinder cone. Sweeping views from the top take in the full breadth of lower Ka'ū. 1/2 mile (0.8 km) loop 40 feet (12 m) elevation change
Palm Trail Hike or bike through scenic pastures for one of best panoramic views in Kahuku. See volcanic features along the 1868 fssure and cross the main lava channel.

2.6 miles (4.2 km) loop 310 feet (95 m) elevation change

Pali o Ka'eo Trail Walk the trail through woodland meadows along the top of the steep grassy slope. Vistas along the way take in the coast of Ka'ū from Ka Lae (South Point) to Na Pu'u o Pele. Make it a loop and return by walking a portion of the Pit Crater trail and road.

2.1 miles (3.4 km) 410 feet (125 m) elevation change

Pit Crater Trail This strenuous hike leads steeply up old pasture roads to the edge of a huge pit crater. Continue hiking for an additional 1.7 mile (2.8 km) loop before returning on the same trail. Hikers must decontaminate at the ROD Quarantine Gate. 2.4 miles (3.9 km) from Pit Crater Trailhead to the Pit Crater, 1,165 feet (335 m) elevation gain
"A vast serpent upon the beautiful pasture lands"
-Missionary Titus Coan describing the Mauna Loa lava flows that reached Kahuku in 1868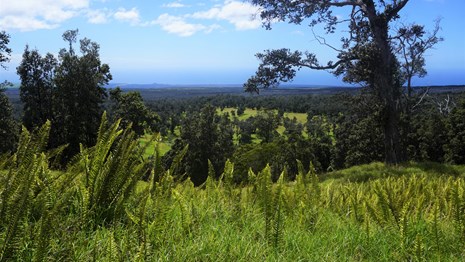 Photo Gallery: Kahuku Unit
Photos of the Kahuku Unit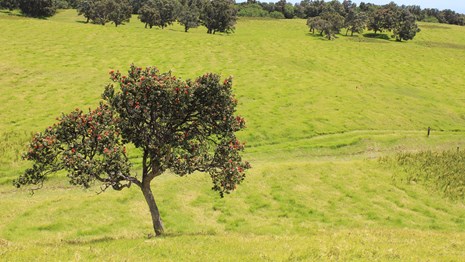 History of the Kahuku Unit
From the first arrival of Polynesians to the ranching period, Kahuku has a rich and varied past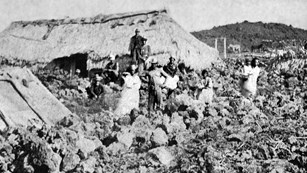 1868 Eruption of Mauna Loa
One of the deadliest disasters in Hawaiian history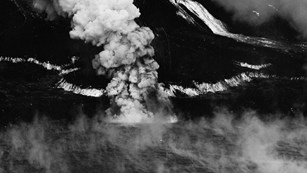 1950 Eruption of Mauna Loa
With blazing speed, Mauna Loa sent lava flows to the sea through what is now the Kahuku Unit of Hawaiʻi Volcanoes National Park
Ka Ua Hāʻao (The Hāʻao Rain)
Ka ua hāʻao describes the precipitation that often comes to the Kahuku Unit
Last updated: November 24, 2020