Wilderness Cabins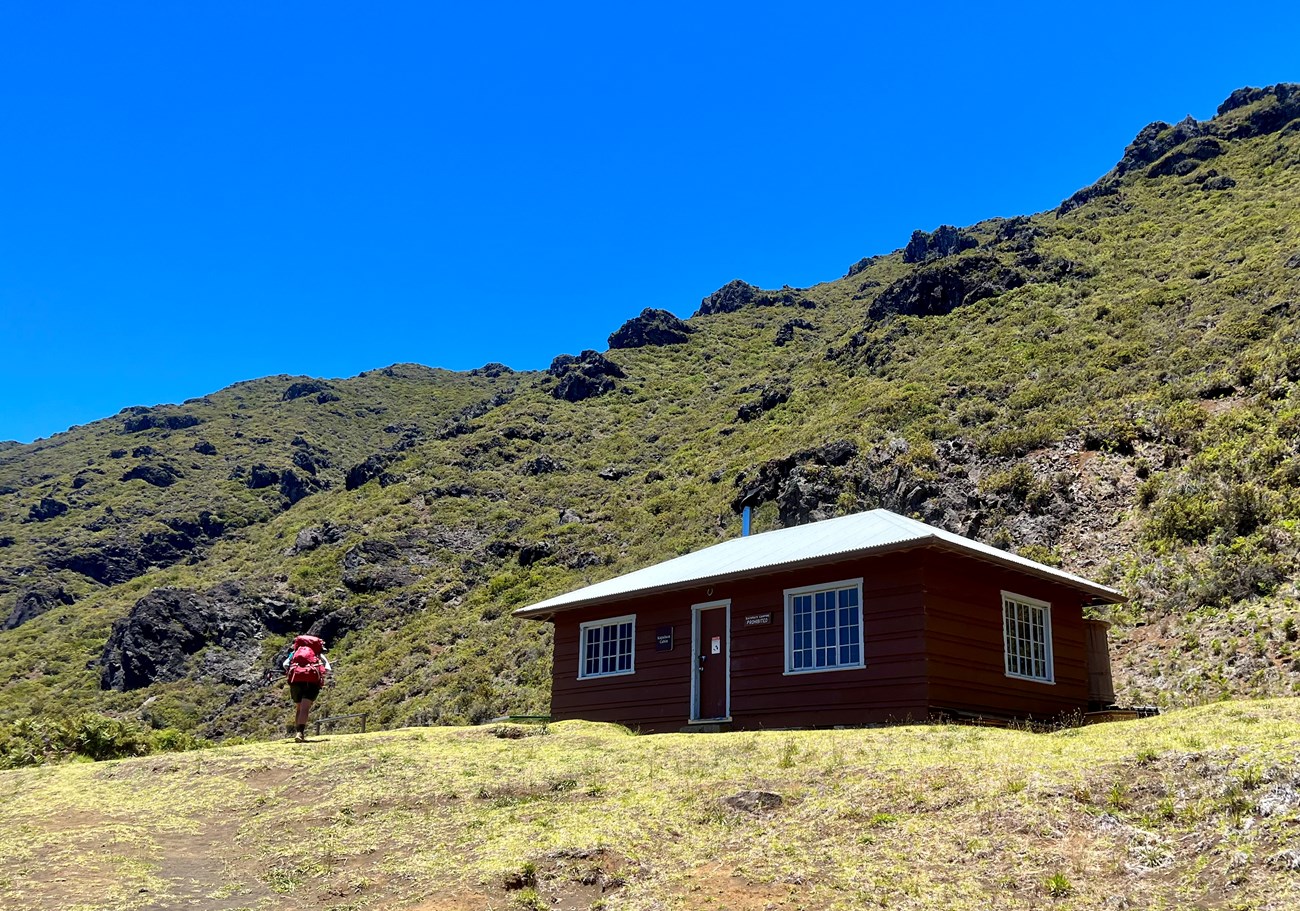 Historic Wilderness Cabins in Haleakalā National Park
Exploring the wilderness of Haleakalā affords unique experiences--listening to the sounds of nēnē flying overhead, the ʻuaʻu calling at dusk, or simply basking in the stillness of the Crater. Hikers may choose to lengthen their stay in this wilderness by
camping
or utilizing one of three historic wilderness cabins located in the Haleakalā Crater.
There are three historic cabins within the crater which are accessible only by trail- Kapalaoa, Palikū, and Hōlua. All reservations for cabins must be made on
recreation.gov
.
Explore more about these cabins and how to make a reservation below.  
General Information
Reservations are required for all cabins through recreation.gov or by phone at 1-877-444-6777.
Online reservations may be utilized to reserve cabins up to six (6) months in advance
Cabins cost $75 per night with a three-night consecutive night stay maximum. All overnight cabin stays and camping are limited to three nights per 30-day period across all park sites. A $10 service fee per night is charged for any changes made to the reservation. Cancellations made more than 14 days in advance of the reservation date will be refunded minus the $10 service fee per night. No refunds will be issued to cancellations made within 14 days of reservation date.
Cabin permits are non-transferable.
There are 12 padded bunks available in the cabins for use. Cabin reservation holders should not exceed this 12-person limit.
No in-person permit reservation or pick up is available.
A printed reservation from the confirmation email must be carried at all times by the trip leader.
Upon receiving your reservation, watch the Leave No Trace video located on this page.
Visitors to the cabins are advised to sanitize before and after use using their own cleaning supplies.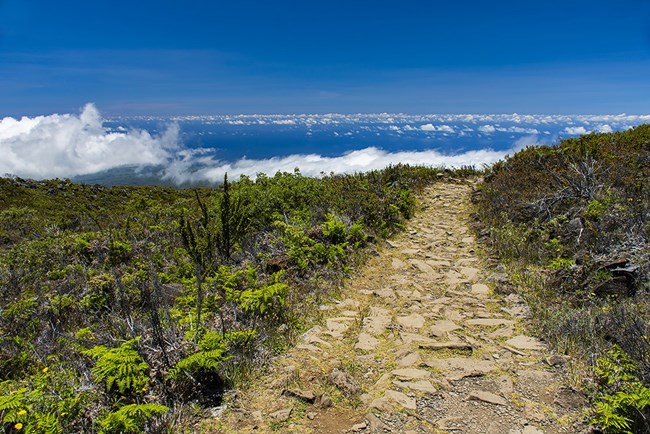 Cabin Information
Kapalaoa, Palikū, and Hōlua cabins are located in designated Wilderness. To reach the cabins, you must hike a minimum of 3.7 miles (5.9km) to Hōlua, 5.5 miles (8.9km) to Kapalaoa, and 9.3 miles (15km) to Palikū.
Hōlua Cabin, located at 6,940 ft (2,115 m) is nestled at the base of the crater wall in the shrubland near Koʻolau Gap. This is the cabin reached by the shortest hike. Hōlua is 3.7 mi (6 km) one way down the Halemauʻu trail or 7.4 mi one way (12 km) from the Keoneheʻeheʻe (sliding sands) trailhead. Visitors staying at Hōlua can enjoy day hikes further into the crater. The landscape around Hōlua supports a native shrubland which colonizes the lava flows. A wilderness tent camp area is located nearby.
Palikū Cabin located at 6,380 ft (1,945 m) is on the east end of the wilderness valley at the base of a rain forest cliff. This cabin is reached via a strenuous 9.3 mi (15 km) one way hike on the Keoneheʻeheʻe (sliding sands) Trail or 10.4 mi (17 km) one way hike on the Halemauʻu Trail. Clouds and fog often roll over the top of the cliffs behind Palikū, and rain is common. The extra moisture makes this spot exceptionally cool and lush. A wilderness tent camp area is located nearby.
Kapalaoa Cabin located at 7,250 ft (2,210 m) is perched near the Kaupo Gap on the southern end of the wilderness valley. This cabin is reached via a 5.6 mi (2.7 km) hike via Keoneheʻeheʻe (sliding sands) Trail or 7.2 mi (11.6 km) hike on the Halemauʻu Trail. Kapalaoa is located in a grass field and is not accompanied by a wilderness tent area.
Pit toilets and water is available near the cabins. All water is non-potable and must be filtered or treated before drinking. During times of drought (summer months) water must be packed in. Each cabin has a wood-burning stove, propane stove, and twelve padded bunks. There is no electricity in the cabins.

Locker Use for Firewood
Each of the park's three cabins are equipped with 18 lockers that each contain three logs. Locker combinations are assigned and issued by park staff (one locker number and combination per night) via email prior to the reservation date.

By using the locker(s) assigned to your reservation, you are helping the park by:
Providing a more reliable supply of logs for cabin users
Saving significant resources (staff time and funds)
Reducing safety risks to NPS staff when managing helicopter operations
Reducing helicopter trips and resulting impacts of helicopters to wilderness values and endangered species
Encouraging responsible energy use by visitors
Reminder: All Haleakalā National Park Wilderness cabins are rustic wilderness facilities and are not checked by NPS staff daily. Although some amenities, such as propane and firewood, may be available, we cannot guarantee this nor what quantities you will find when you arrive. All wilderness campers should be prepared for cold backcountry conditions with backup cold weather camping gear, portable light sources, and a camp cook stove.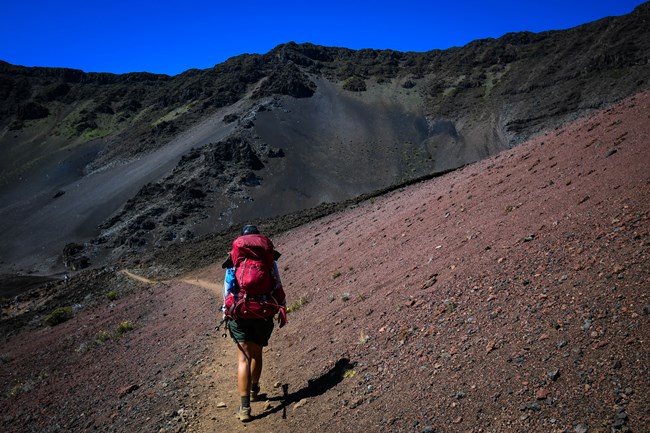 Prepare For Your Trip
It is your responsibility to be aware of potential dangers and to take steps necessary to minimize the chance that you will become lost or injured. Enjoy your trip by coming prepared and using the following tips:
Prepare for the Weather: The wilderness area is remote and experiences unpredictable weather. Temperatures vary from 40-70 degrees Fahrenheit during the day and 30-50 degrees Fahrenheit at night. Plan for rain at all times of year. If it is stormy, winds can exceed 80 miles per hour with temperatures dropping well below freezing.

Pack the Essentials: First aid kit, trail map and compass, extra food, extra water (3-4 liters per person/day), flashlight/headlight with extra batteries, tent/shelter, sunprotection (sunglasses, sunscreen, hat), sleeping bag, emergency blanket, extra layers (rain jacket/pants), pocket knife and gear repair kit.
Terrain: Hiking trails may be steep. Terrain may include loose cinders and/or rocks. Sturdy hiking shoes are highly recommended. Change in altitude can be from a high of 9,780ft to a low of 6,380ft. Due to the soft sandy nature of the trails, plan on spending twice as much time to hike out as to hike in.
Stay On-Trail: Protect fragile species found in the park by staying on the trail! Haleakalā is an on-trail park and all visitors required to stay on designated trails. Staying on trail not only helps fragile habitat but in addition keeps you safe as hiking off trail increases the potential for injury or becoming lost.
Stay Together: When hiking with a group, keep track of each other by staying in sight of one another at all times. If separated wait along the trail, and especially at all trail junctions. Reminder: There is no cell phone service in Haleakalā Crater and it is very limited at trailheads.
Share Your Itinerary with Someone You Trust: Let someone know your itinerary or trip plan and instruct them to contact emergency personnel if you are overdue.
The park's emergency communication center's phone number is 808-985-6170. This number is for emergencies only!
Make sure the person you designate understands that if you are overdue, lost, or injured on the trail, they are your only link to help and should report you overdue if you fail to contact them by a predesignated time.
If Lost: If you become disoriented or lost, attempt to fix your location using a map, compass, and landmarks. If you are unable to locate the trail, stay put! Use a mirror or reflective object to signal for help. Any signal done three times in a series is a universal distress call. Bright colors and reflective materials to attract attention.
If Sick of Injured: If you become ill or injured on the trail and are unable to hike, send someone in your party or a passing hiker for help. Write down and give the messenger your exact location, age, gender, height, weight, and a description of your illness/injury in order to ensure the appropriate emergency response. There is no cell phone service in Haleakalā Crater. Emergency signal devices work in the crater but should not be the only thing you rely on, remember to share your itinerary with someone you trust and instruct them to contact emergency personnel if you are overdue.
Plan for the Best, Prepare for the Worst: Always carry extra food and water, rain gear, and warm clothing in case you have to spend the night out unexpectedly
Help Us Protect the Crater Wilderness!
All hikers are required to pack out everything they pack in. Do not bury your trash or discard it in pit toilets - pack it out. Practice "leave no trace".

Due to the fragile nature of Hawaiian ecosystems, it is required by law that hikers stay on marked trails. Hiking groups are limited to 12 people. If your group is larger than 12 you will need to split into two or more groups and separate each group by 30 minutes on the trail.

Horses, mules, and donkeys are permitted as pack animals on the Keoneheʻeheʻe Trail, Halemauʻu Trail, and Supply Trail. If planning to travel by pack animal--please notify park staff upon making your reservation to ensure sufficient paddock space is available. All waste produced by pack animals must be removed from parking areas and trailheads. No group may have more than 12 pack animals. Riders, commercial operators, and owners are responsible for the removal of dead or injured stock within 72 hours. Pets of any other kind are prohibited on all trails.
Natural & Cultural Resources
Help us protect your National Park. All plants, animals, rocks and other natural and archaeological or cultural features are protected by law against removal, injury, or destruction.

Please respect all archaeological sites and artifacts left by ancient Hawaiians. Do not move any rocks, climb on or alter any rock structures, such as lava trees, walls, heiau (ancient temples), or petroglyphs (rock engravings). Entry into caves is prohibited.

Help stop the spread of rapid ʻŌhiʻa death.
Clean and remove dirt and debris from shoes, clothing, and equipment.

Spray your boots, clothing, and equipment with a 70% alcohol spray.
Special Note:
For the safety of others and protection of park resources dogs and drones (UAS) are prohibited in the wilderness area.
Cell Phone Additional Information
Internet Additional Information
Accessibility Information
Crater Cabin History
The proposal for cabins in Haleakalā Crater was part of the 1935 master plan for the development of the Haleakalā Section of Hawai'i National Park. In 1936, a standard "Haleakalā Shelter Cabin" plan was developed showcasing the NPS rustic style of design that blended structures into the natural environment. It wasn't until 1937 that the cabins were built by contracted carpenters with Civilian Conservation Corps workers bringing in the materials using mules and horses, as well as hauling supplies on their back. Today, the Kapalaoa, Hōlua, and Palikū cabins are still being used as originally intended-- to provide accommodation to visitors hiking in the crater. Haleakalā Crater was designated as wilderness in 1976. The Hōlua and Palikū Wilderness campgrounds were developed in the 1970s.
Wilderness Cabin Reservation FAQs
Yes. Cabin reservations will continue to be accepted solely through recreation.gov. No reservations will be made by calling park staff. Reservations will continue to be made available 6 months in advance at the price of $75/night.
Visitors will obtain their cabin code and locker code information from the hale_interpretation@nps.gov email account about 1-2 weeks in advance of their reservation.

Information on cabin codes will no longer be distributed in person. Please come prepared with your permit and email from park staff printed to ensure you have all necessary codes for your stay.
12 padded beds are provided per cabin. Users must bring their own sleeping bag or bedding. This is the maximum capacity permitted in cabins to comply with group sizes in wilderness.
Reserving a cabin reservation provides you an overnight experience inside a structure with protection from the elements. A wood stove, propane stove, and bunk beds are provided. Plan to bring your own lighter or matches if planning to utilize the wood or propane stove. While you will have shelter, be prepared to experience all weather conditions- rain, cold, wind, sun, and heat.

Reserving a wilderness tent permit provides you the opportunity to experience sleeping under the stars in your own tent. You may have a greater opportunity to hear and experience the sights and sounds of the crater. Be prepared to experience all weather conditions- rain, cold, wind, sun, and heat. Sufficient rain gear and rain fly for your tent is highly recommended- especially when staying overnight at Palikū. Be prepared to pack in on your back all the gear you need to be comfortable overnight- tent, rain fly, sleeping bag, extra layers, portable cooking stove, and water (see essentials listed above).
No, cabin reservations are only available online through recreation.gov.
 
Wilderness Haleakalā Crater cabins at Kapalaoa, Palikū or Hōlua cost $75 per night of reservation whether booking online at recreation.gov or with their toll free line 1-877-444-6777. All sites have a maximum stay of 3 nights in a 30-day period.
Visitors with a wilderness cabin reservation are required to have their permit printed and on the lead trip-holder throughout the duration of their trip. Backcountry rangers may be encountered on trail and may ask backpackers to produce documentation of their reservation.
If you are a Hawaiʻi resident with a library card, Hawaiʻi public libraries offer printing services. The nearest public library to the park is Makawao Public Library. If you are not a Hawaiʻi resident, many hotels and resorts have "business centers" or may be able to print something for you. You could also consider office supply chains with printing services, such as Office Depot, FedEx Printing, or the UPS Store.
All permit holders must have input their vehicle information on rec.gov. If visitors are making their reservation prior to landing on island and will be renting a car, they may enter "rental" in the license plate portion. However, once they receive their rental car they are expected to update their license plate number through rec.gov by locating their permit in rec.gov and navigating to that form field to update. Re-printing the permit will not be necessary. If you are unable to update in rec.gov, email hale_interpretation@nps.gov with the make, model, color, and license plate information.

Vehicle information assists law enforcement in tracking backcountry users in the case of emergency.
Overnight stays are limited to 3 nights total for all park areas in a 30-day period.
 
Haleakalā National Park cabin online reservations with Recreation.gov may be utilized to reserve sites up to six (6) months in advance. Kapalaoa and Hōlua Cabin reservations were made available on July 1st, 2021 and Palikū reservations were made available for Fridays- Sundays on August 23, 2021.
Yes, visitors must create an account on the recreation.gov website prior to making campsite reservations. Those who already have an account are encouraged to confirm their login and password information. This is the same reservation site to obtain an advance wilderness tent reservation and sunrise reservation in Haleakalā National Park.
No, cabin reservations are only available online. Same-day reservations may be available on recreation.gov due to any last-minute cancellations but visitors are urged to ensure they have a reservation prior to coming to the park before planning to stay overnight.
If cancellations occur or if a cabin becomes available, visitors will be able to make "day of" reservations through recreation.gov. Anyone staying overnight at a cabin facility MUST have a reservation, with a confirmation email.
No, cabin reservations are non-transferable. Cabin reservations are only valid for the person who made the reservation and that person's vehicle.
No, the cabin reservation fee only covers the cost of your reservation. Explore more about entrance fees 
here
.  
Recreation.gov is a website and a tool to plan your next trip, figure out details, and reserve experiences at over 3,600 facilities and 103,000 individual sites across the country. The Recreation.gov mobile app puts adventure at your fingertips. From booking a sunrise reservation to planning a wilderness backpacking trip, the Recreation.gov app helps you find and reserve campsites, review location details, and quickly access information on past and upcoming reservations.
You may always contact us on our website. The superintendent's office receives all comments about the online camping reservation system.
Transcript
Preparing for the Backcountry of Haleakalā National Park
To thoroughly enjoy your backcountry experience at Haleakalā, whether it's for an hour, a day, or multiple days, you need to be fully prepared. Here are helpful tips for hiking in the backcountry at Haleakalā National Park.
Tip #1: Plan ahead
 Select a route and destination, keeping in mind the distance and ability of other hikers in your group, including kids.  Hiking uphill takes about twice the time it takes to hike downhill.  Check the visitor center for updates on weather or trail conditions.  Always carry a map. Maps are available at www.nps.gov/hale or the visitor center.
Tip #2: Have the right gear and supplies
 Wear sturdy hiking shoes or boots with ankle support.  Carry adequate amounts of water and food.  Water is only available at remote cabins, and must be treated.  Dress in layers for a variety of weather conditions.  Use a comfortable backpack.  Pack essential items in a plastic bag inside of your backpack to keep items dry.
Tip #3: Be prepared for emergencies
 There is no cell phone coverage through most of the backcountry. You must be self reliant during emergencies. Help may not be available for hours or days.  Carry a first aid kit, flashlight, signal mirror, and survival gear. Your life might depend on it!
Suggested Hiking Gear: Backpack, Hiking shoes, Water, Food, Raingear, Warm jacket, Synthetic clothing for layering, Sunscreen, Sunglasses, Hat, Flashlight, Map, First aid kit, Medications, Survival kit (signal mirror, matches, knife, compass), Warm sleeping bag, Water filter
Visit our keyboard shortcuts docs for details
Duration:

3 minutes, 41 seconds
To thoroughly enjoy your backcountry experience at Haleakalā, whether it's for an hour, a day, or multiple days, you need to be fully prepared. Here are helpful tips for hiking in the backcountry at Haleakalā National Park.


Last updated: May 17, 2023