Wilderness

Learn and Explore
Molten earth, erosional forces, and ocean have worked in concert over millennia to shape the land that is today Haleakalā National Park. Over 90% of the native biota of Haleakalā National Park are endemic to the Hawaiian Islands with nearly 50% endemic to Maui. The unique variety of terrain, vegetation, and scenery found here successfully capture the broad spectrum of ecology found across the Hawaiian Islands and specifically on the island of Maui.

An unexpected and dramatic landscape at the top of the world, the Wilderness Area encompasses 24,719 acres and countless microclimates. Elevation change from rim to the floor can be 3,000 feet (914m). The Wilderness trails lead from dry desert terrain dotted with towering cinder cones to cloudforests alive with colorful flora and fauna. Nēnē and endemic honeycreepers can be seen in the lower, wetter parts of the Wilderness area during the day. At night, stars saturate the sky and rare seabirds let out a haunting cry. The Haleakalā Wilderness is unlike anywhere else on the plant.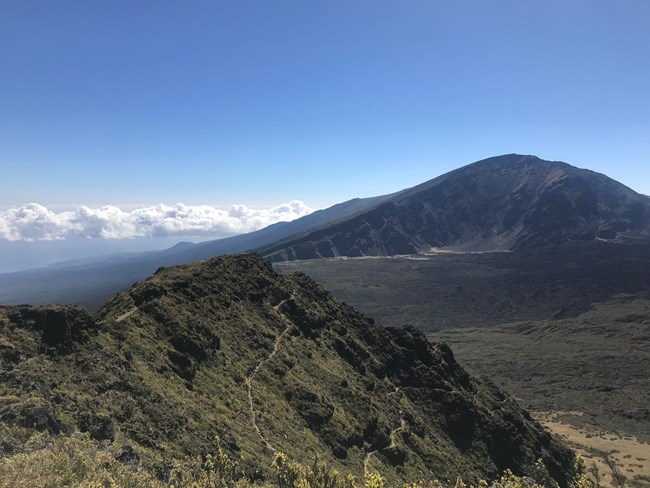 With the proper preparation, visitors can day hike, spend the night in a tent at one of the two Wilderness campgrounds, or reserve one of the three historic cabins along the trail.

The Wilderness Area of Haleakalā can be accessed by two mountaintop trailheads: Halemauʻu Trailhead at 8000 feet (2438m), and Keoneheʻeheʻe (or Sliding Sands) near the summit at 9740 feet (2969m). Learn more about planning a trip into the Wilderness area by visiting the park's Hiking page.

The Wilderness Area is remote and encompasses extreme environments. Conditions can change quickly and help is not always immediately accessible. When planning to enter the Wilderness Area, review the park's tips on Safety to make sure the trip is an enjoyable one!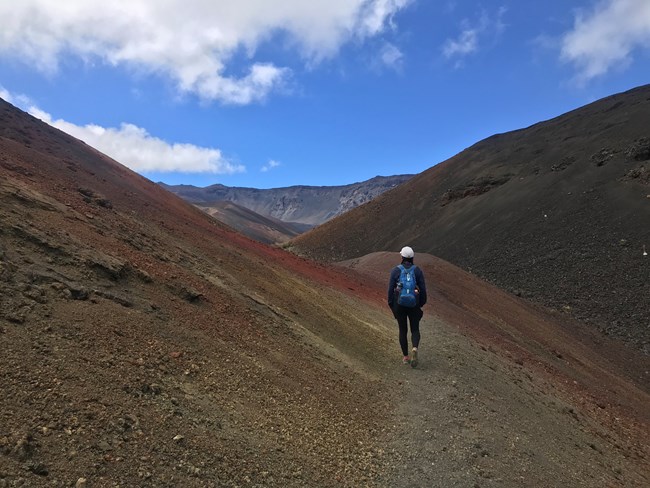 Know before you go:
Overnight camping and cabin use requires a permit, obtained a the Headquarters Visitor Center
Check current conditions before heading out for a hike of any length by speaking with a park rangers at a visitor center
Weather can be severe and unpredictable. Bring rain gear, sun protection, and layers to be prepared for changing conditions.
Water is scarce. There are no dependable, natural sources of water in the park. Cabin areas have water that must be filtered, and dry conditions may make this option unavailable.
Altitude can significantly affect a hiker's health and ability. Seek help if experiencing the signs of altitude sickness.
Last updated: November 1, 2020