Summit District

No place can prepare you for the experiences and feelings you will have on the summit of Haleakalā volcano. The landscape—deeply sculpted, richly colored, and forever changing—is unlike anywhere else on Earth.  
Spend a few hours hiking in the cinder desert landscape or just a few minutes looking for rare forest birds in the native shrubland. Whatever you choose to do, you will do it surrounded by native Hawaiian plants and animals. The summit is one of the few easily-accessible places in Hawai'i where our rare and endemic species survive and thrive.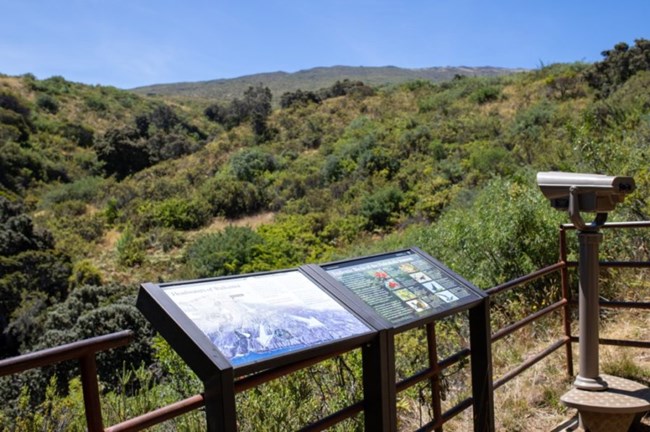 Visitors have a number of opportunities to experience the Summit District. Many will choose to embark on hikes throughout our varying ecosystems. Camping is an option, though anyone thinking about camping in the park should check the rules and regulations, along with current conditions, before finalizing plans.

You don't have to go far or stay long to get a sense of the remote and windswept summit, however. Make reservations for viewing sunrise in the park, or plan for an evening trip to soak up the stars. Whatever you do, keep safety in mind. The remote and intense environment of the Summit District calls for good preparation and situational awareness.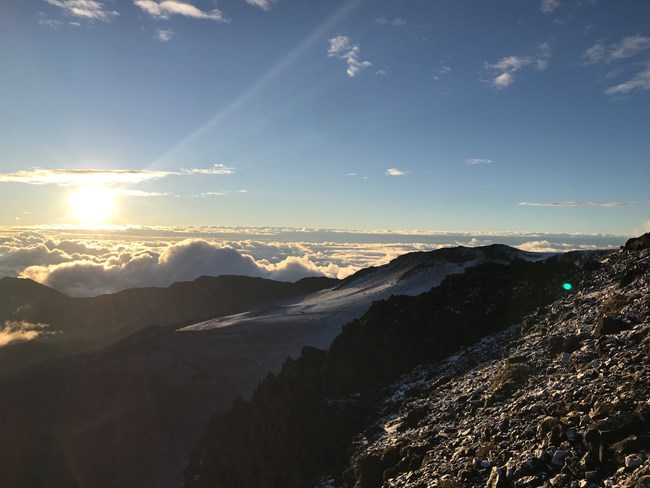 Know before you go:
Dress warmly. Be prepared for all kinds of weather. Temperatures at the summit are at least 20 degrees colder than at sea level and often drop below freezing.
Fill up your gas tank and bring food. Neither are available in the park.
There are no charging stations for electric vehicles at Haleakalā National Park. Even electric vehicles with a full charge have been unable to make it to the Summit.
Bring water and sunscreen and wear sturdy shoes.
Pay the entrance fee with a credit card.
Always respect speed limits. The park road goes through endangered species habitat.
Please leave natural resources and cultural artifacts, rocks, and structures alone.
Please be quiet and respectful. The summit is sacred to Native Hawaiians.
The summit is remote. Emergency medical assistance is at least one hour away.


Last updated: April 19, 2023