Hiking

There is no better way to experience Haleakalā National Park than on your own two feet. Enjoy the great outdoors on a variety of trails in the two dramatically different districts. Due to the fragile nature of Hawaiian ecosystems, it is required by law that hikers stay on marked trails. Hiking groups are limited to 12 people. If your group is larger than 12 you will need to split into two or more groups and separate each group by 30 minutes on the trail. No food, supplies, or gas are available in the park.
Horses, mules, and donkeys are permitted as pack animals on the Keoneheʻeheʻe Trail, Halemauʻu Trail, Supply Trail, and the Kīpahulu horse trail from Hwy 31 to the Palikea Overlook. All waste produced by pack animals must be removed from parking areas and trailheads. No group may have more than 12 pack animals. Riders, commerical operators, and owners are responsible for the removal of dead or injured stock within 72 hours. Pets of any other kind are prohibited on all trails.
Summit Area
With over 30 miles (48 km) of hiking trails, that range from just 10 minutes to multi-day overnight trips, there are many options in the Summit District. You can hike in the native shrubland, looking for native forest birds and endemic plants, or in the aeolian cinder desert, exploring the geologic history of the volcano.
Trails are strenuous in the Summit Area because the high-elevation causes a lower concentration of oxygen in each breath. Altitude sickness is a concern. Be on guard for symptoms: nausea, headache, dizziness, and shortness of breath. Pregnant women and people with heart or respiratory conditions should consult their doctor before visiting and hiking in the Summit Area. When beginning your hike on a downward slope, allow for twice the time hiking to get out, e.g. 15 minutes hiking down + 30 minutes up = 45 minute hike. Soft cinder trails create hiking conditions similiar to walking on a beach in some areas.
Temperatures commonly range between 30 to 65 degrees F (-1 to +18 degrees C), and can reach below freezing at any time with the wind-chill factor. Hypothermia is a danger. Hikers must be properly prepared for high altitudes and cold, rainy conditions. Weather in the Summit Area is unpredictable and ever-changing. Prepare for harsh UV rays, wind, rain, and cold temperatures year-round.

What to bring:
- Sun protection (hat, sunglasses, sunblock)
- Cold/wet weather clothing (raingear, pants, jacket, poncho)
- Food (no food for sale in the park)
- Water bottles (drinking water available at all visitor centers)
- Sturdy shoes (hiking boots or athletic shoes)
---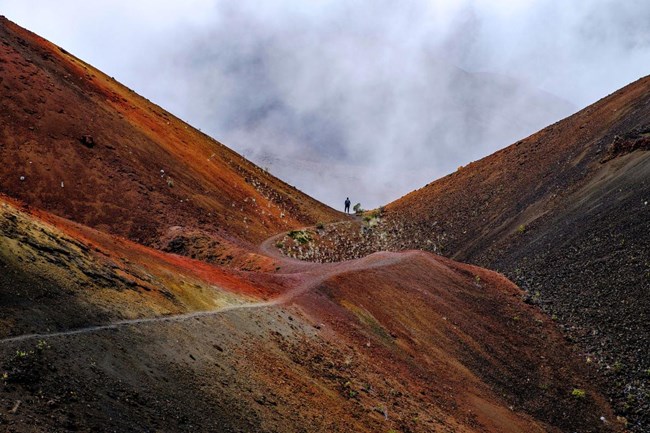 Alpine Desert Hikes
View the endemic 'āhinahina (silversword), other small plants, ancient lava flows and pu'u (hills denoting old eruption sites) on these easy to strenuous trails.
Trail name
Description
Distance/elevation change
Pā Ka'oao


OPEN

Hike up the pu'u next to Haleakalā Visitor Center to view ancient rock wall shelters and the crater.
0.4 mile (0.64 km) round trip.100 ft (30 m) elevation change.
Keonehe'ehe'e (Sliding Sands)


OPEN

Hike downhill into the crater. The trailhead is in the Haleakalā Visitor Center parking lot near the road.
Distance to the first overlook is 0.50 mile (0.8 km) round trip, with a 50 ft (15 m) elevation change. Beyond that, refer to distances and elevations on the map.
Keonehe'ehe'e (Sliding Sands)


OPEN

Hike across the crater to Halemau'u Trail. The trailhead is in the Haleakalā Visitor Center parking lot near the road.
A popular 11-mile (17.8 km) full-day hike begins at Keonehe'ehe'e Trailhead, crosses the valley floor, and ends at Halemau'u (7,990 ft/2,436 m elevation). The park cannot offer hiker shuttles, so consider using the "hiker pick-up" near here.

Points of interest:
The "crater floor" is 3.9 miles down one way. The elevation change is almost 2,500 ft/762 m.

"Pele's Paint Pot" (about 5.7 miles in) is roughly the halfway point of this hike, near
the north side of Halāli'i cinder cone.

Kawilinau (also about 5.7 miles in) was formerly called the "bottomless pit." The volcanic pit is 65 feet deep.

View both of these areas after reaching the crater floor and heading north towards Halemau'u.

Note: Plan ahead! Park visitation slows in inclement weather, decreasing the number of visitors who might offer you a ride up to Keonehe'ehe'e Trail parking lot. We recommend parking your vehicle at Halemau'u and hitchhiking up to Keonehe'ehe'e at the beginning of your hike. Upon concluding your hike, you will have immediate access to your vehicle at Halemau'u.
For those planning to hike the Kaupō Trail, please be aware that:
- Kaupō Trail is not within park boundaries and is not maintained by NPS
- It is a rugged, unimproved trail and injuries have occurred
- Visitors go at their own risk
- NPS recommends that visitors use Crater trails only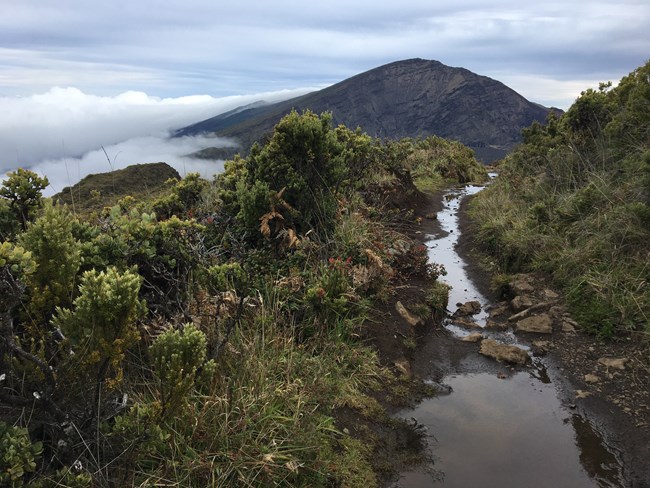 Subalpine Shrubland Hikes
View native Hawaiian trees and shrubs, including many critical to nēnē (the Hawaiian goose) and other endemic, endangered species.
Trail Name
Description
Distance and elevation change
Leleiwi Overlook
OPEN
Carefully cross the park road to the trailhead for a short walk to a crater viewpoint.
0.30 mile (0.48 km) roundtrip. 100 ft (30 m) elevation change.
Halemau'u Trail
OPEN
Hike 1.1 miles (1.8 km) on a rocky path to a crater viewpoint. A popular destination on this hike is a natural land bridge commonly referred to as "Rainbow Bridge." This area is about 0.25 miles from the first crater viewpoint. Hiking past this will take you down switchbacks carved into the crater walls.

It is a little over 2 miles one way to reach the crater floor from the trailhead.
2.2 miles (3.6 km) round trip. 400 ft (123 m) elevation change.
Supply Trail
OPEN
Hike to the junction with the Halemau'u Trail.
4.6 miles (7.4 km) roundtrip. 975 ft (297 m) elevation change.
Hosmer Grove
OPEN
Compare non-native trees (planted before the park's establishment, to control erosion) and native shrubland. View honeycreepers found nowhere else on earth.
0.54 mile (0.87 km) loop trail. 50 ft (15 m) elevation change.
Kīpahulu District
This remote district is only accessible via the Hana Highway. Prepare for hot, humid, rainy weather. Enjoy hiking to two waterfalls, camping in the Kīpahulu Campground, cultural demonstrations, and exhibits. Due to flash floods and rock slides, swimming is not recommended in 'Ohe'o Gulch.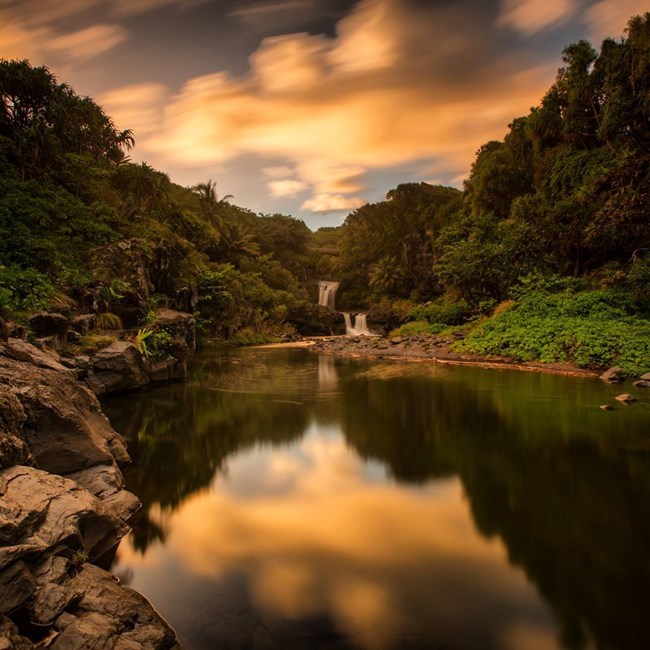 Coastal District Hikes
View cascading waterfalls, sweeping ocean vistas, and Hawaiian archaeological sites. Hike through a diverse forest along a freshwater stream home to endemic fish species.
Trail name
Description
Distance and elevation change
Pīpīwai Trail
OPEN
Take a hike up a trail that winds through a freshwater stream and diverse forest areas with views of waterfalls and other natural features. This trail is moderately strenuous.

Points of interest:

Makahiku Overlook will give you your first glimpse of a waterfall, Makahiku Falls, at 0.5 miles in.

The bamboo forest can be found about one mile in. Visitors can expect to see boardwalks and footbridges.

Waimoku Falls viewing area brings visitors to the end of Pīpīwai Trail after two miles (one way). This hike to this area gains 800 feet in elevation.

Note: check and comply with posted trail closures before heading out. Off-trail travel is dangerous and illegal.
4 miles (roundtrip), 800 ft elevation change.
Kūloa Point Trail
OPEN
This trail leaves the Kīpahulu Visitor Center and continues past a Hawaiian cultural demonstration area to Kuloa Point at the mouth of 'Ohe'o Gulch. Here, you will find beautiful ocean views and archaeological sites. This trail is popular for viewing the Pools of 'Ohe'o, also sometimes called the "Seven Sacred Pools." The pools are sometimes closed to swimming because of hazardous conditions. The "alerts" section of the page will inform you of pool/stream closures.
0.5 mi (total), 80 ft elevation change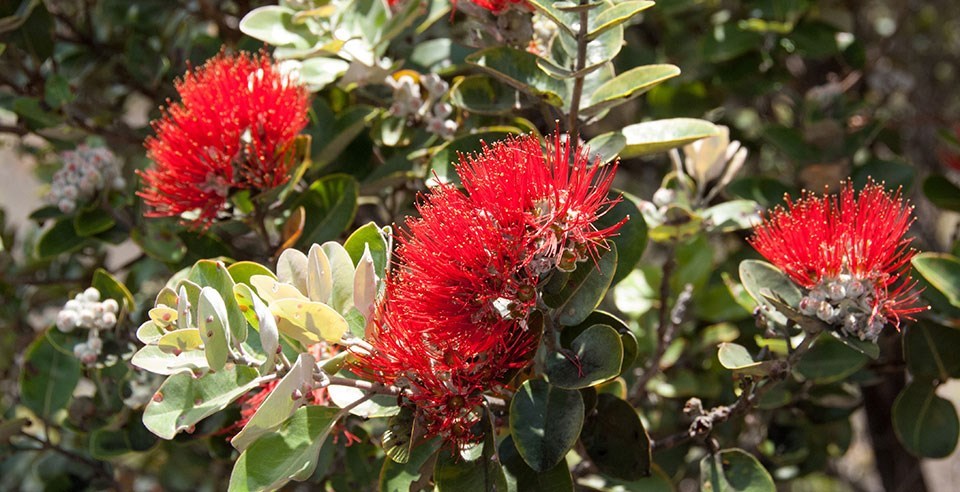 Last updated: November 1, 2022