Your Safety
Please remember that you are entering a natural area where you are responsible for your own safety. If you have concerns about any activity or situation, please seek advice from park rangers at the visitor centers. For your safety, it is important to always stay on trail and read and obey all posted signs. In the event of a medical emergency, medical assistance may take up to an hour to arrive from a nearby town so it is important that you come prepared.
The park is divided into two districts with different elevations, features, and climates. For more details on the specifics of these areas visit Kīpahulu District and Summit District,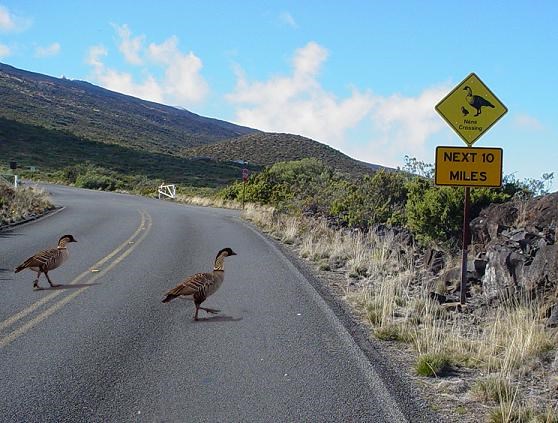 Watch for Wildlife
It's exciting to have the opportunity to view wildlife when visiting a National Park and Haleakalā is no different! Several native and non-native bird species call Haleakalā home and are often seen in parking lots and in roadways day and night. Some of these birds are endangered, endemic and only found at the summit of Haleakalā!
Help us protect them by:
Driving the speed limit

Stopping and waiting for wildlife to cross the road

Taking extra caution when driving in inclement weather (wind, rain, fog, etc).

Not feeding any wildlife—all the food they need is provided for them in their natural environment!
Hiking Safety
Prepare for the Weather: The wilderness area is remote and experiences unpredictable weather. Temperatures vary from 40-70 degrees Fahrenheit during the day and 30-50 degrees Fahrenheit at night. Plan for rain at all times of year. If it is stormy, winds can exceed 80 miles per hour with temperatures dropping well below freezing.
Terrain: Hiking trails may be steep. Terrain may include loose cinders and/or rocks. Sturdy hiking shoes are highly recommended. Change in altitude can be from a high of 9,780ft to a low of 6,380ft. Due to the soft sandy nature of the trails, plan on spending twice as much time to hike out as to hike in.
Stay On-Trail: Protect fragile species found in the park by staying on the trail! Haleakalā is an on-trail park and all visitors required to stay on designated trails. Staying on trail not only helps fragile habitat but in addition keeps you safe as hiking off trail increases the potential for injury or becoming lost.
Stay Together: When hiking with a group, keep track of each other by staying in sight of one another at all times. If separated wait along the trail, and especially at all trail junctions. Reminder: There is no cell phone service in Haleakalā Crater and it is very limited at trailheads.
Share Your Itinerary with Someone You Trust: Let someone know your itinerary or trip plan and instruct them to contact emergency personnel if you are overdue.
The park's emergency communication center's phone number is 808-985-6170. This number is for emergencies only!
Make sure the person you designate understands that if you are overdue, lost, or injured on the trail, they are your only link to help and should report you overdue if you fail to contact them by a predesignated time.
If Lost: If you become disoriented or lost, attempt to fix your location using a map, compass, and landmarks. If you are unable to locate the trail, stay put! Use a mirror or reflective object to signal for help. Any signal done three times in a series is a universal distress call. Bright colors and reflective materials to attract attention.
If Sick of Injured: If you become ill or injured on the trail and are unable to hike, send someone in your party or a passing hiker for help. Write down and give the messenger your exact location, age, gender, height, weight, and a description of your illness/injury in order to ensure the appropriate emergency response. There is no cell phone service in Haleakalā Crater. Emergency signal devices work in the crater but should not be the only thing you rely on, remember to share your itinerary with someone you trust and instruct them to contact emergency personnel if you are overdue.
Plan for the Best, Prepare for the Worst: Always carry extra food and water, rain gear, and warm clothing in case you have to spend the night out unexpectedly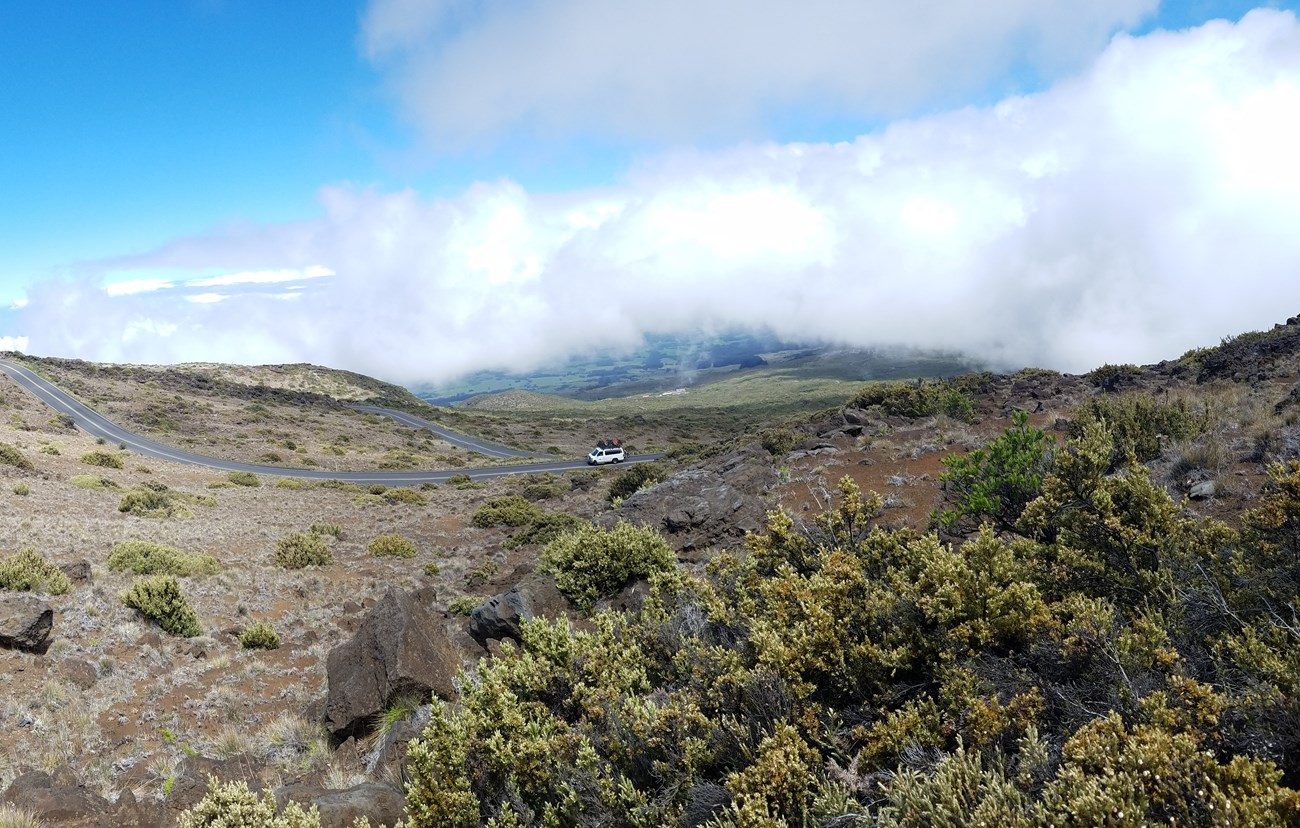 Driving Tips
The roads of Haleakalā National Park are remote, prone to extreme weather conditions, and are accessed via winding, sometimes steep, roads. Follow these tips to ensure a safe drive. Follow these tips to ensure a safe drive:
Obey the speed limit

Use established pull outs and parking lots

Obey all posted traffic signs and instructions from park staff

If you have a line of vehicles behind you, pull over at the nearest designated pull out to let them pass.

Do not stop in the road to take pictures, use designated pull outs and parking lots

Use headlights when driving in clouds, rain, or other low visibility conditions

Pass only in passing zones

During strong winds, drive with both hands on the steering wheel, watch for flying debris, and be careful when opening your car doors.

Watch for wildlife in the road. Honk your horn to encourage them off the road. Pass them if and when it is safe to do so.

In the Kīpahulu District, make sure to obey "blow horn" signs. Honk your horn and listen for the horns of others. Proceed slowly.

When descending the mountain, use a low gear. Consult your owner's manual for specific instructions.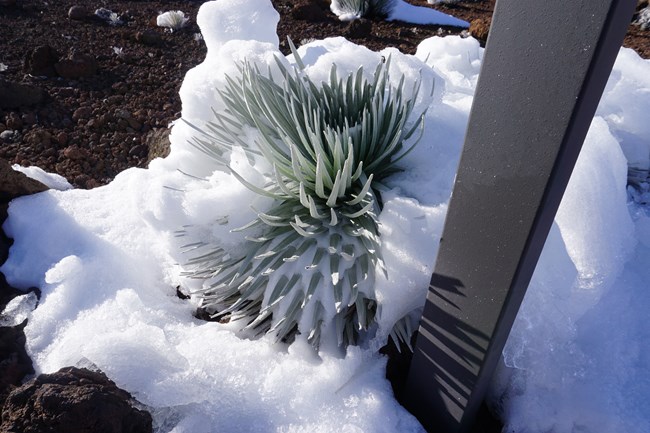 Weather
Haleakalā is known for a wide range of weather; on any given day the temperatures in the park can vary from a high of 80°F (27°C) in Kīpahulu to a low of 30°F (-1°C) at the summit. Conditions can change quickly with clouds and rain replacing warm sunshine. Prepare for all conditions when planning your trip, as the weather can deviate considerably from the forecast.
Visit our webpage on
weather
to learn more about the weather in our different districts.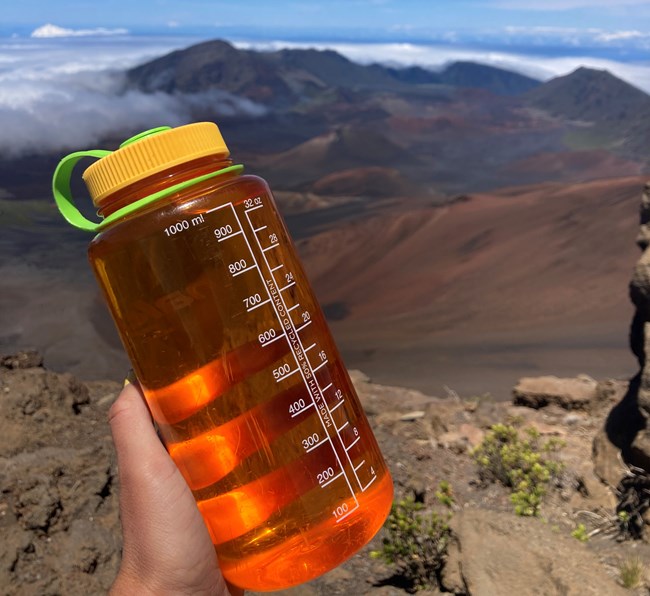 Items to Bring
For your visit, we suggest bringing the following:
Sun protection (hat, sunglasses, sunblock)

Cold/wet weather clothing (raingear, pants, jacket, poncho)

Food (no food for sale in the park)

Water bottles (drinking water available at all visitor centers)

Sturdy shoes (hiking boots or athletic shoes)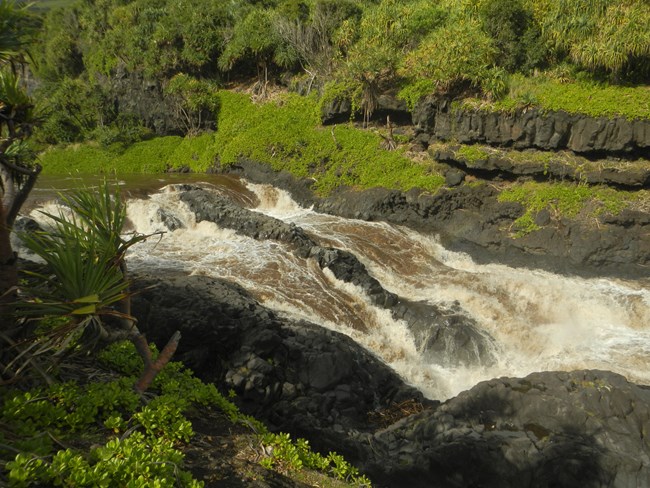 Water Safety
Pool and Ocean Hazards:
Flash flooding (water can rise as fast as 4 feet in 10 minutes resulting in people washed out to sea and drowning)
Slippery rocks
Rock falls (in gulches and below waterfalls)
Tripping hazards (from overlooks, ledges, jumping, and diving)
Water quality (Leptospirosis, E. coli)
Shore break
Rough surf
Strong currents and rip currents
Sharks


Last updated: July 27, 2022