Wilderness Camping
Transcript
Preparing for the Backcountry of Haleakalā National Park
To thoroughly enjoy your backcountry experience at Haleakalā, whether it's for an hour, a day, or multiple days, you need to be fully prepared. Here are helpful tips for hiking in the backcountry at Haleakalā National Park.
Tip #1: Plan ahead
 Select a route and destination, keeping in mind the distance and ability of other hikers in your group, including kids.  Hiking uphill takes about twice the time it takes to hike downhill.  Check the visitor center for updates on weather or trail conditions.  Always carry a map. Maps are available at www.nps.gov/hale or the visitor center.
Tip #2: Have the right gear and supplies
 Wear sturdy hiking shoes or boots with ankle support.  Carry adequate amounts of water and food.  Water is only available at remote cabins, and must be treated.  Dress in layers for a variety of weather conditions.  Use a comfortable backpack.  Pack essential items in a plastic bag inside of your backpack to keep items dry.
Tip #3: Be prepared for emergencies
 There is no cell phone coverage through most of the backcountry. You must be self reliant during emergencies. Help may not be available for hours or days.  Carry a first aid kit, flashlight, signal mirror, and survival gear. Your life might depend on it!
Suggested Hiking Gear: Backpack, Hiking shoes, Water, Food, Raingear, Warm jacket, Synthetic clothing for layering, Sunscreen, Sunglasses, Hat, Flashlight, Map, First aid kit, Medications, Survival kit (signal mirror, matches, knife, compass), Warm sleeping bag, Water filter
Visit our keyboard shortcuts docs for details
Duration:

4 minutes, 2 seconds
To thoroughly enjoy your backcountry experience at Haleakalā, whether it's for an hour, a day, or multiple days, you need to be fully prepared. Here are helpful tips for hiking in the backcountry at Haleakalā National Park.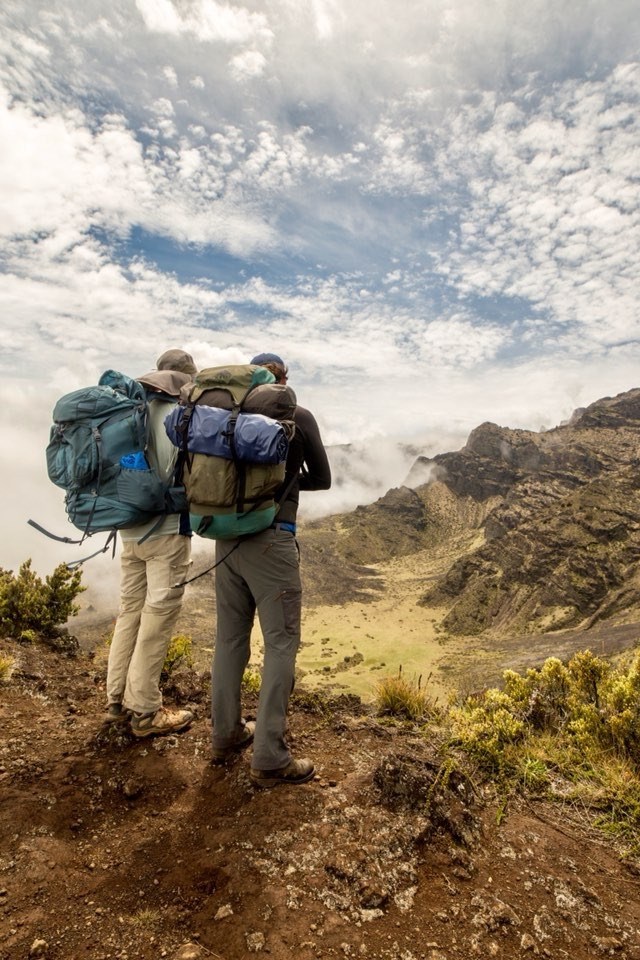 Backpacking in Haleakalā National Park Wilderness Area

There are two primitive Wilderness campsites which are accessible only by trail. Permits are required for camping at these sites. Campsite space is available on a first-come, first-served basis for the general public. Special accommodation is made for educational groups and civic groups which may reserve camping space up to six (6) months in advance.

Each person is limited to a maximum of three (3) nights per 30-day period in the Wilderness Area with no more than two (2) nights at any one campsite.

Hōlua and Palikū campsites have a maximum limit of 25 people each with a 12-person group limit. Groups larger than 12 may not split into smaller groups and utilize the Wilderness at the same time. Larger groups MAY split into smaller groups with 12 in the Wilderness, 12 at Hosmer, and 12 at Kīpahulu.
Hōlua and Palikū campsites have pit toilets and water available nearby. The water is non-potable and must be filtered or treated before drinking. In times of drought, all water must be carried in.
---
Permit pick-up
Camping permits can be obtained at the Headquarters Visitor Center between 8:00 AM and 3:00 PM up to one day in advance. Permits are free, require photo identification, and a 10-minute orientation.
---
Hōlua Campsite
Hōlua, the Wilderness campsite reached by the shortest hike, lies at 6,940 feet (2,115m) in the shrubland near Ko`olau Gap. Hōlua is 3.7 miles one way (6km) down the Halemau`u Trail or 7.4 miles one way (12km) from the Sliding Sands Trailhead. Visitors staying at Hōlua can enjoy day hikes into the central Wilderness Area. The landscape around Hōlua supports a native shrubland which colonizes the lava flows.
---
Palikū Campsite
At 6,380 feet (1,945m), Palikū is on the east end of the Wilderness valley at the base of a rain forest cliff. The campsite is reached via a strenuous 9.3 mile (15km) one way hike on the Sliding Sands Trail or 10.4 (17km) one way hike on Halemauʻu Trail. Clouds and fog often roll over the top of the cliffs behind Palikū, and rain is common. The extra moisture makes this spot exceptionally cool and lush.
View a general park map.
View a trail map.
---
Prepare for your trip
The Wilderness Area is remote and experiences unpredictable weather. Temperatures vary from 40-70 degrees Fahrenheit during the day and 30-50 degrees Fahrenheit at night. Plan for rain at all times of year. If it is stormy, winds can exceed 80 miles per hour with temperatures dropping well below freezing.
Hiking trails may be steep. Terrain may include loose cinders and/or rocks. Change in altitude can be from a high of 9,780ft to a low of 6,380ft.
Allow for adequate travel time.
---
Essential Backpacking Gear:
first aid kit
trail map
emergency food supply, cookstove, fuel, utensils (open fires are prohibited)
flashlight & extra batteries
biodegradable soap, toilet paper
signaling device (mirror, etc.)
minimum 3 to 4 quarts/liters water per person/day
tent/bivy sack
broken-in sturdy boots, moleskin
sunglasses, sunscreen, hat
sleeping bag
rain pants and jacket
NOTE: There may be other equipment necessary for your particular destination. Check with rangers for specific campground, cabin, and trail recommendations!
Minimum Impact Camping
All hikers are required to pack out everything they pack in. Do not bury your trash or discard it in pit toilets - pack it out. Practice "leave no trace" camping.
Water
We do not have streams in the park. Campgrounds have water catchment tanks (rain water collected from metal shelter roofs). This water must be treated before consuming. Check with rangers on water levels when obtaining your permit!
Trail Conditions
Hiking over rocky terrain is strenuous. Hiking boots provide the best traction and protection when hiking on lava. Long pants afford some protection if one should fall.
Sunlight may be intense. Hats, sunglasses, and sunscreen are preventive measures against sunburn. Start your trek early.
Health Hazards
Many hikes are through exposed lava fields and lush rain forests. Pace yourself, drink plenty of water. Pack extra clothing and your sleeping bag in plastic for waterproofness. Raingear is essential. Stay warm and dry; hypothermia (low body temperature) is a killer.
Fire Hazards
Trails in the park traverse areas which contain very flammable grasses and brush. Open fires are prohibited.
Natural Resources
Help us protect your National Park. All plants, animals, rocks and other natural and archaeological or cultural features are protected by law against removal, injury, or destruction.
Cultural Resources
Please respect all archaeological sites and artifacts left by ancient Hawaiians. Do not move any rocks, climb on or alter any rock structures, such as lava trees, walls, heiau (ancient temples), or petroglyphs (rock engravings). Entry into caves is prohibited.
Special Note:
Dogs and firearms are prohibited in the wilderness.
EMERGENCY PROCEDURES
Before you go, leave a trip plan with another person. Make sure they understand that should you be lost or injured on the trail, they are your only link to help and should report you overdue if you fail to contact them by a predesignated time.
If lost, stay where you are. Use bright colors and reflective materials to attract attention.

To report a lost or overdue hiker, call Park Dispatch at (808) 985-6170.


Last updated: August 17, 2020