News Release
Three peregrine falcons fledge in 2023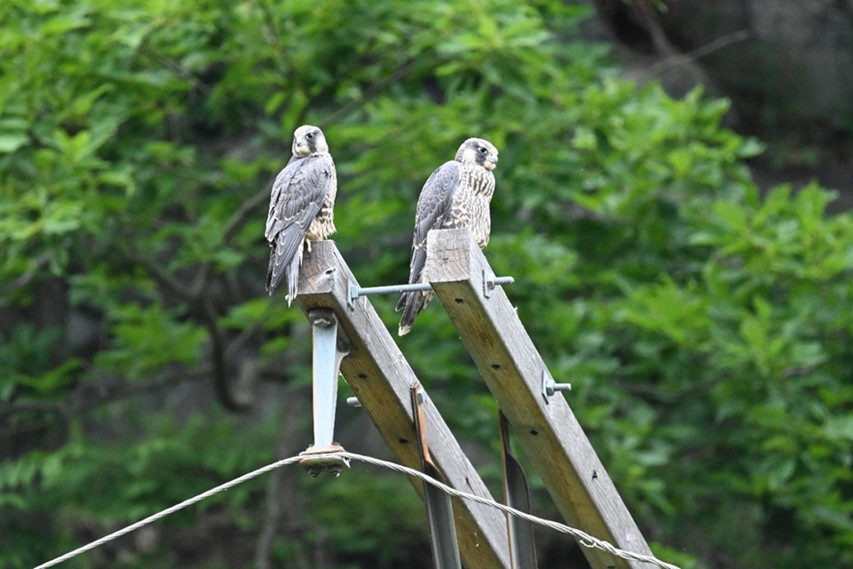 News Release Date:
June 20, 2023
Contact: Kristen Maxfield, 304-535-4050
Three peregrine falcon chicks successfully took their first flights from the cliffs of Maryland Heights at Harpers Ferry National Historical Park (NHP) this spring. This is the third consecutive, documented fledging of peregrine falcons since the 1950s from this historic breeding site. This is also the first time in over 70 years that each chick has survived to this milestone.
The adult falcons will continue to feed their fledglings for several months while the young birds gain strength and hunting skills. The fledgling stage through the first year is one of the most dangerous times for young falcons. The National Park Service (NPS) asks the public to respect the fenced-off closure during this time to help protect the birds.
"The Harpers Ferry peregrine falcon program is the result of hard work and dedication from so many different groups," Eric Kelley, park biologist said. "The success that we have observed over the past few years has been deeply rewarding."
The peregrine falcon management program at Harpers Ferry NHP is a cooperative effort that includes the NPS, the Maryland Department of Natural Resources, the U.S. Fish and Wildlife Service and a team of dedicated park volunteers.
"Being a volunteer falcon-monitor is fascinating," Midge Flinn Yost, park volunteer said. "I start observing and filming falcons in the winter and share footage with other volunteers and experts who track their behavior and life cycle. Catching sight of fuzzy white chicks in the spring is a real thrill. We were all eager to watch them grow and take their first flights."
Peregrine falcons historically nested at Maryland Heights, but the impacts of pesticide DDT during the 1940s-1960s decimated the population worldwide. DDT caused eggshell thinning, resulting in the eggshell breaking while being incubated. This resulted in the near extinction of the species. DDT was banned in the United States in 1972, and the birds have made an impressive, though steady recovery. The first successful nest at Maryland Heights since the 1950s was in 2021.
Bring binoculars to "
The Point
," at the confluence of the Potomac and Shenandoah rivers in Lower Town Harpers Ferry, for a good vantage point to see the birds. The falcons are most active 2-3 hours after daylight and before dark.
To learn more about the conservation of peregrine falcons at Harpers Ferry NHP, visit the park's
Peregrine Falcons webpage
. 
Last updated: June 20, 2023