Peregrine Falcons at Harpers Ferry

Peregrine Falcon StoryMap
Why are we concerned about Peregrine Falcons?
Historically, the use of DDT (Dichloro-diphenyl-trichloroethane) as a pesticide resulted in a rapid decline in the population. DDT caused eggshell thinning, resulting in the eggshell breaking while being incubated. This resulted in the near extinction of the species. Since the ban of DDT in the 1970s, peregrine falcon populations have recovered significantly and are showing signs of recovery where they haven't been spotted for decades, such as Maryland Heights at Harpers Ferry.
Peregrine falcons are considered rare in Maryland and West Virginia and threatened in Virginia. The species is protected under the
Migratory Bird Treaty Act
.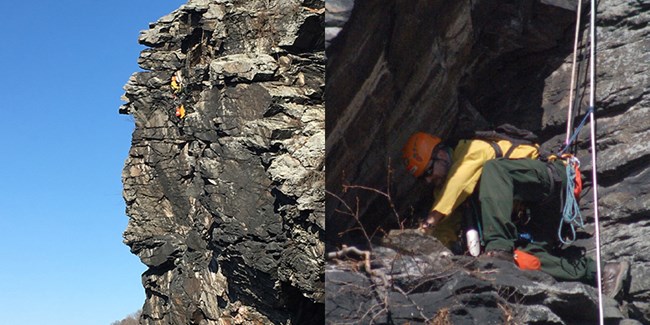 What is the NPS doing?
Staff at Harpers Ferry National Historical Park have been working with the
U.S. Fish and Wildlife Service
and other subject matter experts and volunteers to help protect and re-introduce peregrine falcons back to the area for over a decade. In the past, several pairs of peregrine falcons have utilized the cliffs but did not successfully produce a viable clutch or successful fledgling until 2021.
In February 2017 a team of Natural Resource professionals from Shenandoah National Park worked with protection rangers and resource staff at Harpers Ferry to perform a nest site inspection at two locations on the cliffs of Maryland Heights. The inspection involved an Ecologist from Shenandoah National Park, Alan Williams, rappelling to the observed nesting sites, assessing the conditions and ultimately, adding native stones and gravel to improve site conditions and drainage. Site condition could have been one reason why the peregrine falcons did not successfully produce offspring prior to 2021.
Harpers Ferry NHP issues a
seasonal, temporary cliff closure
to protect peregrine falcons in years when the birds are present in the park. The closure is in place because peregrine falcons are a sensitive species on several levels. Human interference, especially during the nesting phase, can drive the mature falcons off, abandoning eggs and fledglings that would be left to die. Specific cliff areas are closed and a portion of the areas above the cliffs are closed. The closure is marked with signs and fencing. Please respect this closure to give the peregrine falcons a safe habitat to breed and nest.
2021 Success
For the first time in almost 70 years, a peregrine falcon chick hatched and fledged (developed feathers that enabled it to fly) at Harpers Ferry National Historical Park. It was one of three hatchlings, but the only chick to make it through the vulnerable newborn phase and successfully fledge.
Learn more about this historic event.
2022: Second Consecutive Successful Year
For the second consecutive year, peregrine falcon chicks successfully fledged. Out of four hatchlings, three chicks survived the vulnerable nestling phase and entered the fledging phase after they developed feathers enabling them to fly. Learn more about this event and the program that supports it.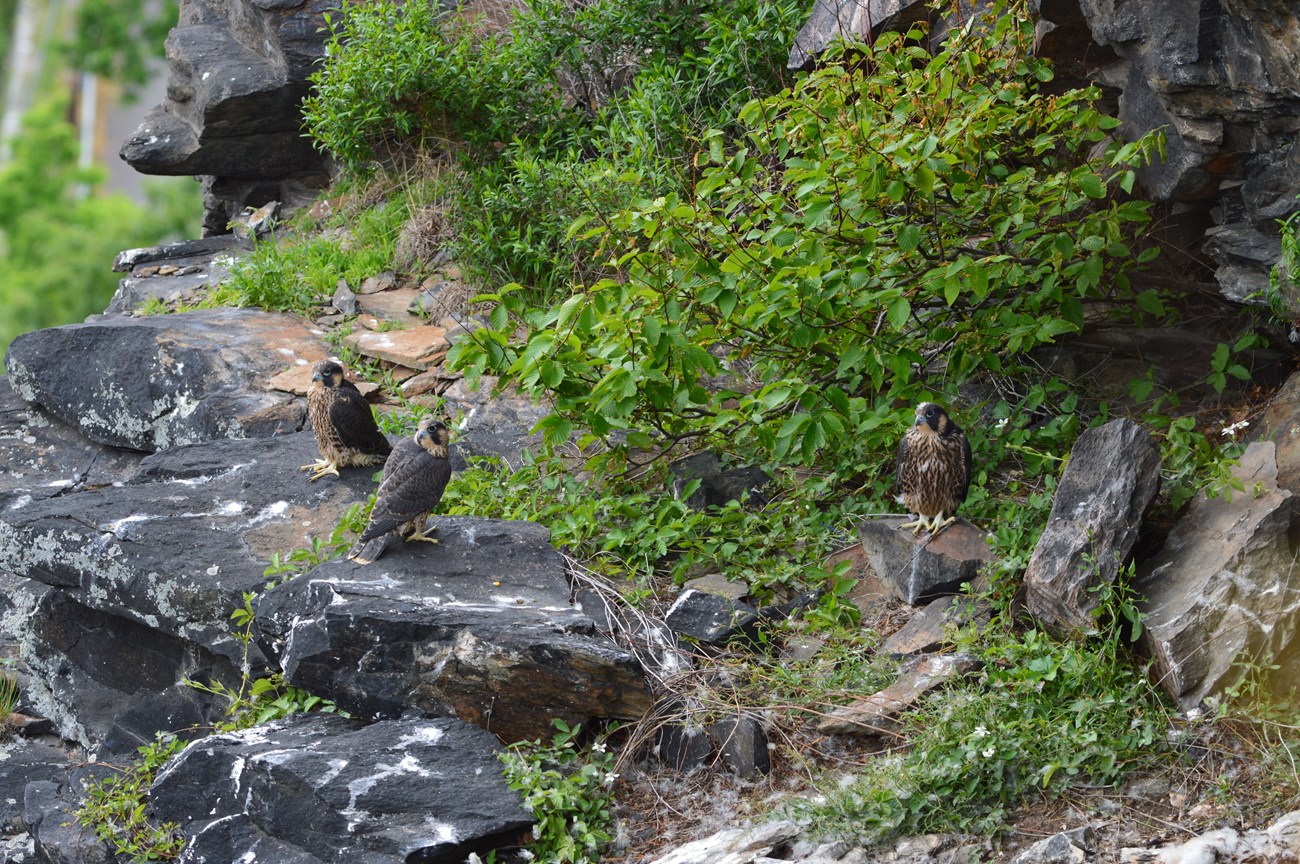 2023 Seasonal Closures at Maryland Heights
From February 15 to July 31, 2023, portions of Maryland Heights, including several climbing areas and rock outcroppings near the overlook, will be closed to protect nesting peregrine falcons. Learn more. UPDATE: the closure has been removed as of August 1, 2023.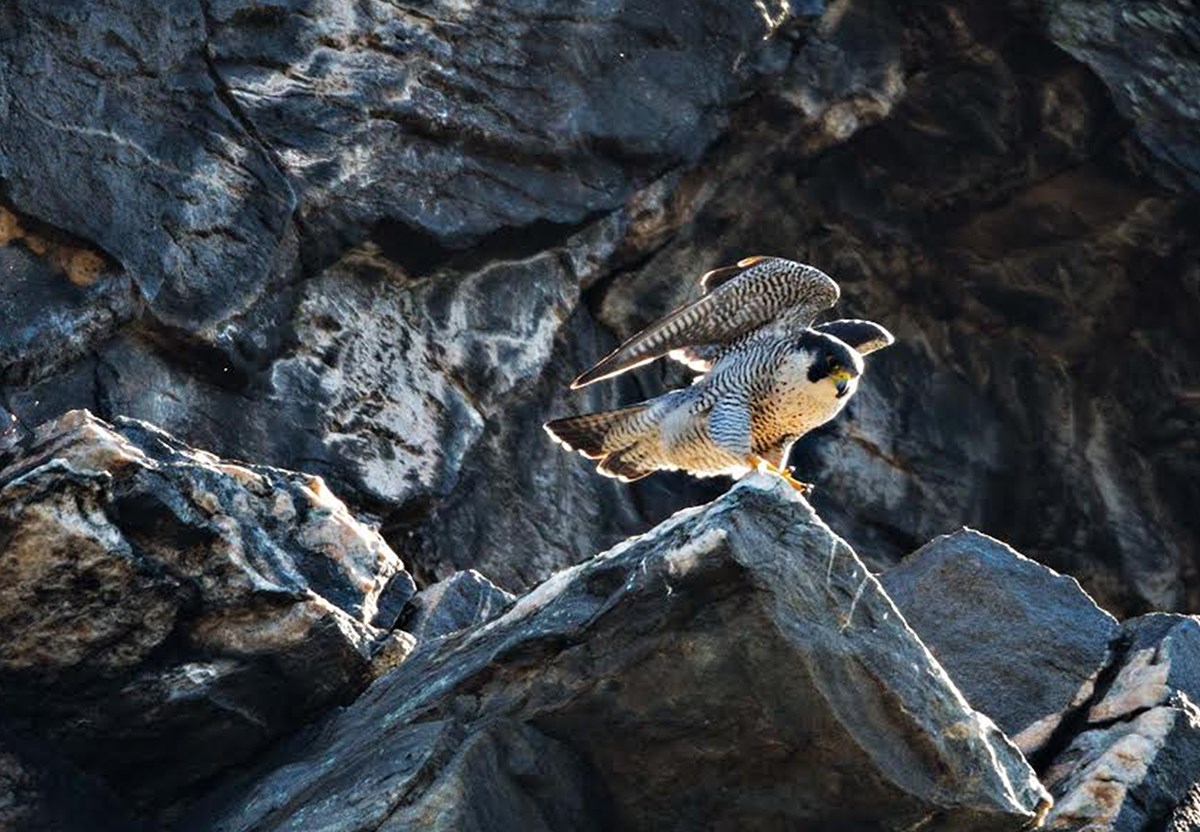 Last updated: August 1, 2023