News Release
Peregrine falcon chicks successfully fledge for the second consecutive year at Harpers Ferry after a nearly 70-year absence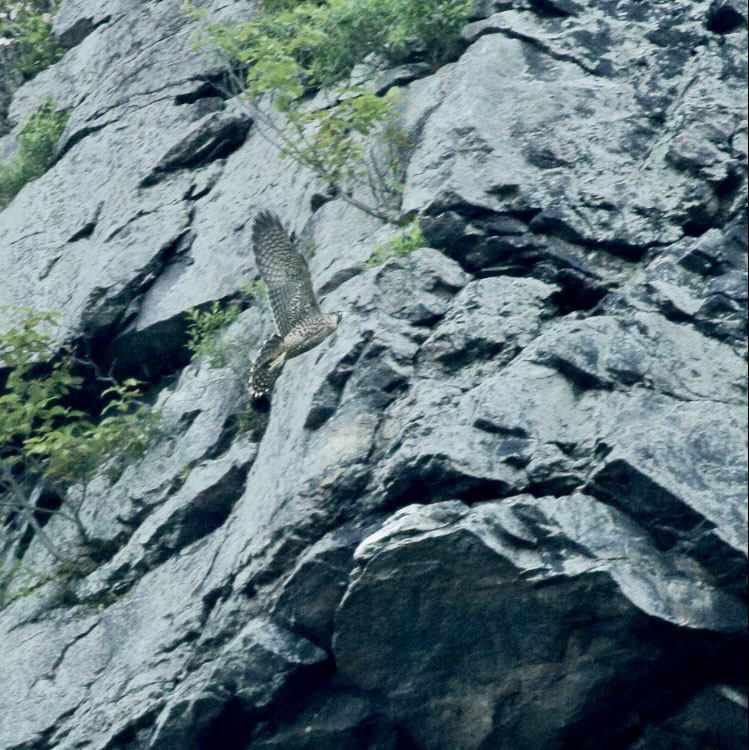 News Release Date:
June 3, 2022
Contact: Leah Taber, 304-579-9208
HARPERS FERRY, W.Va.— For the second consecutive year, peregrine falcon chicks have successfully fledged and are learning to fly at Harpers Ferry National Historical Park (NHP). Out of four hatchlings, three chicks survived the vulnerable nestling phase and have entered the fledging phase after they developed feathers enabling them to fly. Monitoring program volunteers and park staff have spotted the three fledglings soaring around Maryland Heights with their attentive parents.   

"The National Park Service celebrates the continued success of our peregrine falcon program, and we continue to be grateful to the many volunteers and partners who are essential to our efforts to restore peregrines to their historic nesting grounds," Resources Manager Mia Parsons said. "We are thrilled to see another successful breeding season."  

This year's success comes after last year's first peregrine falcon fledgling on Maryland Heights in almost 70 years. Visitors can spot these birds—the fastest in the world—with a pair of binoculars from The Point as they dive or "stoop" to hunt at speeds of up to 240 mph.  

Harpers Ferry NHP hosts a robust volunteer peregrine falcon monitoring program whose members have observed the falcons since February. Over several months, they have contributed valuable observations and insight on peregrine behaviors, mating, hatching, feeding and fledging. These volunteers were the first to spot and report the fledglings.   

NPS staff and volunteers will continue to monitor and protect peregrine falcons in the park. Partial closures of the Maryland Heights cliffs to hiking and rock climbing are in place to provide protection from human interference and give the peregrines essential space for breeding and nesting. Visitors can contribute to the program's continued success for many years to come by respecting the closure. Information on closure locations and dates can be found on the park website. 
  
The peregrine falcon management program at Harpers Ferry is a collaborative effort between the NPS, the U.S. Fish and Wildlife Service, Maryland Department of Natural Resources and many dedicated volunteers. To learn more about the history of peregrine falcons at Harpers Ferry, visit the Peregrine Falcons page on the park website.  
Last updated: June 3, 2022