Climate Change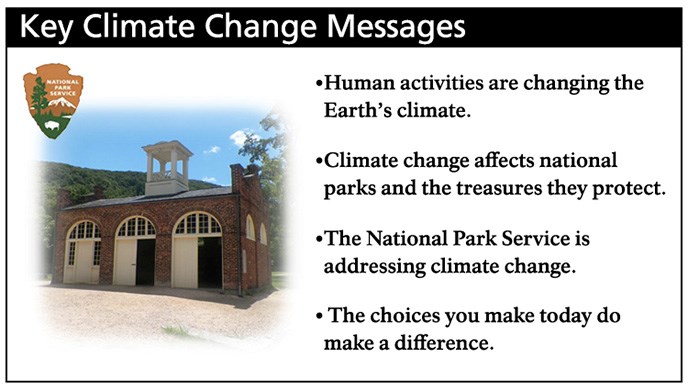 Harpers Ferry at Cross Roads

Harpers Ferry is a point of convergence treasured for its rich history and natural beauty. It sits between three states at the joining of two major rivers, the Potomac and Shenandoah. The resilient town has endured armed conflicts, the rise and fall of industries, and disastrous floods.
Now our park faces a new challenge: climate change. Impacts of climate change are experienced globally. At Harpers Ferry, climate change affects both our natural and cultural resources. The National Park Service is working to address climate change in the park, and visitors can help.


Explore climate challenges at Harpers Ferry

Floods naturally occur at Harpers Ferry, and human actions can make them
more severe. In the past, clear-cutting trees led to increased flooding and
erosion. Today, trees are growing again, but the park may still experience
an unnatural increase in flood severity due to the effects of climate change.
Read more about how human actions influenced our resources and flood cycles.

Harpers Ferry was once at the cutting edge of technology. Historic industries,
like the Armory, played an important role in the town's economy. They also
led to unintended environmental impacts. How can we compare these past
impacts with today's environmental challenges? Learn more about the
connection between climate change and the Armory.
How climate change affects Harpers Ferry

Climate change is a global issue that threatens different regions in varying ways. Harpers Ferry National Historical Park lies in the Eastern Forest and Woodlands bioregion, and may experience changes similar to other nearby parks. Here are climate change effects that Harpers Ferry could face:
Droughts become more frequent and more severe.
Floods increase and become less predictable.
Autumn precipitation has seen a significant increase since 1950 among other weather pattern and precipitation changes. Climate change can cause different regions to experience changes in weather trends.
Higher temperatures and more moisture warp the wood in our historic buildings and threaten the dry conditions needed to preserve artifacts.
Tourism trends shift due to seasonal warming.
Wildlife natural ranges shift. A 2007 study showed that over 30 years, winter bird ranges shifted north by about ⅓ miles per year.
Droughts and floods change groundwater levels. Changing water table levels can cause sinkholes to collapse, causing damage to natural and human-made structures.

Harpers Ferry's green initiatives
Harpers Ferry is working to promote environmental stewardship. Our park is currently taking action to address climate change. In our Climate Action Plan, we pledge to reduce greenhouse gas emissions to 15% below 2009 levels by 2019.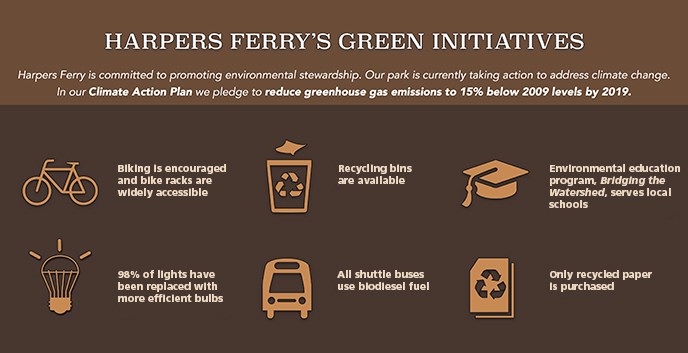 Climate Change FAQs
Answers to common climate questions from NPS. Read More >>

NPS Response to Climate Change
How the National Park Service is planning, communicating, and implementing
climate friendly practices. Read More >>

Effects in Other National Parks
Discover how climate change is impacting your favorite parks around the country.
Read More >>
Last updated: April 30, 2018