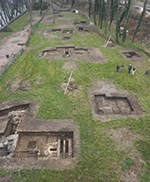 Floods are a fact of life in river valleys. Early residents of Harpers Ferry
did not know that clear-cutting forests would increase the number and
severity of floods. Today, floods threaten the traces of human history
that make Harpers Ferry special. Precious cultural resources like historic
buildings and unexcavated archeological sites can be washed away.
Our forests have rebounded, but our continued use of fossil fuels adds
to a climate that increases the chance of more severe floods. Follow the
timeline below to learn more about our flood history in Harpers Ferry.