Backpacking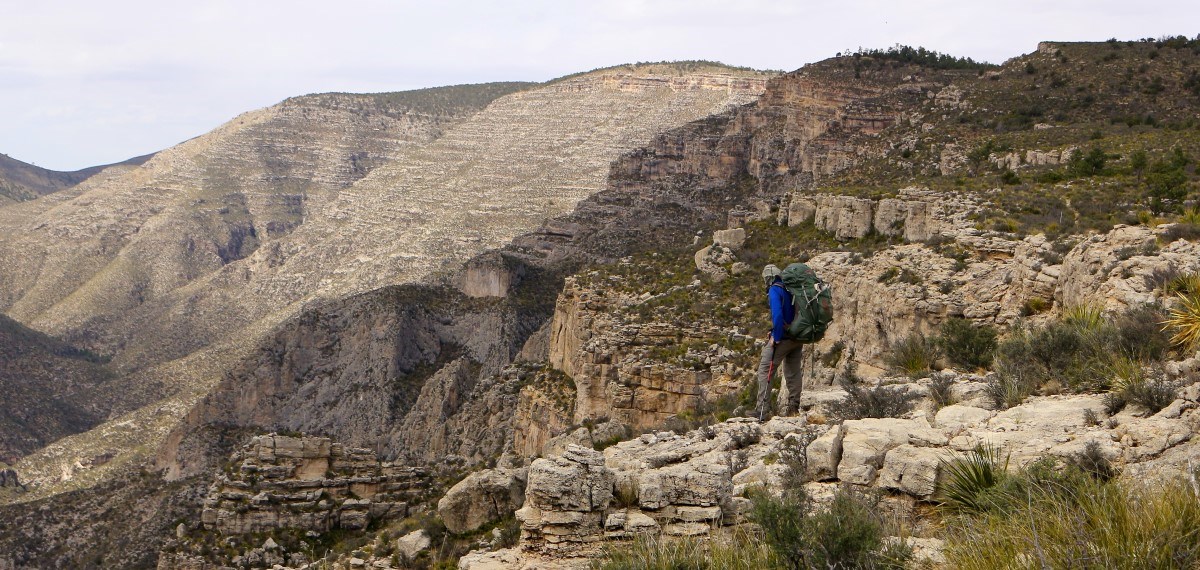 A backpacking trip in Guadalupe Mountains National Park can be an exciting and rewarding experience if you are prepared. Prior planning and decision making will ensure that you are prepared for the trip.
Preparing for your Backpacking Trip in the Guadalupe Mountains:
Plan your itinerary: Read about our wilderness campsites and pick your destination. Bringing a group to backpack in the wilderness requires special considerations.
Be realistic about elevation gains and water weight. The first mistake many hikers make is overestimating their ability and underestimating the challenges found in the Guadalupe Mountains. Every campsite in the wilderness requires a hike of at least three miles and a climb of at least 2,000 feet on rocky surfaces. All water must be carried.
Planning: While the park map can be a useful reference in planning your trip, backpackers should carry a detailed topographic map. Always have a backup itinerary as you plan. It's your responsibility to know and follow all wilderness camping regulations.
Prepare and Pack: Check out our page with suggestions on how to prepare for your trip. Don't forget to check the weather to make sure that you pack appropriately.

Obtain your Wilderness Use Permit: A Wilderness Use Permit must be obtained before backpacking overnight. Wilderness Permits have a $6.00 non refundable reservation fee that is required for each overnight permit reserved and an Overnight Recreation Fee of $6 per person per night fee for each hiker on the permit.

Permit Reservations
Advanced reservations for overnight Wilderness trips may be made up to three months in advance. Reservations must be made at least two days in advance of the trip start. Reservations must be converted into a permit up to two days in advance of the start of your trip at the Pine Springs Visitor Center from 8:00 a.m. to 3:30 p.m., daily.

Walk Up Permits
Walk-up permits for unreserved sites in the Wilderness may be issued on-site on a first-come, first-served basis at the Pine Springs Visitor Center from 8:00 a.m. to 12:00 p.m. Noon, daily. Walk up permits may be obtained up to 24 hours in advance of the trip.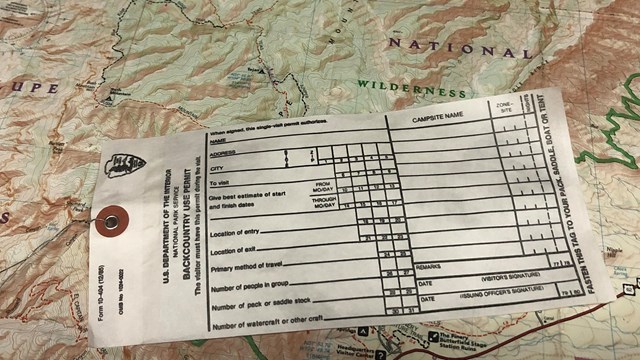 Wilderness Use Permits
Wilderness Use Permits are required for backpacking overnight and may be obtained in-person or by advanced reservation.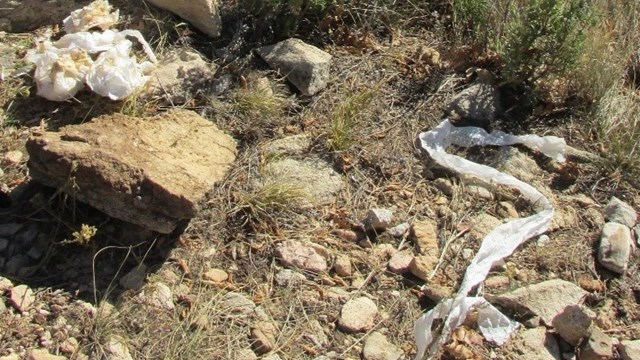 Human Waste in the Wilderness
Nothing can spoil a hike as quickly as the discovery of toilet paper. Always use the restroom before hiking. Pack out your toilet paper.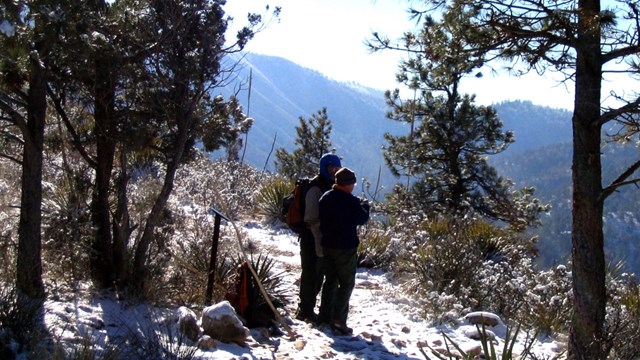 Preparation and Safety
Knowledge and preparation can increase your comfort level and reduce your chances of injury while in the Wilderness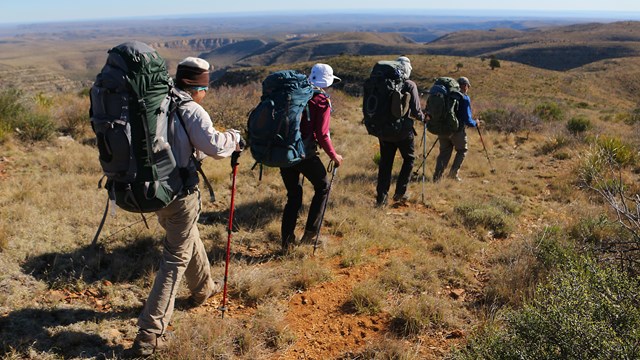 Backpacking Groups
To protect park resources, special restrictions apply when bringing groups to camp overnight in the Wilderness.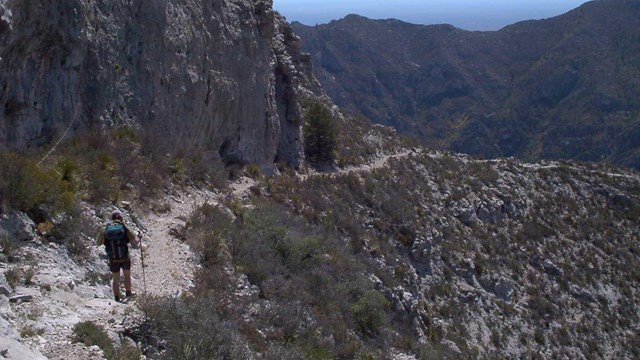 Suggested Itineraries
Still not sure about what route to take? Check out these ranger favorites!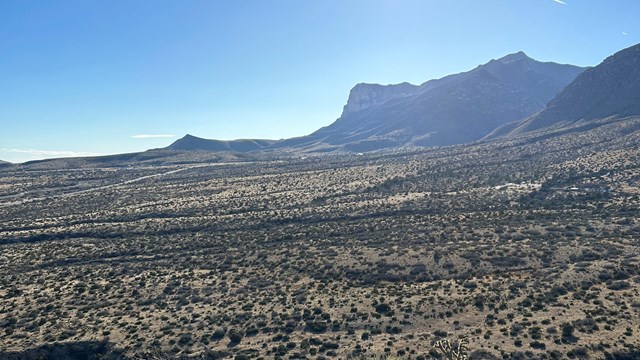 Hiking off-trail
Any person or persons planning to hike off trail in the park must obtain a Special Use Permit before they attempt the hike.
Trail Descriptions
A network of trails throughout the park provides many opportunities to explore and find your challenge.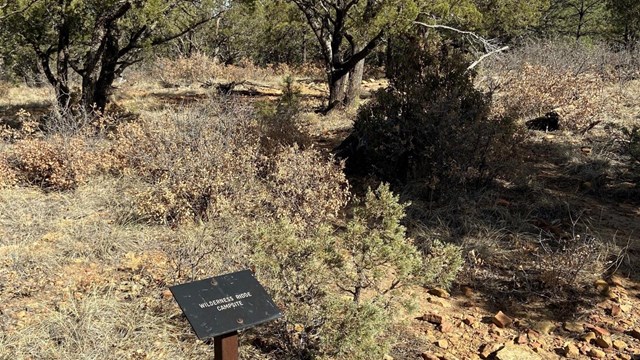 Wilderness Campgrounds
Backpackers can choose from 10 designated campgrounds when planning a trip in the Guadalupe Mountains Wilderness.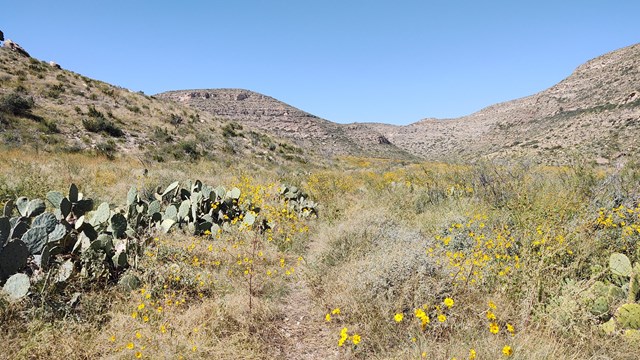 Guadalupe Ridge Trail
This strenuous route traverses 100 miles through Carlsbad Caverns National Park, Lincoln National Forest, ending at Guadalupe Peak.


Last updated: June 2, 2023
Be Prepared for the Wilderness