Wilderness Use Permits
A Wilderness Use Permit (free) must be obtained before backpacking overnight. Wilderness Use Permits must be obtained in person at the Pine Springs Visitor Center. Permits may be obtained up to 24 hours in advance of the trip. Due to the time involved, please be ready to begin the process at the visitor's center no later than 3:30 p.m. Please be sure to have your driver's license ready, your itinerary, and your vehicle's license plate number. This will help to expedite the process and have you ready for the trails!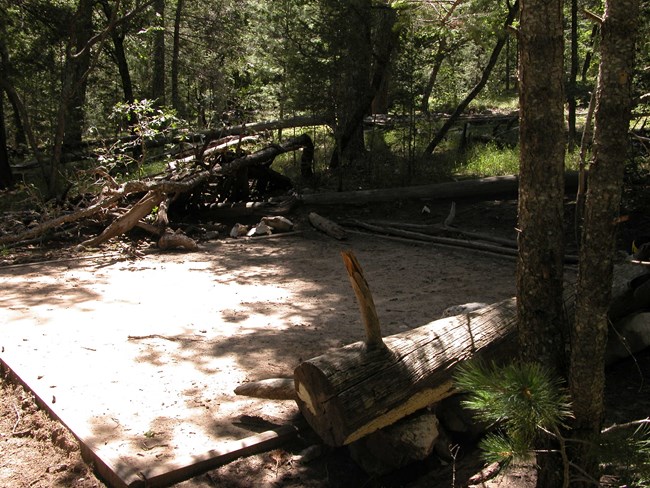 General Restrictions and Regulations
Permits are issued on a first come, first serve basis. During peak visitation periods, permits may be in high demand, so plan an alternative itinerary.

The permit authorizes camping ONLY on designated sites in the established wilderness campgrounds. You must choose your campground(s) at the time the permit is issued.

Tents must be pitched on the hardened tent pads available at all campgrounds. The use of hammocks, slacklines, tarps or similar devices tied to natural and/or manmade features is prohibited.

Fires are strictly prohibited (no wood or charcoal). Containerized fuel is the only allowable method to be used for both cooking or waming.

Pets are not permitted in the wilderness.

There are no water stations along the trails and all park water sources are protected and must not be disturbed. Plan to pack in all water needed for your hike. It is recommended to bring one gallon of water per person, per day.
Use Limits
To minimize resource impact, all wilderness campground use limits are based on a standard of:
No more than 4 persons per campsite, with either one large tent or two small tents.
No more than 3 campsites (10 people) of the same group can occupy a single campground.
No more than 2 consecutive nights may be spent at any given campground.
Wilderness use permits are issued for a maximum of seven nights.
Learn more about how to prepare for your trip here. Need some advice? Talk to a ranger at the visitor center to assist you with planning your itinerary at 915-828-3251 or email us.
Last updated: March 9, 2021