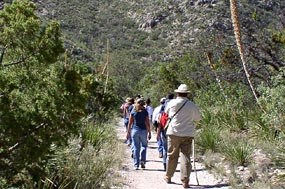 At present, there are no established group sites available at any of the backcountry campground. In order to accommodate both groups and individual campers where limited space is available, the following rules will apply with regard to backcountry use permits for organized groups such as scouts, church groups, and etc. Please pay your entrance fee and obtain a backcountry permit prior to entering the backcountry.
Maximum group size is limited 12 persons (three sites) at any backcountry campground. For organized groups larger than this, part of the group can be assigned to another backcountry campground.
Only one organized group per campground - remaining free sites will be left available for individual campers.