Fort Pickens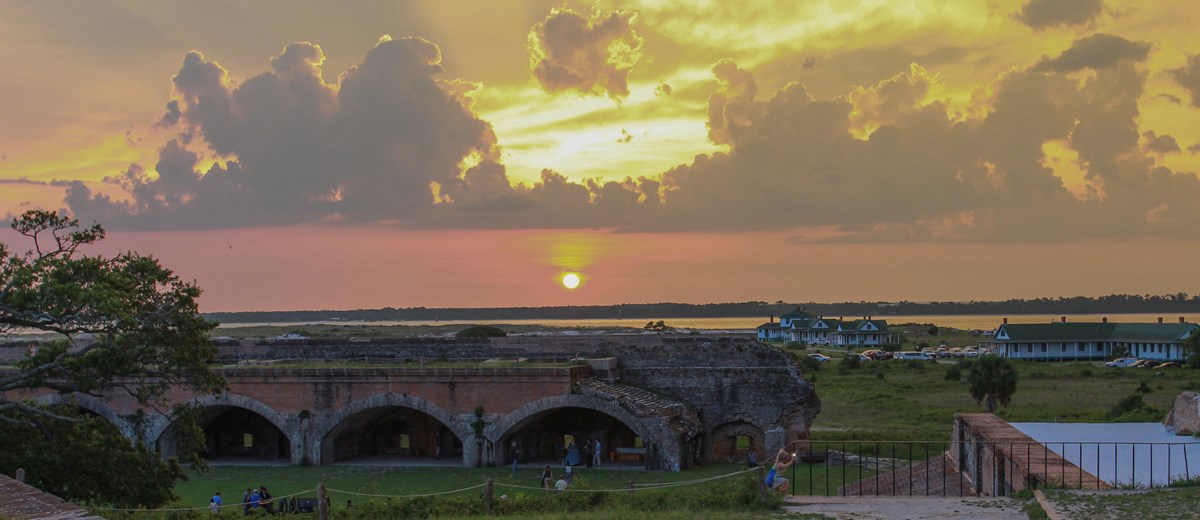 Purpose
In 1821, the Third System of coastal forts was extended to include protecting Pensacola Bay and the communities that lined the mainland shore.

Pensacola Bay had long been considered important by European powers that sought to colonize North America. With depths ranging between twenty and sixty-five feet and twelve-and-a-half miles long, the bay could afford excellent anchorage and protection for ships. Through the Adams-Onís Treaty of 1819 Spain ceded East and West Florida to the United States and Pensacola Bay became U.S. territory. By 1825, legislation was passed to establish a navy yard and depot on the bay. Fortifications were needed to protect the new territory, its resources, and assets.

Fort Pickens was designed and constructed to defend Pensacola Bay and the Pensacola Navy Yard and Depot from foreign attack. The fort stood with its sister forts throughout the country safeguarding the democratic institutions of the young republic, and today it is an enduring symbol of the United States.
Design
Fort Pickens was conceived by the Board of Engineers for Fortifications, a committee of the U.S. Army Corps of Engineers tasked with selecting potential sites and preparing plans for all new forts. Lieutenant Colonel Joseph Totten was the principal designer of Fort Pickens, but Totten's design was revised shortly after construction began by Brevet Brigadier General Simon Bernard, the senior member of the Board of Engineers. Bernard's assessment of the channel entering Pensacola Bay led him to recommend fortifying three points: the western end of Santa Rosa Island, the eastern end of Perdido Key, and the barrancas or bluffs north of the channel. Bernard's revisions of Fort Pickens saved the government money and allowed it to more quickly fortify Perdido Key.

The fort's design was influenced by the geography of the area in which it would be built. The ideal location was found on the western point of Santa Rosa Island, an elongated barrier island that provided natural protection to Pensacola Bay and mainland Florida, which commanded the approaches to the channel, controlled access in to and out of the bay, and which would cooperate with forts built elsewhere around the channel to prevent an enemy force from using the island to launch raids against the navy yard.

Fort Pickens is a massive five-bastioned work, consisting of one tier of casemates and a barbette tier. Four of the five walls face water. To defend the structure from a land based attack from the east, a glacis and counterscarp was designed to conceal the fort. In the event an enemy overtook the glacis and counterscarp, they were confronted with a dry ditch that wrapped around the fort.

Fort Pickens was designed to unleash a ring of fire from its seaward facing walls. Cannon of various types, number 205 guns, from 24- and 32-pounder cannons to carronades and mortars, were mounted en casemate or en barbette and used to great advantage over an attacking force. The fort required 500 men to garrison during war-time, but could accommodate up to 1,000 in emergencies, during peace time a much smaller force of 60 men maintained the fort and its defenses.
Construction
In May 1828, the United States government acquired around 998 acres on Santa Rosa Island to build Fort Pickens. By August, Captain William H. Chase, the senior engineer on the Gulf, was assigned to Pensacola and charged with constructing Fort Pickens.

Workers broke ground in May 1829. They used construction materials such as lime, water, and sand to mix mortar; lumber for grillage and to build wharves, scaffolding, and support buildings; lead sheets to waterproof casemate arches and for gutters and drains; granite for steps and traverse stones; copper sheeting, bars, and fixtures for use in powder magazines; brick for the main work and the counterscarp.

Workers were skilled mechanics and unskilled laborers, many of which were enslaved men rented from their masters by the government or its contractors. Through a verbal "gentleman's agreement," Captain Chase contracted with the firm of Underhill & Strong to build Fort Pickens. Underhill & Strong controlled a large force of black laborers who had experience in building forts, which could save the United States time and money. These enslaved men were supplemented by others who were rented out by their owners to Captain Chase and placed under the supervision of Underhill & Strong.

As work on Fort Pickens neared completion, General Order 32 was issued on April 18, 1833, giving Fort Pickens its name. The fort was named for Brigadier General Andrew Pickens, a Patriot who fought with distinction in South Carolina during the Revolutionary War. By October 1834, the enslaved workers had completed Fort Pickens.

With its completion, Fort Pickens became the largest brick structure on the Gulf of Mexico. It exhibited the latest technologies in coastal defense design, construction, and weaponry. Fort Pickens was a mark of the growing power of the United States, and as a part of the Third System, it helped make America virtually impregnable, for a time.
Bibliography
Bearss, Edwin C. Historic Structure Report, Fort Pickens: Historical Data Section, 1821-1895. Denver, CO: U.S. Department of the Interior, Historic Preservation Division, Denver Service Center, National Park Service, 1983.

Hulse, Thomas. "Military Slave Rentals, the Construction of Army Fortifications, and the Navy Yard in Pensacola, Florida, 1824-1863." The Florida Historical Quarterly 88, no. 4 (Spring 2010): 497-539.

USDOC. "Pensacola Bay and Approaches, NOAA Chart 11382." BookletChart. Washington, D.C.: U.S. Department of Commerce, National Oceanic and Atmospheric Administration, National Ocean Service, Office of Coast Survey, 2017.

USEPA. The Ecological Condition of the Pensacola Bay System, Northwest Florida (1994-2001). EPA 620-R-05-002. Washington, D.C.: U.S. Environmental Protection Agency, Office of Research and Development, 2005.
Last updated: April 11, 2018