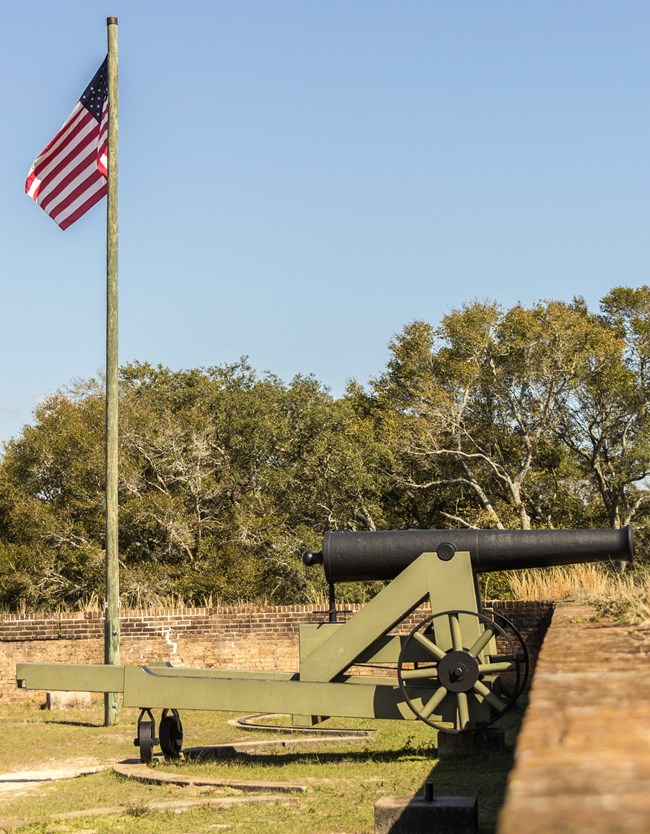 Cannon manufactured for use in Third System forts are called seacoast ordnance. These were some of the largest and heaviest cannon available at the time. Cannon at these forts fell into three categories: guns, howitzers, and mortars. Each had a specific purpose.
Soldiers trained to use ordnance, called artillerymen, used guns to fire at low elevation angles at large targets. Guns had long barrels that made them capable of shooting at distances of one mile or more.
Artillerymen used howitzers to fire on targets at closer ranges. Howitzers had shorter barrels compared to guns. With a powder chamber inside the breach—the back of a cannon— a howitzer could fire at higher elevation angles than guns. From their positions inside the fort, howitzers could fire into the flanks or sides of attacking troops.
Mortars saw use when soldiers needed to fire projectiles at high elevation angles. With barrels shorter than howitzers, artillerymen used mortars to lob projectiles onto the decks of ships or inside their enemy's defenses.
1800s seacoast ordnance were generally made from cast iron. While Army engineers had completed many of the masonry forts by 1870, cannon continued to change, becoming larger and more powerful. By 1870, large steel, rifled, breech loading guns, armored ships with steam-driven screw propellers made these forts, and their cannon, relics of the past.