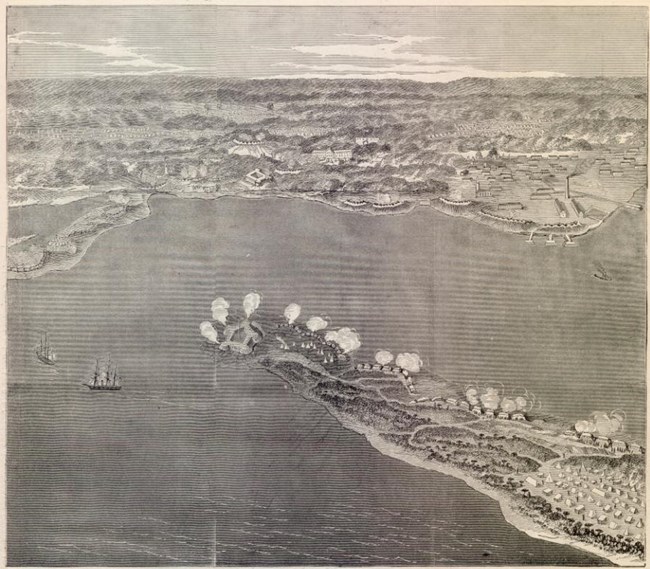 "It was grand and sublime"

The Civil War tested American convictions in surprising and unexpected ways. Loomis Lyman Langdon and John Bordenave Villepigue were no exception. Both men were born in the year 1830. Langdon grew up in New York while Villepigue grew up in South Carolina. They both studied at West Point, where they developed a greater awareness of duty, honor, and loyalty to fellow soldiers and their country. Together they graduated in the Class of 1854 and then pursued different paths in the US Army. Seven years later, their paths crossed on Pensacola Bay.
On the morning of November 22, 1861, a Union cannon inside Fort Pickens broke the sound of crashing waves and cawing gulls. More cannon on Santa Rosa Island soon joined in the effort to destroy the Confederates across the bay. Confederate cannon inside forts McRee and Barrancas, and more than a dozen earthen sand batteries, soon returned fire. The fighting continued until after sunset when a thunderstorm swept through the area.
The bombardment erupted with equal ferocity at daybreak. Around noon, with shot and shell crashing all around, "the flag on Fort Barrancas was shot away . . .," a Union officer reported. The flag flying over Fort McRee disappeared too. The cannon fell silent in the early hours of November 24.
Never before had Third System fortifications fired against each other. For 48 hours, about 110 Union and Confederate seacoast artillery pieces—the most massive cannon used by the armies at the time—shook the earth. According to one Confederate soldier, the bombardment could be heard up to 125 miles away. In its wake, the fight left 44 casualties of war. Homes in nearby Woolsey and Warrington and buildings in the navy yard, including the abandoned hospital, burned. Both Union commander Colonel Harvey Brown and Confederate commander Major General Braxton Bragg declared victory.
Captain Loomis Langdon led a small unit of Union soldiers in the bombardment. Langdon's men manned four 10-inch seacoast mortars located in the dry ditch by Fort Pickens' south wall. Each mortar was capable of firing a 98-pound shell about two and a half miles away. Though his position afforded protection, Confederate fire showered Langdon and his men. "Fragments of bursting shells frequently came among them," Langdon wrote, "and a shell fell in their midst, but burst without injuring any one." In Langdon's line of fire were Confederate soldiers in a sand battery on Perdido Key. This battery supported Fort McRee, led by Langdon's former classmate John Villepigue.
Colonel Villepigue directed Confederate soldiers from Georgia and Mississippi. Union cannon from Santa Rosa Island, USS Niagara, and USS Richmond attacked the fort from two directions. The crossfire disabled about half of Fort McRee's cannon and set the fort on fire. Villepigue received a wound to his arm. His actions, however, inspired hope. "In the midst of this terrible ordeal," a Confederate officer wrote, Villepigue's "coolness and self-possession . . . inspired all with confidence, and enabled him to hold a position which seemed to others utterly untenable." Villepigue's leadership sustained Fort McRee throughout November 23.
Langdon and Villepigue survived the bombardment and distinguished themselves on later battlefields. Langdon ultimately survived the war, whereas Villepigue died of fever in 1862. Both men likely knew they were fighting one another on Pensacola Bay. Their sense of duty, honor, and loyalty was ultimately tested during the war, a war that tested the convictions of all Americans.