Ranger Programs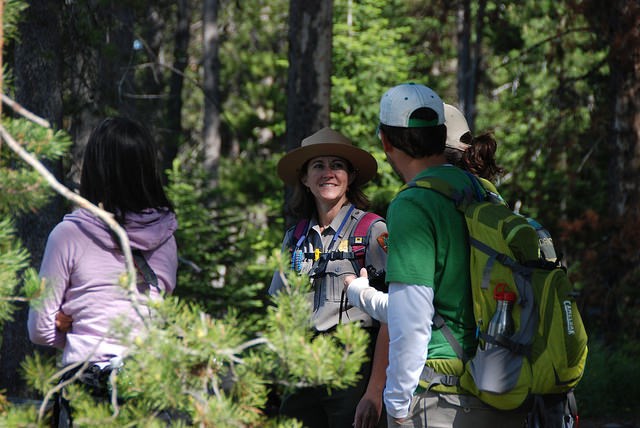 Ranger-guided programs are a great way to learn about what makes a park special, whether it's learning how people lived, discovering natural processes at work, or seeing things you wouldn't have found on your own.
Why attend a Ranger Program?
When you attend a ranger program, you can ask all the questions you have, and get answers to questions you didn't know to ask! Ranger programs are designed to bring out the relevance and meaning in the park. They can help you understand how different plants and animals interact in an ecosystem, how ancient people lived off the land, how geologic processes shape the landscape, historic events, and more. What's more, ranger programs can be a fun social outing as well. Grand Teton attracts visitors from across the country and around the globe – share in a memorable experience together.
Check at a visitor center to learn about special programs or check the website's event calendar.
Drop in Programs
Drop in and stop by anytime during the listed hours to chat with a ranger at these informal meetups, who can share a bit of Grand Teton knowledge with you.
Start with a Ranger
Check locally • Ending Sept 24
Laurance S. Rockefeller Preserve parking lot kiosk
Drop in and visit with a ranger. Ask questions about your hike and learn about the legacy of the Laurance S. Rockefeller Preserve.
Bear Necessities
Check locally • Ending Sept 24
Laurance S. Rockefeller Preserve parking lot kiosk
Drop in and learn everything you wanted to know about bears and being safe in bear country.
Tent Activities
Check locally • Ending Sept 24
When visiting Jenny Lake, look for the green tent outside the visitor center. Rangers are frequently there with stories, art, activities, and more.
Gab n' Go
Ending Sept 4
Colter Bay Visitor Center Back Deck
Stop by and join a ranger for questions, trip planning, and good conversation. This is a great program for those working on the Jr. Ranger Program.
Partner Programs 2023
Teton Science Schools
Murie Ranch Programming
Murie Ranch, Moose, WY
The Murie Ranch is a National Historic Landmark district situated in Grand Teton National Park. The Murie Ranch is named for conservationists, ecologists, and married couples Margaret (Mardy) and Olaus Murie, and Adolph and Louise Murie. Surrounded by a meadow of sage and sticky geranium, the ranch is home to 17 rustic cabins including the Muries' homestead, and its welcoming front porch. Today, the ranch hosts both day visitors and residential programming for all ages. We invite you to visit the Murie Ranch to learn more about this historical landmark and become part of its enduring legacy.
Docent Tours of Murie Ranch
Check locally for times and dates • Murie Ranch
From June to September, visitors can join an interpretative walking tour that showcases the natural surroundings and historic buildings, while weaving in the vibrant legacy and enduring impact of the Muries. The campus also features winding trails around the cabins, to the river, and through the nearby woods. Self-guided tours are also available. Check with the Craig Thomas Discovery and Visitor Center for the most up-to-date tour information.
Front Porch Series: Music, Nature and Conservation
Dates below • 5:45pm to 7pm • Mardy's Front Porch, Murie Ranch, Moose WY • Free
Olaus and Mardy Murie hosted some of the nation's most influential conservationists on their front porch. TSS carries on the tradition by gathering on Mardy's front porch during the summer season to encourage meaningful discussions, and to share with visitors the importance of caring for our natural environment.
Front Porch Talks and Performances:
June 27: Theresa Salazar, archivist
July 10: Grand Teton Music Festival
July 25: Walker Young, musician
August 1: Grand Teton Music Festival
August 15: Evan Griffith, children's book author
August 22: Marmot Ate My Boots, musicians
August 29: Isaac Hayden, musician
University of Wyoming—National Park Service
Research Station at the AMK Ranch
The University of Wyoming-National Park Service (UW-NPS) Research Station is a cooperative effort between the University of Wyoming and the National Park Service to promote research in the Greater Yellowstone Ecosystem. The UW-NPS Research Station is one of only eight field stations in US National Parks and is the oldest such partnership.
Harlow Seminar Series
BBQ dinner ($5-$10 donation) starts at 5:30 pm with a talk at 6:30 pm in the Berol Lodge at the AMK Ranch near Leeks Marina. Open to the public – reservations not required. For details and updates: uwnps.org
June 22
Cutthroat trout conservation: challenges and opportunities
Annika Walters, University of Wyoming
June 29
Is protecting isolated populations enough? On the role of Yellowstone National Park in the recovery of river otters in the Rocky Mountains
Merav Ben-David, University of Wyoming
July 6
The Serengeti wildebeest migration: ecology and conservation in a changing world
Grant Hopcraft, University of Glasgow
July 13
The remarkable recovery of the Yellowstone grizzly bear: biology, science, and management
Frank T. van Manen, U.S. Geological Survey
July 20
The Wyoming Festival: New Music in the Mountains Fresh chamber music inspired by the history culture, nature, and science of the GYE
Anne M. Guzzo, University of Wyoming, and Holly Mulcahy, GTMF violinist,
principal of the Wichita Symphony
July 27
A (brief) history of research and partnership between the University of Wyoming and Grand Teton National Park
Hank Harlow and Harold Bergman former Directors, UW-NPS Research Station at the AMK Ranch
August 3
America's largest classroom – what we learn from our National Parks
Ana Houseal, University of Wyoming


Last updated: September 20, 2023