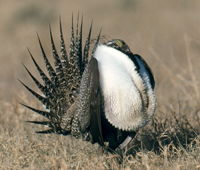 Spring Programs
April 2016
Grouse Strut
The ranger-led spring Grouse Strut program will be offered the last three weekends of April (4/16-17, 4/23-24, and 4/30-5/1). Join us for an early morning excursion to watch these remarkable birds attract a mate. Reservations are required and ride-sharing is encouraged. Please call 307-739-3399 for more information and to make reservations. Participants will meet the ranger at the Craig Thomas Discovery and Visitor Center at 5:30 am. Plan to be outside at least one hour, so dress warmly.
Junior Ranger Day

Come celebrate the National Park Service Centennial at our annual Junior Ranger Day,Saturday April 23rd from 10 am to 2 pm. Families can meet a wildland firefighter, climb on the giant plow trucks, explore a bear biologist's tools, dress up in a Park Ranger uniform, and play fun games! Be a part of Jackson Hole Public Art's park memory map, meet live birds, and learn from community organizations how to be a nature-friendly neighbor. And don't miss out on the
Okee Dokee Brothers
(
http://www.okeedokee.org)
family concert at 1pm! This free event will take place inside and outside the Craig Thomas Discovery & Visitor Center. For more information, call 307-739-3399 or e-mail us
.
May 2016
International Migratory Bird Day
Join us on a bird-watching caravan on Saturday, May 14, 2016 to celebrate International Migratory Bird Day (IMBD). During this event, we will visit areas throughout Grand Teton that provide the best opportunities to locate, identify and record birds.Anyone interested in birds is welcome to participate. The bird-watching excursion begins at 8 am from the Craig Thomas Discovery and Visitor Center in Moose and finishes by 4 pm at Christian Pond by Jackson Lake Lodge.The activity is free and reservations are not required. More>>
---