Fishing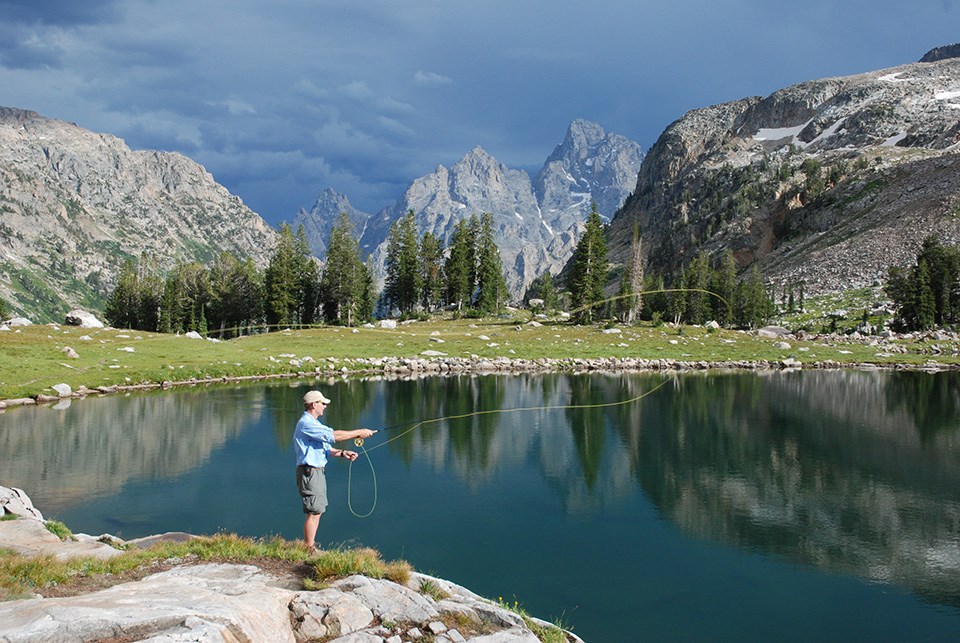 Many visitors are lured to Grand Teton to experience one of the park's most popular activities—Fishing. A day of fishing is hallmarked by mountain views, cool waters, and (hopefully) a catch or two. Fishing in Grand Teton is an unforgettable experience here is what you need to know before you go.

Fishing is regulated according to Wyoming state laws and a Wyoming fishing license is required. Licenses may be purchased in the park at Flagg Ranch, Colter Bay Marina, Signal Mountain Lodge, or online. Licenses are also available for purchase in the local community at a variety of locations.

For more information visit the Wyoming Game and Fish website at gf.state.wy.us.
Season Dates
Lakes: Lakes within Grand Teton National Park are open to fishing year-round with the following exceptions:

Jackson Lake: Closed to fishing October 1-31.

Rivers and Streams: All cutthroat trout caught in the Snake River must be released to the water immediately from November 1-March 31.

Seasonal Closures:

December 15-March 31: A section of the Snake River is closed to access from the Buffalo Fork confluence at Moran to Menors Ferry at Moose. The Buffalo Fork is closed from the east park boundary to the Snake River Confluence in Moran.
December 1-July 31: All streams and Blacktail Spring Ponds within Grand Teton National Park are closed to acces; excluding Polecat Creek, Buffalo Fork River, Pacific Creek, Gros Ventre River, and Snake River in Teton County.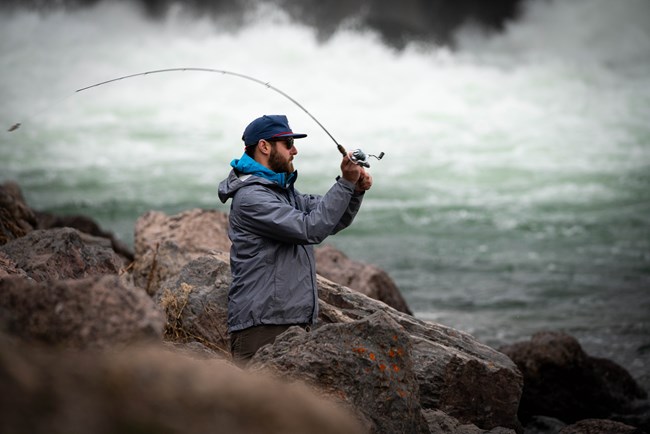 Legal Tackle
Two rods or poles may be used with the angler in attendance. Each line may have no more than three single or treble hooks, flies, or lures attached.

Flies, Lures, and Bait:
Rivers and Streams: Only artificial flies and lures may be used in the Snake River from the gauging station (1,000ft below Jackson Lake Dam) to the Wyoming Highway 22 Bridge (Wilson Bridge) and all streams; excluding the Buffalo Fork, Gros Ventre River, Pacific Creek, Polecat Creek, and the Snake River upstream of Jackson Lake.
Lakes: On lakes not otherwise restricted to fishing or artificial flies and lures only; the following dead, non-game fish may be used or posessed as bait: redside shiner, speckled dace, longnose dace, Paiute sculpin, mottled sculpin, Utah chub, Utah sucker, and commercially preserved dead baitfish.
Creel and Size Limits
Lakes in Grand Teton National Park: Six (6) trout* per day or in possession, no more than three (3) shall be cutthroat trout; and no more than one (1) cutthroat trout shall exceed twelve (12) inches.
Streams in Grand Teton National Park: Three (3) trout*, no more than one (1) shall exceed sixteen (16) inches; and no more than one (1) cutthroat trout shall exceed twelve (12) inches.
In addition to the previous creel limits, anglers may also have in possession:

Brook Trout: sixteen (16)
Lake Trout: six (6), no more than one (1) shall exceed twenty-four (24) inches
Whitefish: twenty-five (25)
Any fish an angler chooses to to release must be carefully and immediately returned to the water from which it was taken.
*Trout = excludes brook and lake trout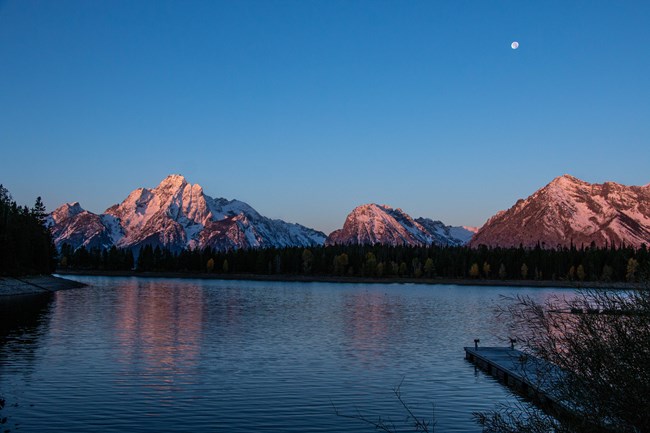 With your Wyoming fishing license, you are permitted to harvest fish, in accordance with creel limits, for consumption. Fish can be a healthy addition to one's diet, but anglers should be aware that consumption advisories have been developed by Wyoming Game and Fish Department for the following species of fish in the park: cutthroat, brown, and lake trout as they may contain methyl mercury.

Mercury can build up in tissue over time and consuming too much can pose health risks. These advisories are in place to keep the consumption of mercury within safe levels.

The advisory includes information specific to sensitive individuals, which include women who are or might become pregnant, nursing mothers and children less than 15 years of age; as well as all other persons.

Advisory data is based on Wyoming Game and Fish Department tests to assess mercury levels in fish harvested from the Snake River and Jackson Lake. Each advisory provides specific fish consumption recommendations for fish from those waters.

Snake River
Jackson Lake

For other waters and fish in the park, we recommend following this FDA guidance on wild fish consumption:
It is recommended that women of childbearing age and young children avoid those species of fish and seafood known to contain high concentrations of mercury. For women and young children, the Food and Drug Administration (FDA) and Environmental Protection Agency (EPA) currently recommend against eating any shark, swordfish, king mackerel, and tilefish, and also limiting consumption of albacore tuna to one meal per week.

Women and young children will receive the health benefits of eating fish without undue exposure to the harmful effects of mercury by eating up to 2 meals per week (A meal is 8 oz. of uncooked fish or 6 oz. of cooked fish) of a variety of fish and shell fish that are low in mercury. Some commonly eaten fish that are low in mercury are Wyoming caught rainbow trout, cutthroat trout, and kokanee and shrimp, canned light tuna, salmon, Pollock and catfish from stores and restaurants. The 2 meals per week include fish from all sources, and should be the total of Wyoming caught fish and fish purchased at stores and restaurants.
Aquatic Invasive Species
PREVENT THE SPREAD OF INVASIVE SPECIES - CLEAN. DRAIN. DRY.
Aquatic invasive species (AIS), such as zebra or quagga mussels, Eurasian milfoil and curly pondweed, are a serious ecological and economic threat to the Greater Yellowstone Ecosystem. Boats, waders, and anything else that comes in contact with a body of water has the potential to spread non-native plants, pathogens, and other invasive species from one water body to another.

Never empty containers of bait, fish, plants, or animals into park waters.

Learn more about preventing the spread of AIS.
Authorized Commercial Fishing Guides
Grand Fishing Adventures: www.grandfishing.com
Grand Teton Lodge Company: www.gtlc.com
Grand Teton Fly Fishing: www.grandtetonflyfishing.com
Snake River Angler and Float Trips: www.snakeriverangler.com
Triangle X/National Park Float Trips: www.trianglex.com
WorldCast Anglers: www.worldcastanglers.com
Lost Creek Ranch (Private Ranch, Fishing for Guests Only)
Additional Grand Teton Information
Boating and Floating
Paddle on Jenny, String, Leigh, or Jackson Lake.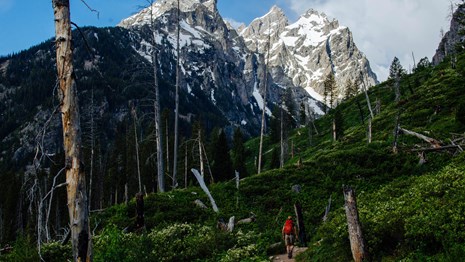 Hike in Grand Teton
Explore hikes throughout Grand Teton National Park.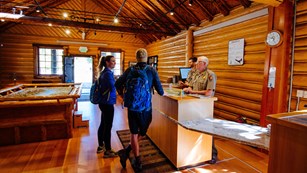 Talk to a Park Ranger
Find a visitor center in Grand Teton.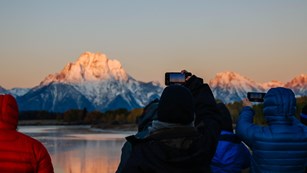 Plan Your Visit
Learn more about Grand Teton and plan your trip here.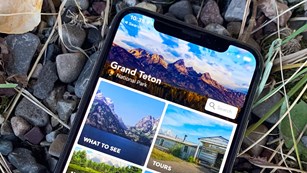 We have an app for that
Download our new app before you get here! Explore Grand Teton and discover places to visit, find a bite to eat, and a place to stay.


Last updated: April 27, 2021