News
---
In Grand Teton National Park, there is always something going on. The latest news may be found in the Grand Teton Guide, the park's newspaper, by reading the latest news release, or by following the park on one of its social media platforms.
The Grand Teton Guide, the park's newspaper, provides information needed while visiting the park. The newspaper includes a park map, a listing of park services, information about camping, lodging and dining, a listing of times and locations of ranger-led activities, information about fees and permits, weather, safety and regulatory information and seasonal information. Pick up a Grand Teton Guide at park visitor centers and entrance stations.
Have you heard about the special event coming up? About the latest change in policy? Or, about the latest rescue in the the park? Information on news and events are posted regularly in our
Media Release section
. You can also
sign-up
for the Media Release mailing list to have Grand Teton National Park media releases delivered to your email inbox.
Did you know that the park is on Facebook and Twitter? Go Digital! Stay connected with Grand Teton through its social media pages. Post a comment on the parks Facebook page or follow us on Twitter. You can also explore several of the park's blogs, listen to an audio description of the parks historic wayside exhibits, or view a park YouTube video. Access all of this on the park's
Social Media page
.
The Public Affairs Office (PAO) provides outreach to millions of people each year by giving up-to-date park information through news releases, online platforms, print and broadcast news interviews, feature stories, special publications, public presentations, and safety messages. Through these multiple communication sources, the PAO conveys essential news and information regarding park issues, activities, emergency incidents (fire or search and rescue), safety alerts, and special events.
In addition to news outreach, the PAO plans and executes many special events such as ceremonies, dedications, anniversary celebrations, and memorial services. Several of these public events are done in collaboration with the park's many partnership organizations.
This Office also coordinates and hosts issue-related trips and tours for official visitors including foreign dignitaries, heads of state, national elected or appointed officials, U.S. representatives or senators and their staffs, state governors, federal agency officials, and other special guests. The knowledge gained by visiting dignitaries often helps the park to achieve its goals, and these visits help further the mission of the National Park Service while creating good-will toward national parks throughout this country and the world.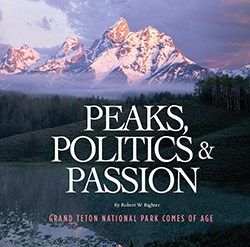 Peaks, Politics, and Passion: Grand Teton National Park Comes of Age is a fitting sequel to Robert Righter's Crucible for Conservation: The Struggle for Grand Teton National Park.
Peaks, Politics and Passion continues the park story from its expansion in 1950 by the addition of the Jackson Hole National Monument, and discusses what are often controversial topics then and now. Topics such as grazing and elk hunting within the park, cultural resource management, the failure to establish any designated wilderness in the park, wildlife management, interpretation and education history, the growth of the Jackson Hole airport and other management issues that the park still struggles with .

Last updated: April 7, 2020