History & Culture
Explore any of the following resources for information on the history and culture of Grand Teton National Park and Jackson Hole.
Research and Educational Resources
Grand Teton National Park Archives
The park's archival collections document the document the complex history of Grand Teton National Park. The archives—the two-dimensional paper based materials—include reports, photographs and maps documenting subjects ranging from land management, natural & cultural resources including historic landscapes & structures, and the Teton's extensive climbing history. The park holds a unique collection of early summit registers that are comprised of original items left atop peaks documenting first ascents of climbers like Jim Langford's ascent of the southeast ridge of the Grand in 1957. In addition to the summit registers, the park also has a collection of mountaineering records that document climbing activities in the Teton Range beginning in 1898, which provides information including number of climbers in the party, climbers' names, climbing dates, and which peaks were to be climbed.
To schedule a research appointment or if you have questions please email us.
Learn more about research in the park by visiting our Cultural Research page.

Cultural History
The park's cultural history extends back more than 10,000 years when paleo-Indians first visited the valley. Since then, many people have left their mark on this valley.
Western Center for Historic Preservation
The WCHP is a preservation and education center based in Grand Teton National Park. Select this link for more information about the center.
Menors Ferry Historic District
Features an old country store, the Chapel of Transfiguration, and a ferry that operates in the summer (dependent on water level).
The Colter Stone
Did John Colter pass through Jackson Hole? Check out these recent photos of the Colter Stone.
Jackson Hole Historical Society and Museum
To learn more about the rich history of the Jackson Hole area, including the park, visit this site. The site includes a synopsis of local history, photo gallery and links to events and programs.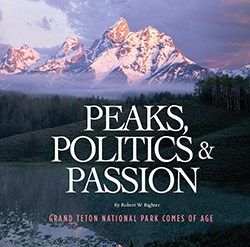 Peaks, Politics, and Passion: Grand Teton National Park Comes of Age is a fitting sequel to Robert Righter's Crucible for Conservation: The Struggle for Grand Teton National Park.
Peaks, Politics and Passion continues the park story from its expansion in 1950 by the addition of the Jackson Hole National Monument, and discusses what are often controversial topics then and now. Topics such as grazing and elk hunting within the park, cultural resource management, the failure to establish any designated wilderness in the park, wildlife management, interpretation and education history, the growth of the Jackson Hole airport and other management issues that the park still struggles with .


Last updated: May 5, 2022