Western Center for Historic Preservation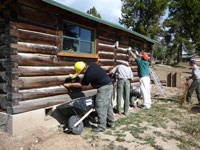 Mission
The Western Center for Historic Preservation (WCHP) is an education and resource center dedicated to the preservation and maintenance of cultural resources in our Western national parks. The center promotes leadership in preservation education and skills development with government partners, non-profits and educational institutions committed to the same goals.
Background
The concept of a regional preservation center was born out of the need to find a suitable adaptive use for the historic White Grass Dude Ranch and the need to address a significant deferred maintenance backlog on historic buildings throughout the west. All too frequently, parks lack the staff with the necessary skills and expertise to properly assess, prioritize, and conduct needed maintenance on rustic historic structures. The center was created to address these concerns. By offering education opportunities and preservation services, the WCHP helps build maintenance capacity in western national parks, improving stewardship of historic resources and ensuring a permanent reduction in the maintenance backlog can be sustained.
The WCHP was jointly developed by the National Park Service and the National Trust for Historic Preservation, and includes a preservation shop and office facility in Moose, WY, for year round carpentry and administrative work, and the rehabilitation of White Grass Dude Ranch as a training facility and cultural resource center for seasonal research. The Moose facility, a massive log building that was moved from the Rockefeller's JY Ranch, was completed in 2006 and currently serves as the headquarters for the WCHP. The White Grass Dude Ranch rehabilitation project is underway, with a scheduled completion date of 2016.
Last updated: December 9, 2016