Cultural History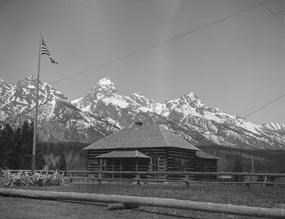 For a complete history timeline for the area, explore the Discover Grand Teton website.
Useful maps to explore the cultural history of Grand Teton National Park:
Historic Sites Map
All Historic Structures Map
Park boundary map 1929
Park boundary map 1943
Park boundary map 1950
Park boundary map 1972
Learn more about the following subjects:
American Indians
Explorers and Trappers
Homesteaders and Ranchers
Dude Ranches
Park Expansion
Lodging and Vacation Homes
Conservationists
Enjoy a driving tour and audio descriptions of some historic locations in the park.

To explore the Bar BC Dude Ranch site in more depth, listen to an audio tour.
Humans and the Teton Landscape: 11,000 years of history in 1,100 words

The human history of Jackson Hole and the Teton Range dates back for millennia. The stunning beauty and abundant wildlife and plants found here have drawn humans to this place for more than 11,000 years.

Nomadic paleo-Indians first entered the Jackson Hole valley shortly after Pleistocene Ice Age glaciers retreated. They left behind tipi rings, fire pits and stone tools. Summers were a time of abundance, and Indian tribes came to harvest bulbs and berries, fish the lakes and streams, and hunt wildlife. With the approach of the harsh winter, indigenous people generally followed their prey out of the valley in search of milder weather.

The first Euro-American explorer who may have entered Jackson Hole was John Colter. He served as a member of the Lewis and Clark "Corps of Discovery" expedition, but he left the expedition in the fall of 1806 and traveled through this region in the winter of 1807-1808. Unfortunately, Colter left no written record of his journeys.

People also came here for wealth. Fur trappers, known as "mountain men," trekked west in search of beaver fur for top hats that were fashionable in the early 1800s. Many trappers, including David Edward (Davey) Jackson, based their operations in this area. The valley we know today as Jackson Hole was dubbed "Davey Jackson's Hole" in 1829 by William Sublette, Jackson's trapping partner. The beaver population declined rapidly with over-trapping, and when fashions turned from fur to silk hats, the era of the mountain men faded away by the 1840s.

As America expanded westward, survey expeditions mapped the landscape, documented natural resources and scouted for future railroad access. Parties led by Captain W.F. Raynolds in 1860, Ferdinand V. Hayden in 1872, and Gustavus C. Doane in 1876 traveled to the Teton region and expanded America's knowledge of the land and its resources.

Even though the Homestead Act of 1862 encouraged settlement of the West, homesteaders did not arrive in Jackson Hole until 1884. Over the next decade, many settlers established homesteads. Conditions were difficult, however. The soil was sandy and rocky, the winters were long and cold, and the summers were dry. Homesteaders struggled hard to raise crops and ranch cattle, and they became desperate as an agricultural depression swept the country around 1920.

Wealthy Easterners enchanted with the West visited Jackson Hole seeking an authentic "cowboy" experience. Some homesteaders began to shift their operations to accommodate these privileged visitors. Eastern "dudes" (men) and "dudenes" (women) paid handsomely for lodging, food, the use of a horse, and other outdoor activities. Local ranchers quickly realized that "dude ranching" was more profitable and easier than traditional cattle ranching, which lead to the golden age of dude ranching in the 1920s.

Development began to crowd Jackson Hole as tourism increased: cabins, gas stations, dancehalls, billboards, and racetracks sprang up in front of the majestic Tetons. Local ranchers and businessmen wanted to preserve the valley as a "museum on the hoof" and eliminate the unwanted development of the open spaces. They held a meeting in 1923 at Maud Noble's cabin, setting in motion the conservation and preservation of this mountain valley. In 1926, John D. Rockefeller, Jr. toured the area with Yellowstone Superintendent Horace Albright. Rockefeller fell in love with the majestic mountain scenery and began purchasing private land throughout the valley. Over the next two decades, he amassed 35,000 acres through the Snake River Land Company, with the intent of donating the land to the federal government to be part of Grand Teton National Park. Local residents became concerned when they discovered Rockefeller's involvement. Transferring control of the land to the federal government meant a loss in local tax revenue, an issue finally resolved by a Congressional hearing.

Grand Teton National Park took decades to establish. Congress created the original park in 1929 to protect the Teton Range and several lakes at the foot of the mountains. In 1943, Franklin D. Roosevelt declared additional land in the valley to be Jackson Hole National Monument. In 1949, John D. Rockefeller, Jr. donated the land he purchased to the government to be included in the national park. Finally, in 1950, Congress combined the original park, the national monument, and the Rockefeller lands to establish present-day Grand Teton National Park. In 1972, Congress established the John D. Rockefeller, Jr. Memorial Parkway, which connects Yellowstone and Grand Teton, to honor Rockefeller's philanthropy and commitment to the National Park System.

After World War II, more people owned cars and began to explore America. Taking shorter vacations compared to dudes, these visitors would only spend a night or two at one location before moving on. In response to this new demand, auto camps and motels became common. Small cabins clustered around a central parking area allowed visitors easy access to the park's attractions. John D. Rockefeller, Jr. also saw a need to accommodate travelers. He set out to develop an assortment of lodging—from small, rustic cabins at Colter Bay, to a stately lodge on a bluff overlooking Jackson Lake, to an elegant lodge near Jenny Lake.

With increased visitation, the park also saw the need to expand visitor services. As the National Park Service approached its 50th anniversary in 1966, visitor centers were built at Colter Bay and Moose to provide information and offer ranger activities as part of the "Mission 66" program.

Adventure has always drawn people to this area. No one knows who first climbed the Grand Teton, but American Indians explored the range and climbed many peaks before Europeans arrived. Although members of the 1872 Hayden Expedition claimed to have reached the summit, William Owen, Franklin Spalding, John Shive and Frank Peterson made the first documented summit in 1898. Many followed in their footsteps. Paul Petzoldt and Glen Exum established the first guide service in 1931, which still operates today as Exum Mountain Guides. Today, over 90 different routes and variations lead to the summit of the Grand Teton, and almost all of the Teton peaks lure climbers with the skills necessary for a summit.

Olaus Murie first visited the valley in 1927 when he conducted a study on the local elk herd. Years later in 1945, the Murie families—Olaus and Mardy, with Adolph and Louise—purchased the STS Dude Ranch in Moose. Early conservation leaders met at the Murie Ranch in support of wilderness preservation. The Wilderness Act of 1964 was conceived and written by those conservationists (Howard Zahniser, Olaus Murie, Bob Marshall, and others) who gathered at the Murie Ranch in the shadow of the Tetons. Together they created a legacy that benefits all people to this day.

This majestic place has inspired and sustained people for thousands of years. Learn how humans shaped the Teton landscape through their settlement and occupations, and follow the links below to learn more about some of the historic buildings and stories of this rugged western landscape. See the historic map for locations of buildings, and take the time to visit an historic structure during your next visit to Grand Teton National Park.

For additional information about historic sites within Grand Teton National Park visit:
National Register of Historic Places
Wyoming State Historic Preservation Office
Jackson Hole Historical Society and Museum
Last updated: October 23, 2019